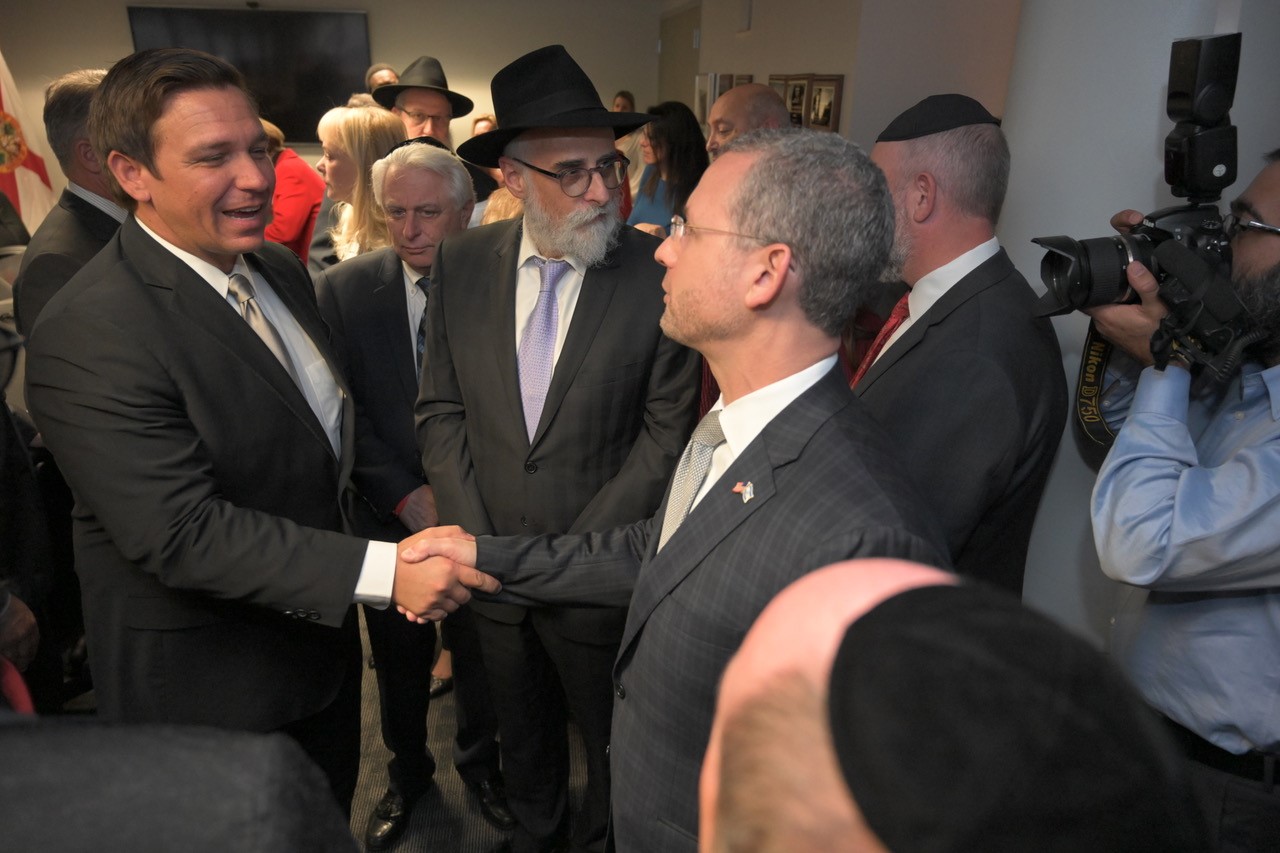 Governor calls it 'moral obligation' to oppose Airbnb listings removals
Gov. Ron DeSantis on Tuesday threatened sanctions against Airbnb, the vacation rental website, over a policy he says unfairly targets the Jewish population.
Airbnb chose to remove listings of properties in the West Bank from its website. Those properties have been under dispute, as Palestinians see them as an impediment to a prospective peace agreement between themselves and the Israelis.
As the New York Times detailed, Airbnb removed listings of those properties which "are at the core of the dispute between Israelis and Palestinians." But DeSantis says that decision is in violation of Florida law, which allows for punishment of companies involved in the Boycott, Divestment, Sanctions (BDS) movement.
"We have a moral obligation to oppose the Airbnb policy," DeSantis said at Tuesday's news conference, held outside the Jewish Federation of South Palm Beaches building in Boca Raton. "It does target Jews specifically. I think that that is wrong."
Airbnb has already been sued over its decision. DeSantis laid out his plans for punishing the company in front of several prominent rabbis as well as Jewish members of the Florida legislative delegation.
But Airbnb says they are not aligned with BDS efforts and that the company remains committed to investments in Israel overall.
"Airbnb has unequivocally rejected the BDS movement and we remain deeply committed to our more than 20,000 hosts in Israel," an Airbnb spokesperson said. The company's decision not to allow hosts in West Bank impacted about 200 listings.
"We have worked with the Florida State Board of Administration (SBA) on this matter, we remain committed to the more than 45,000 Airbnb hosts in Florida who share their homes with over 4.5 million visitors, and we'll continue to do all we can to support our community."
Airbnb also touted more than $20 million in investments in maintaining a presence in Israel and says more than one million guests have used Airbnb's services.
The company pegs its West Bank listing as less than 1 percent of listings in the region, and says it allows listings from Jerusalem and the Golan Heights.
The Governor says the SBA will determine whether Airbnb's actions will prevent Florida from investing in the company in the future.
The State Board of Administration, comprised of DeSantis, Attorney General Ashley Moody and Chief Financial Officer Jimmy Patronis, oversees the investments of the state's pension program.
"Right now, that doesn't necessarily make a big deal because they're not publicly-traded. But they are trying to be publicly-traded and they are trying to do an initial public offering," DeSantis said. "That would not be good if you're already on Florida's hit list before you've even gotten off the ground."
"All I can do is take the action that I think the people of Florida want because of our laws," DeSantis said. "I think more states will follow and, hopefully, that will end up getting [Airbnb] where they need to be. But you know what they say, if you can't make them see the light, make them feel the heat."
The legislation allowing that action was put forward by Rep. Randy Fine, a Brevard County Republican.
Fine, who is Jewish, also was at the news conference: "I am very honored to have a partner in our Governor, who frankly is going to make my job easy because he cares as much about these issues as any one of us that is here."
DeSantis said the SBA would make a decision on Airbnb's status by the end of the month. In the meantime, he sent a letter to the Department of Management Services outlining that state employees will no longer be authorized to use the service for reimbursable travel expenses.
Moody will also be tasked with looking into whether the policy violates the civil rights of any Floridians who own property in the West Bank and want to use the service.
DeSantis also wrote a letter to Florida Division of Emergency Management Director Jared Moskowitz making clear that these actions should not impact hurricane disaster survivors.
The Governor said he remains hopeful Airbnb will change course with its policy. But if not, he says he's prepared to take action.
"When you target Jews for disfavored treatment, that is the essence of anti-Semitism," DeSantis argued. "In Florida, as long as I'm the Governor, BDS will be D.O.A."
DeSantis also said he plans to ask state lawmakers this year to maintain at least $2 million in funding for security at Jewish day schools and that he will travel to Israel — his first foreign trip as governor — after the 2019 legislative session wraps in May.
The trip is intended to expand commercial ties, boost tourism to Central Florida and explore research to address the state's red tide outbreaks, DeSantis said.
___