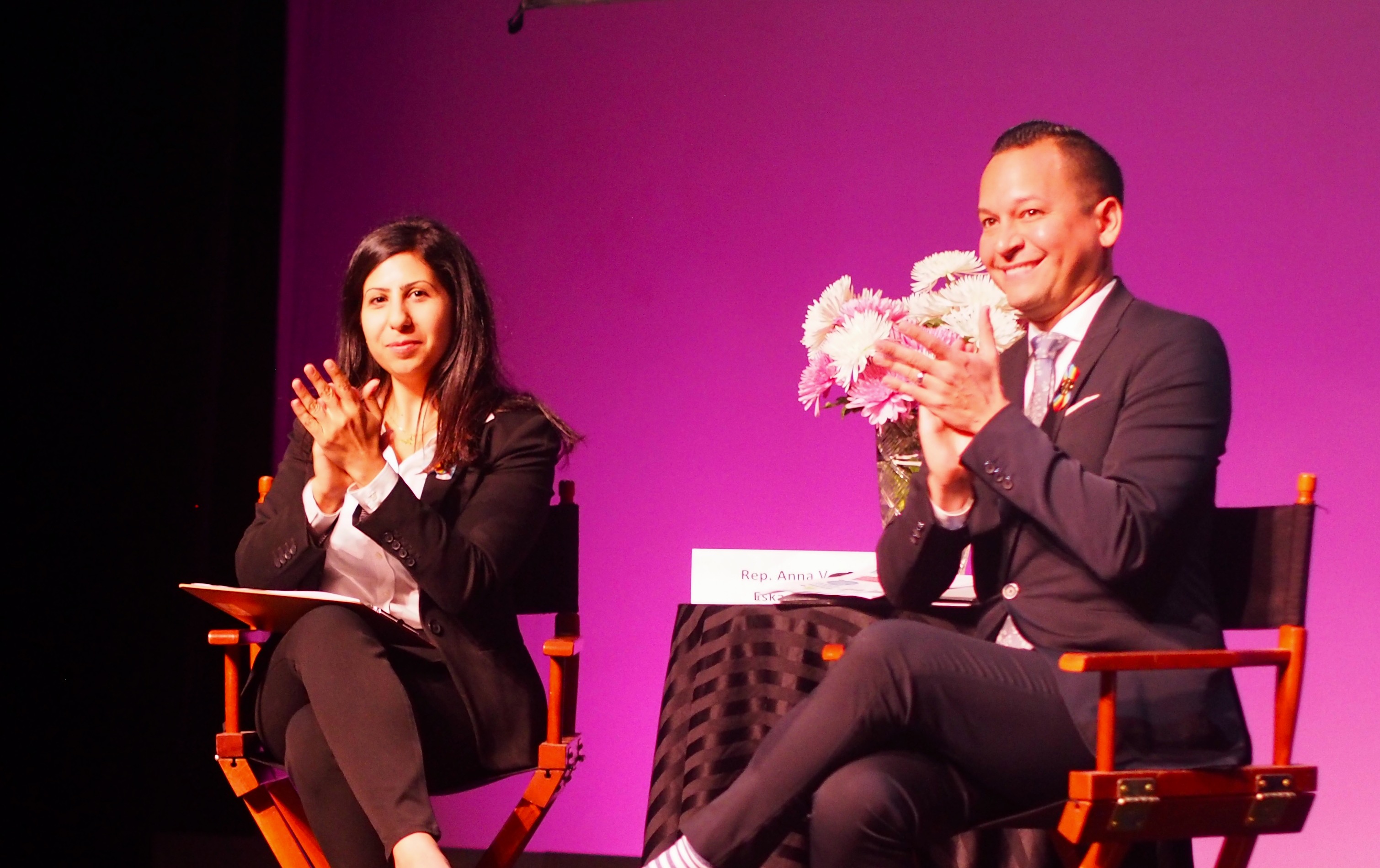 The town hall focused in part on strategies to renew funding cut from state arts programs.
After the Florida Legislature cut Florida's arts and cultural grants by 89 percent this year, Democratic state Reps. Carlos Guillermo Smith and Anna Eskamani heard stories of shock, woe, frustration, and desperation from organizations ranging from the Orlando Philharmonic Orchestra to the Mad Cow Theatre Tuesday.
The stories came from such nonprofit organization leaders as Pam Kancher, executive director of the Holocaust Memorial Resource & Education Center describing how that group had to cancel a significant international exhibit when its state grant was cut from $55,800 to $5,961.
Elizabeth Thompson, executive director of the Wells Built Museum in Orlando, described having to cut staff and building maintenance along with programs at that African-American history museum in Orlando
Those were two of numerous arts leaders who addressed Smith and Eskamani at a crowded town hall the pair organized on state arts and cultural funding as the pair of Democrats sought input on strategies to push for the restoration of funding in this year's Legislative Session.
According to data Smith offered, cuts to Division of Cultural Affairs grants cut the statewide funding to $2.65 million for 2019, plummeting from $24.5 million in 2018, which had steadily fallen from $43 million in 2015.
The result is arts and cultural organizations throughout the state, including the Orlando Philharmonic and the Orlando Science Center, which had counted on grants of up to $150,000 found themselves scrambling to make up differences or make cuts after receiving grants this year of $9,000 or $10,000 or less.
"We're here to have this conversation today because we know that is unacceptable," Smith said. "The Florida Legislature has to do better."
Smith is entering his second term, his third Florida Legislative Session, representing House District 49, covering northeast Orange County including the University of Central Florida. Eskamani is new, having been elected in 2018 to represent House District 48, including North and Central Orange County, including the Orlando arts corridor.
They also were joined on stage by Democratic State Reps. Amy Mercado of HD 47 in south Orange County and Geraldine Thompson of HD 44 in southwest Orange County, which includes much of the city's tourist corridor.
Smith is assigned to the House Appropriations Committeethis year, with Mercado and Eskamani on the House Ways and Means Committee.
But how do Smith, Eskamani, Mercado, and Thompson make pitches? The town hall forum, attended by more than 300 people in a standing-room-only Orlando Repertory Theatre, focused in part on strategies.
It can't be art for art's sake.
Flora Maria Garcia, president and chief executive officer of United Arts of Central Florida, offered health and mental health reasons, counting of dozens of partnerships between arts programs such as the Orlando Ballet and Nemours Children's Hospital.
"All of us in this business know that the arts save lives," she said.
Chris Barton, Executive Director of the Orlando Philharmonic Orchestra, talked about the long-standing programs linking arts organizations such as his with schools and education, providing programs to hundreds of thousands of students a year in Central Florida alone.
JoAnn Newman, president and chief executive officer of the Orlando Science Center, and Smith, focused on economic impact, chiefly returns on investment from a sector that employs 213,000 people statewide and 41,000 in Central Florida, including 13,764 in not-for-profit organizations. Newman and Smith both cited a 4.7 billion statewide economic impact.
"One of the main things I would love everyone to understand is, this is not the arts and cultural community asking for a handout," Newman said. "There is a real ROI. It is measurable. There are measurable benefits, and they are out there."