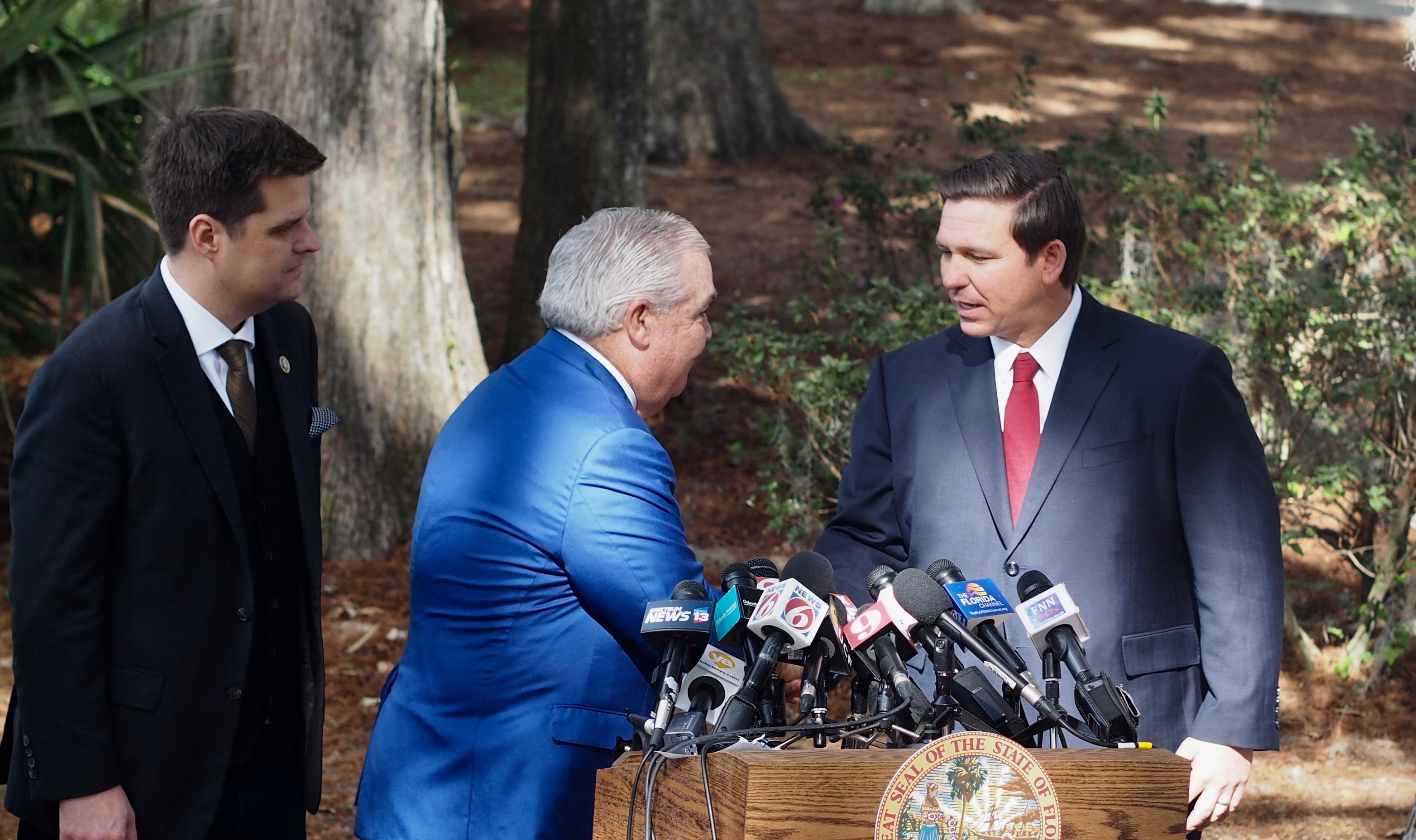 "Whether or not they have to smoke it, who am I to judge that?"
Gov. Ron DeSantis wants people needing medical marijuana to be able to get it easier and smoke it, and on Thursday he issued an ultimatum to the Florida Legislature: Make it happen quickly, or I will do it without you.
"If they're not able to do it then I will try to bring this to a conclusion," DeSantis said Thursday in Winter Park, standing alongside attorney John Morgan and U.S. Rep. Matt Gaetz, two vocal proponents for relaxing state and federal marijuana laws.
"Look, we've got a lot of fish to fry in Florida and the last thing I want to do be doing is to be cleaning up something that should have been done two years ago," DeSantis told reporters. "This should have been implemented and we should have moved on."
DeSantis gave lawmakers until mid-March to rewrite the state's medical marijuana law to reflect the intentions of the state constitutional amendment legalizing medical marijuana that 71 percent of Florida voters approved in 2016, known then as Amendment 2.
If that doesn't happen, he intends to drop the state's appeal of a lawsuit organized by Morgan that would legalize smokable marijuana.
The Governor also said he would pull the state out of most of the other 18 lawsuits filed against Florida by medical marijuana advocates, alleging the state failed to implement the amendment properly.
"It is my judgment that what the Florida Legislature has done to implement the people's will has not been done in accordance with what the amendment envisioned," DeSantis said.
"I look at someone who has Lou Gehrig's disease or terminal cancer or multiple sclerosis … I think the Florida voters who voted for that wanted them to have access to medical marijuana under the supervision of a physician.
"Whether they have to smoke it or not, who am I to judge that?" DeSantis said. "I want people to have their suffering relieved. I don't think this law is up to snuff."
DeSantis said he will file a "stay of decision" in the case on smokable medical marijuana, now before the 1st District Court of Appeal. He wants to give lawmakers time for a rewrite of the law — once known as SB 8-A, or the "implementing bill" passed in 2017 — in the Session that begins this March.
A request for comment to Fleming Island Republican Rob Bradley, now the Senate Appropriations chairman and then the architect of the implementing bill, is pending.
Senate President Bill Galvano, however, soon signaled a willingness to work with DeSantis.
"Gov. DeSantis has indicated that he prefers a legislative solution rather than a judicial order to bring the issue of implementation of the amendment to a conclusion," Galvano wrote in a statement on the Governor's announcement.
"A legislative solution has always been my preferred course of action, and we will certainly honor the Governor's request to bring a bill forward early in the session that addresses both his concerns and those raised in litigation. Many Senators share these concerns and have ideas they are interested in advancing, which include smokable forms of treatment."
Later Thursday, state Sen. Gary Farmer, a Lighthouse Point Democrat, was the first lawmaker to file a bill (SB 372) to allow medical marijuana smoking.
Smokable marijuana was the biggest beef of Morgan's, the champion for medical marijuana in Florida and the force behind the successful Amendment 2 campaign.
But it does not stop there.
DeSantis also decried the licensing program Florida developed for medical marijuana providers, charging that it had created a cartel.
On that issue he was joined by Gaetz, who wrote 2014 legislation on medical marijuana when he was in the Florida House. On Thursday, Gaetz disavowed the program his legislation predated.
"I am here to suggest that those laws need to change. And under the bold leadership of the DeSantis-Nunez administration, I am certain they will," Gaetz said, also referring to Lt. Gov. Jeanette Nuñez, who was at the event.
House Speaker Jose Oliva, in a statement, said he was "encouraged by the announcement the Governor made today and accept the challenge he has laid before us." Ironically, he makes his money from smoking — he's still the CEO of Oliva Cigar Co. after selling the company in 2016 to a European concern.
Since being sworn in, Oliva added, "the Governor has acted swiftly on many issues and the Florida House will work with equal speed, in conjunction with our Senate colleagues, to bring a bill to the floor early in Session.
"The Governor's willingness to engage with us is appreciated and the House will work with the Governor on his priorities, including ensuring patients have options and our kids remain protected."
The obstacle to reform, if any, will be in the House. Rep. Ray Rodrigues, the former House Republican Leader, in 2017 said, "We don't believe you smoke medicine." But he tweeted last week, quoting Florida Politics opinion columnist Joe Henderson, "If (the appellate court) rules against the state, that should be the end of this issue. Period."
"Agreed," Rodrigues wrote. "If the First DCA says we got it wrong then that should end it."
Whether to allow smokable marijuana has been debated since Amendment 2's passage. State law prohibited the smoking of medicinal cannabis, though Morgan has long insisted the amendment implicitly allows it.
Morgan organized the lawsuit over that law, and a judge eventually declared the ban on smoking to be unconstitutional. That prompted the Department of Health under Gov. Rick Scott to appeal the ruling. The 1st District Court of Appeals heard arguments in the case last week.
DeSantis is now looking to make the case moot.
"I am proud to be here today to thank him today and grateful today for our governor, Ron DeSantis," Morgan said.
DeSantis also criticized Florida's laws and rules that set up the system of licenses for companies to have authority to grow, process and sell medical marijuana products. He said the system was set up in vertical silos and that "was not free market principles, for sure."
He said the program should be opened up, and his and Gaetz's references to vertical integration suggested he envisions a program in which growers, producers and retailers do not have to be all the same.
That could mean, for example, that companies could get licenses to open dispensaries without being involved in cultivating.
"I think it should be horizontally integrated rather than vertically integrated," DeSantis said. "I'd rather it be opened up."
Gaetz said later that the strict vertical integration was done to control the business model enough so that marijuana stores do not pop up all over the place, has has happened notoriously in Colorado and California. But he said there are other ways to control that activity, and suggested zoning as one.
The Governor's announcement was praised by Agriculture Commissioner Nikki Fried. Fried, the only Democrat to win a statewide contest last November, was an advocate for the drug and pushed to fully implement the 2016 amendment.
"When the people overwhelmingly voted for legalized medical marijuana in 2016, they intended for the medicine to be accessible by patients in the manner which their doctor, not Tallahassee politicians, decided is best for their treatment," Fried said in a statement.
She last week promised to create a "Director of Cannabis" position in her department: "Every day that medical marijuana in the pure plant form is unavailable to patients, Floridians continue to suffer."