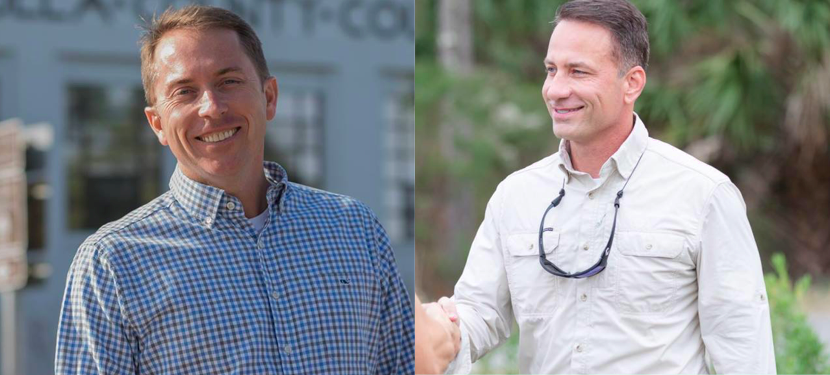 The conversation turned nasty at a Wakulla County ball.
Political power players hobnobbed and candidates cavorted during Saturday's Wakulla Republican Women's Club State of the Union Ball, much as any other year.
But a discussion between two aspiring state lawmakers, Jason Shoaf and Mike Watkins, suddenly grew louder and more hostile. The two men are the remaining Republicans running for a recently vacated state House seat representing District 7.
But Watkins made clear a way to settle this dispute before the election.
"I'll take you out that door and I'm gonna whip your ass," Watkins said, according to Ralph Thomas, a former candidate for the House seat.
Neither Watkins nor Shoaf disputed the account, though both men expressed reticence describing the short, personal interaction to Florida Politics.
Thomas, a Wakulla County Commissioner who dropped out of the race last week, said he was chatting with Shoaf just before the altercation.
Watkins approached Shoaf and made it clear he didn't like the tone of the race so far.
"We do not agree on a few things," Watkins said, "particularly with him (Shoaf) out in public saying I'm a political insider."
With Shoaf turning to help from power players like U.S. Rep. Matt Gaetz, Watkins considers it risible that he would be labeled part of some "good ol' boy" network.
As Watkins argued, his fiancée at his side interjected as well.
Thomas said the woman offered her own comments and Shoaf asked that the discussion stay between himself and Watkins.
There's a dispute about what happened next.
Watkins said Shoaf touched his fiancée. That, he said, prompted his outburst and suggestion the matter be settled outside.
Thomas said Shoaf never touched anyone —"100 percent did not happen."
Shoaf did not want any part in getting into a public back-and-forth in the press. He just said the Watkins outburst seemed unbecoming.
"It's unfortunate the way he [Watkins] behaved," he said.
The discussion shows how the candidates aggressively seek to set themselves apart while preparing for an election that still hasn't been set.
Gov. Ron DeSantis has not yet called a special election for District 7, but its former occupant, Halsey Beshears, already resigned to take an appointment from the Governor as Secretary of the Florida Department of Business and Professional Regulation.
In the meantime, Shoaf racked up endorsements from leaders like Don Gaetz and Allen Bense and Mike Watkins rallied sheriffs through the district to his cause.
Thomas, who hasn't made an endorsement in the race yet, considered the dispute eye-opening. Tough guy postures aren't uncommon in Florida's Panhandle.
Still, "this is the first time I've encountered it in the political arena," he said. "We're not in high school, which is the last time I've seen something along these lines."
Watkins downplayed the significance of the event.
"Over the course of two or three hours, this was two minutes," he said. "There was no exchange of anything but a couple of statements."