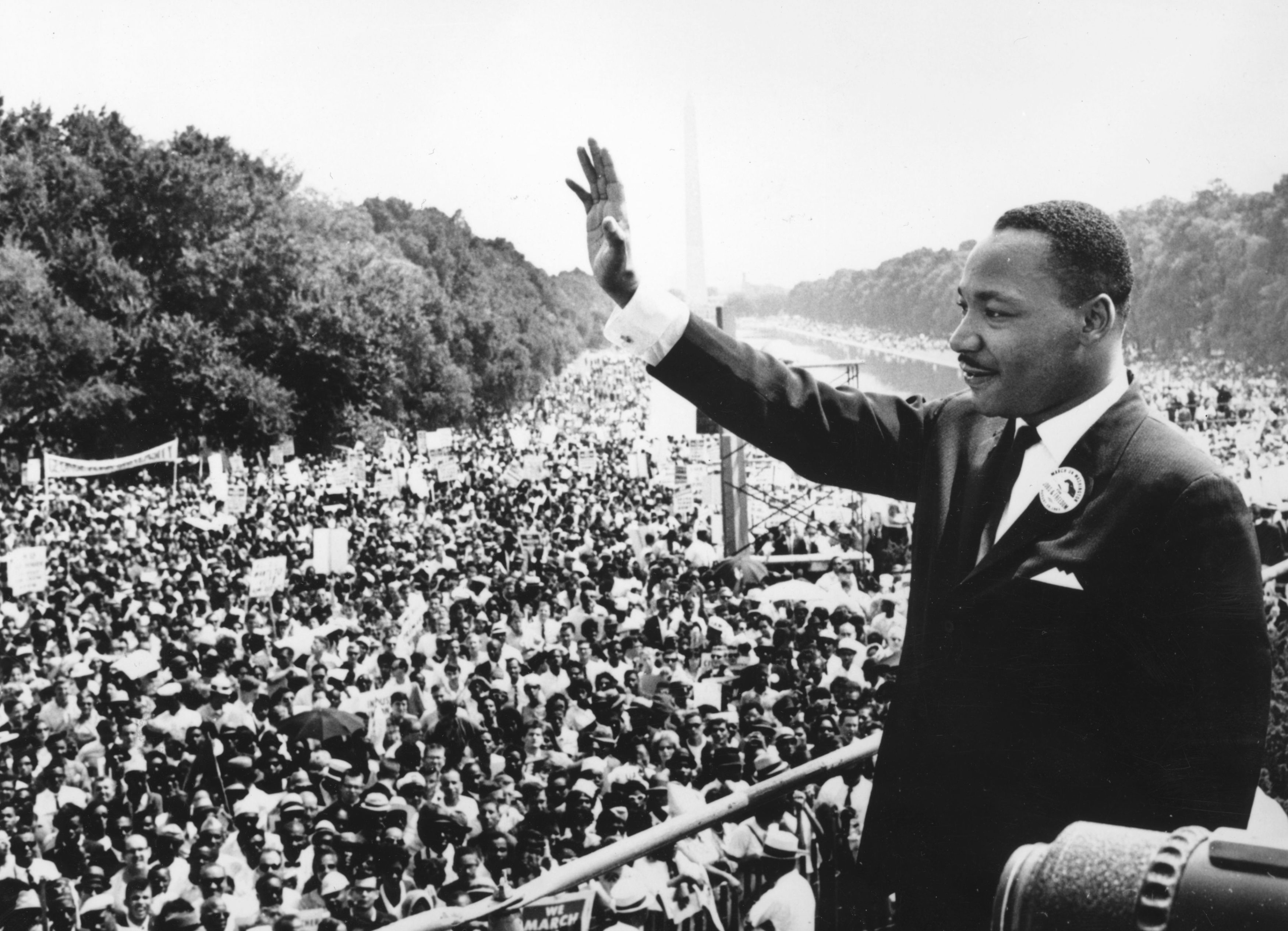 The civil rights leader would have turned 90 this year.
As the nation spends its Monday honoring the legacy of Martin Luther King Jr., many lawmakers here in Florida are doing the same. King, assassinated in 1968, would have turned 90 this year.
Here's how Florida's leaders are choosing to memorialize King's work on social media and elsewhere:
Attorney General Ashley Moody issued a statement.
"Today we recognize a great leader in our nation's history. Martin Luther King Jr. showed how to boldly pursue justice with passion and civility. As a former judge, I believe justice is a defining principle of our great country. Fairness in our judicial system enables us to trust our government and without it, we certainly would fail. As your Attorney General, I promise I will always seek fairness and justice for all Floridians. These are values Dr. King ultimately gave his life for. His dream directs all public servants to continue perfecting this experiment we call the United States of America — and I am continuously inspired by the life he led."
Florida Democratic Party Chair Terrie Rizzo released a statement as well:
"Never a time a recent history has it been more important to pause and reflect on the legacy of Martin Luther King Jr. At a time when our nation is so divided that Congress was forced to pass a resolution condemning white supremacy, when hundreds of thousands of federal workers have gone weeks without pay, and when our nation's leaders want to build walls instead of bridges — we are reminded that work MLK Jr. started is far from over. Today we celebrate his legacy of fighting for justice and equality, and reflect on how we can continue his fight."
Lt. Gov. Jeanette Nuñez tweeted a quote of the civil rights legend and martyr.
"If a man is called to be a street sweeper, he should sweep streets even as a Michelangelo painted, or Beethoven composed music or Shakespeare wrote poetry…" – Dr. Martin Luther King, Jr. pic.twitter.com/64pJafbESp

— Jeanette M. Nunez (@LtGovNunez) January 21, 2019
Agriculture Commissioner Nikki Fried also tweeted.
"If you can't fly then run, if you can't run then walk, if you can't walk then crawl, but whatever you do you have to keep moving forward." #MLK pic.twitter.com/rQTfIrGVWT

— Nikki Fried (@nikkifried) January 21, 2019
This is from former gubernatorial candidate and Tallahassee Mayor Andrew Gillum.
"Darkness cannot drive out darkness, only light can do that. Hate cannot drive out hate, only love can do that." #MLK2019 pic.twitter.com/S7oZgngUYY

— Andrew Gillum (@AndrewGillum) January 21, 2019
U.S. Sen. Rick Scott chimed in with this.
Today as we honor the life of Dr. King, we must always remember his words: "life's most persistent and urgent question is, 'What are you doing for others?'"

We continue to fight for equal opportunity for all Americans. #MartinLutherKing pic.twitter.com/5rMsmp2lgF

— Rick Scott (@SenRickScott) January 21, 2019
Here's U.S. Rep. Stephanie Murphy.
Dr. King's legacy taught us to keep fighting no matter how dark or impossible things may seem. This #MLKDay let's reflect on our past & renew our commitment to the future so can create a more perfect union. pic.twitter.com/d8UQd9RKJb

— U.S. Rep. Stephanie Murphy (@RepStephMurphy) January 21, 2019
U.S. Rep. Donna Shalala:
His words are just as relevant today as they were decades ago. They are a reminder that we must be ever vigilant in how we treat one another, and how our government treats its citizens. pic.twitter.com/o5iIr7tiAH

— Donna E. Shalala (@DonnaShalala) January 21, 2019
U.S. Rep. Mario Diaz-Balart:
Today we honor the impactful legacy of Dr. Martin Luther King Jr. He led a life of service and courage that inspired millions and changed the course of history. #MLKDay pic.twitter.com/dfrmLLa6AC

— Mario Diaz-Balart (@MarioDB) January 21, 2019
U.S. Rep. Ted Deutch:
Today, we remember Dr. King's "abiding faith in America" and "audacious faith in the future of mankind."

We must continue to do the hard work that will fulfill that faith. #MLKDay pic.twitter.com/zZb1iydbsi

— Ted Deutch (@TedDeutch) January 21, 2019
State Sen. Rob Bradley:
MLK was a wonderful orator. His "I Have A Dream" speech is probably the greatest speech in our nation's relatively young history. He was also a man of action. We should strive to say AND do things to advance justice. https://t.co/oX5mbDploC

— Rob Bradley (@Rob_Bradley) January 21, 2019
State Sen. Linda Stewart:
Today, we celebrate the life, legacy, and contributions of Dr. Martin Luther King, Jr. #MLKDay #MartinLutherKing pic.twitter.com/uP3SedZlPP

— Linda Stewart (@LindaStewartFL) January 21, 2019
State Sen. Lizbeth Benacquisto:
Today we honor a man who transformed our nation through his vision, words and actions. Thank you, Dr. King! #MLKDay pic.twitter.com/IzlYMvZp0b

— Lizbeth Benacquisto (@lizbethkb) January 21, 2019
State Sen. Annette Taddeo:
The fight for a more perfect union is never over. We honor Reverend Dr. Martin Luther King Jr., a leader for peace & justice who inspired a nation & movements the world over for civil rights. God bless #America & god bless each of you who are helping in our fight for justice. pic.twitter.com/Q3m5qDdEwT

— Annette Taddeo (She/Her/Ella) (@Annette_Taddeo) January 21, 2019
State Sen. Janet Cruz:
"The time is always right to do what's right." Let us continue to honor the legacy of Dr. King through our commitment to serve. #MLKDay #MLK90 pic.twitter.com/Q7A47mr0DS

— Janet Cruz (@SenJanetCruz) January 21, 2019
State Rep. Cindy Polo:
Our world needs you. Our world needs you to care. Our world needs you to take action.
Today and every day I honor #MartinLutherKingJr and his legacy by speaking up for those that need it the most. Join me. #MLKDay https://t.co/TVMCbulVsa

— Cindy Polo (@CindyPoloFL103) January 21, 2019
State Rep. Vance Aloupis:
Today, we honor the fight for the American Dream. The fight for freedom and equality. And, as we honor Dr. Martin Luther King, Jr., let us also honor the unsung heroes (Schwerner, Goodman and Chaney. Ella Baker. Emmett Till.), many of whom also gave their lives for justice. #MLK pic.twitter.com/8Hi7IQxHh1

— Vance Aloupis (@valoupis) January 21, 2019
State Rep. Chris Sprowls:
Today, we celebrate the life of Dr. Martin Luther King, Jr. Let us honor his legacy by always standing up for what is right and just. #MLKDay pic.twitter.com/r8XxbP6cgP

— Chris Sprowls (@ChrisSprowls) January 21, 2019
State Rep. Anthony Rodriguez:
An inspiration to us all and an example that through love and peaceful discourse history can be changed for the better #MLKDay #Florida #History pic.twitter.com/j6xTGAN5uQ

— Anthony Rodriguez (@RepRodriguez118) January 21, 2019
House District 97 candidate and Coral Springs Commissioner Dan Daley:
Proud to see so many people coming together in communities across Broward to honor the life, legacy, and teachings of Dr. King. As the awesome volunteers on the CS MLK Committee like to say, "it's a day on, not a day off!" May we all aspire to live up to the words of Dr. King. https://t.co/ZBgRkm2Yj6

— Dan Daley (@DanDaley) January 21, 2019
Former U.S. Rep. Patrick Murphy:
America has always been stronger when we embrace our differences instead of finding ways to divide ourselves. Said Dr. King: "The time is always right to do what is right." #MLKDay

— Patrick Murphy (@PatrickMurphyFL) January 21, 2019