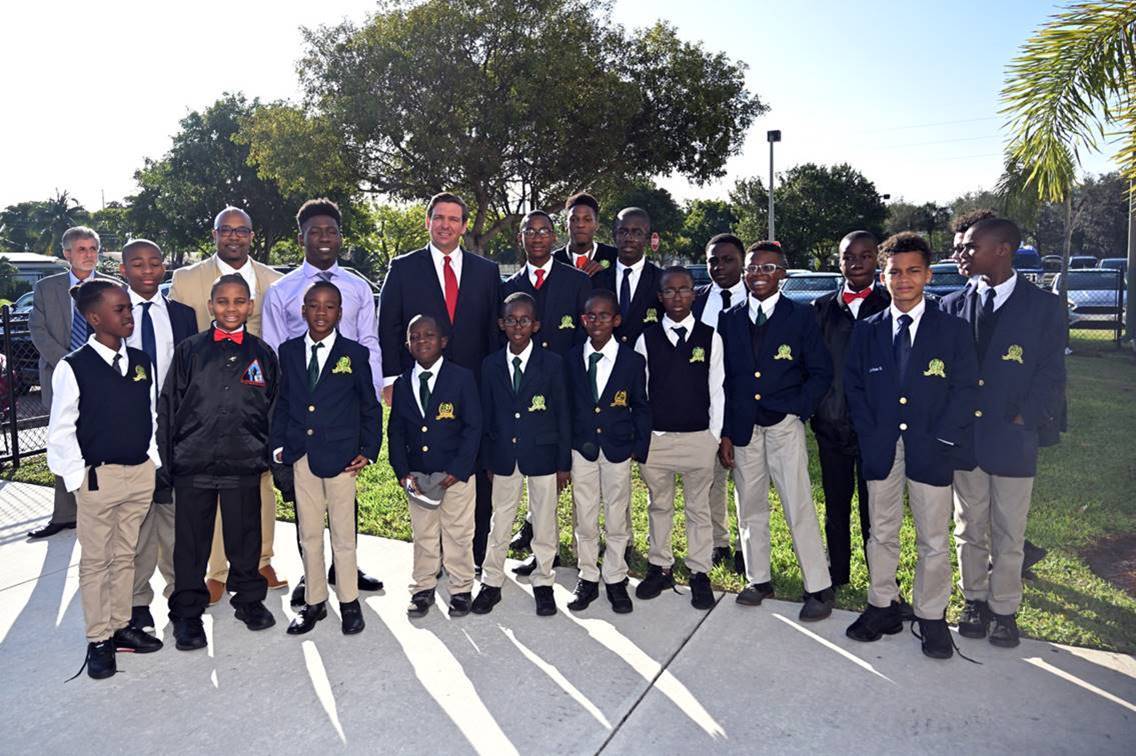 The scholarship has a waitlist in 2019 of nearly 13,000 students.
Gov. Ron DeSantis is calling for an end to the waitlist for the Florida Tax Credit Scholarship, which offers private school scholarships to low-income K-12 students throughout the state.
The scholarship has a waitlist in 2019 of nearly 13,000 students.
"I would like to eliminate the waitlist so every parent has the ability to make these choices," DeSantis said Monday during an appearance in Lauderdale Lakes. "That will be a priority for me in this next legislative session."
DeSantis spoke to a crowd gathered at Piney Grove Boys Academy, which is one of the 1,800 private schools where students can utilize the Florida Tax Credit Scholarship. DeSantis was joined by lawmakers such as Republican Sen. Manny Diaz and Democratic Reps. James Bush, Patricia Williams and Kim Daniels.
The event took place on MLK Day, which prompted DeSantis to recall the reverend's work in his remarks.
"Dr. King understood that our rights are not given to us by the government, but are ours by the grace of God," DeSantis said.
"He fought to have everyone's rights recognized. I don't want to see barriers and limits to students reaching their full potential because that is not what our country is about. We will continue to carry on Dr. King's legacy and fight to ensure that nobody will be denied an opportunity for reasons out of their control."
Diaz has been a vocal advocate for school choice, as has Richard Corcoran, DeSantis' choice for Education Commissioner.
The Florida Tax Credit Scholarship program was created in 2001 and serves nearly 100,000 students across the state.
Annual enrollment had been climbing through much of the previous decade. But fundraising gaps have caused those numbers for the 2018-19 school year to drop to pre-2016-17 levels. The waitlist has ballooned as well, prompting DeSantis to push for a legislative fix.
"I'm living paycheck to paycheck," said Ghismide Saint Jean, who enrolled her 6-year-old son at St. James Catholic School in North Miami.
"Although it's my choice to put him in that school, I have to work six days a week, most days 10 to 14 hours a day, and I'm not sure I can continue to afford it."
The program is administered by a pair of organizations, Step Up for Students and AAA Scholarship Foundation. Two-thirds of the students who have earned the scholarship are black or Hispanic, with an average household income of $25,756, according to Step Up's numbers.