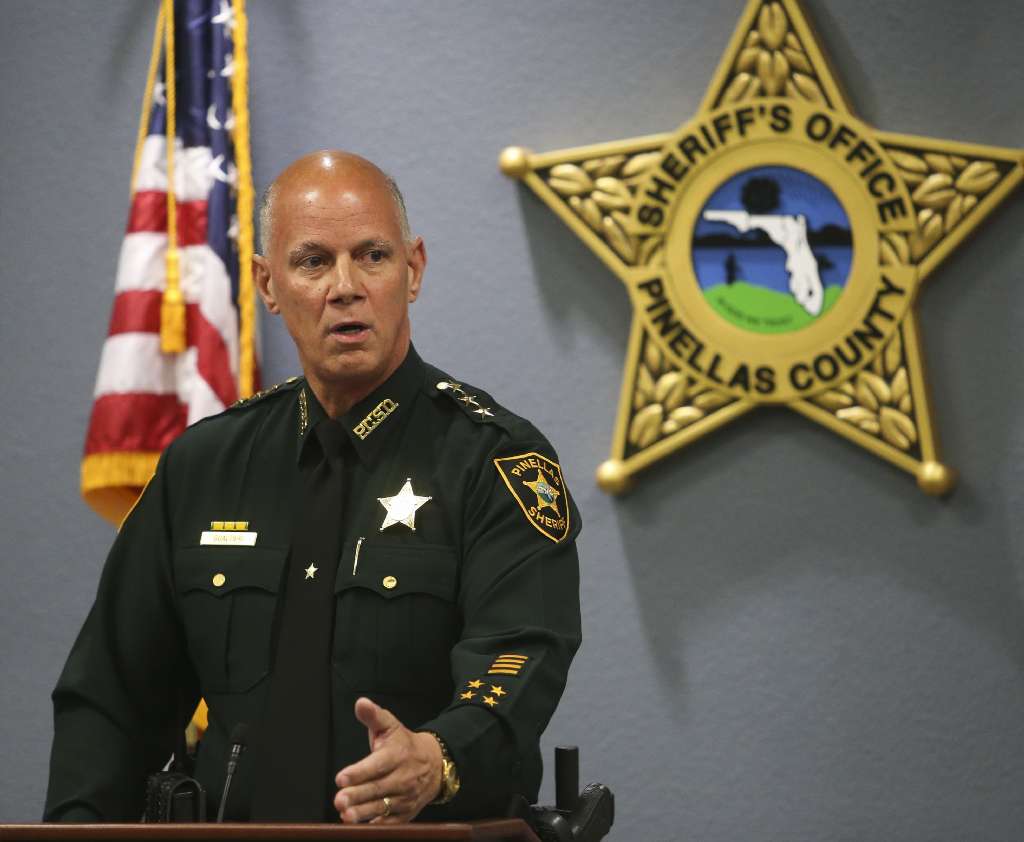 The Pinellas County Sheriff, chair of state's school safety commission, says school boards & sheriff's offices dropping ball
It's been nearly one year since the shooting at Marjory Stoneman Douglas High School left 17 dead and 17 others injured.
And Pinellas County Sheriff Bob Gualtieri says local officials still are not being held accountable for implementing improved safety measures set forth in the Marjory Stoneman Douglas High School Public Safety Act (SB 7026).
Gualtieri, who chaired the Marjory Stoneman Douglas High School Public Safety Commission, testified Tuesday in front of the House Education Committee.
That testimony saw an at-times angry Gualtieri criticize some county school boards and sheriff's offices for dropping the ball when it comes to implementing new security measures.
"The Legislature did its job," Gualtieri said, referring to the legislation passed last year. "But the school districts, the school boards, law enforcement to some degree, (are) not moving fast enough. The sense of urgency is not there."
Gualtieri said that while many counties are complying with the law, there remain two main areas of concern in others: A failure to timely submit mandated school safety assessments, and a need to ensure that armed security of some kind is present at school campuses in the event of an active shooter.
"If we keep doing what we've always done we're going to get what we always got, and what we got's not good."
The sheriff argued that while eliminating school shootings is the goal, it may be impossible to stop every attack. Therefore, mitigation should also be considered when assessing security measures.
"What we all want is prevention, but we can't be assured that there won't be another one," Gualtieri said.
"In fact, what I'm going to suggest to you is there's three questions. The first question is, 'When?' The next question is, 'Where?'
"But the most important question is, 'What have we done differently to ensure a different outcome?' And unless we're focused on mitigating the harm, we're going to have another catastrophe. One person, just one, shot and/or killed is too many, way too many. But one is better than 34."
Gualtieri says data from the past two decades shows 46 active assailant events. He says 43 of those were committed by current or former students, saying that beefing up safety and security surrounding the school may not stop a student who is permitted to be on campus already.
Gualtieri also pointed to stats showing the majority of incidents are over in less than four minutes, which results in school staff being forced to step up while waiting for a police response.
"Cops can't be everywhere all the time. So the people who are going to stop this, and the best opportunity to stop it and the best place to stop this aren't the cops — it's the people who are there."
The Marjory Stoneman Douglas High School Public Safety Act laid authorized a Guardian program for schools that cannot get a trained law enforcement official to secure their campuses.
The program allows trained personnel, outside of current law enforcement officials, to be armed on campus. But those personnel members must have a law enforcement or military background.
But county school boards and sheriff's offices have, at times, been hesitant to implement the program. Brooks Rumenik, the deputy director of the Office of Safe Schools, noted that fact in separate testimony before the committee Tuesday morning.
"Are you aware of any schools in those 42 counties, whether a school district or a charter school, that would like to have some folks trained as guardians but are not able to do that because one of those 42 sheriffs has declined to provide them with that opportunity?" asked state Rep. Randy Fine.
Rumenik responded: "There have been a small number of either charter schools or school districts that were interested and haven't been able to work out an ideal relationship with those local sheriffs to provide this training."
"You want a good guy with a gun on every campus so that when parents send their kids to school in the morning, their expectation is fulfilled," Gualtieri argued. "And what that expectation is, and what they have a right to expect, is their kids are coming home alive at the end of the day."
He took aim at sheriff's office who have chosen not to provide Guardian training, even when requested by a nearby school district.
"Sadly, and wrongly, there are some sheriffs in this state that have refused to authorize the program," Gualtieri said. "So what we're recommending is that if the school board wants the program and the school board authorized the program, the sheriff be required to implement it."
He also called out counties for shuffling armed personnel in between schools to satisfy the requirement that every school be assigned armed security personnel of some sort.
"People are playing games with this. And when they say 'assigned,' they say, 'Well, we don't have to actually have somebody there. We can have one cop that's floating between three schools.' No."
The Stoneman Douglas Commission controversially suggested expanding the Guardian program to allow any trained teacher or school employee to carry on campus. Gualtieri told the commission that process would be narrow and selective, but says his views have evolved on the issue, pointing out his previous support for school resource officers (SROs).
The sheriff pointed out that law enforcement agencies don't have the staff available to secure the nearly four thousand campuses throughout the state.
"Even if the funding is available, the people aren't available. We're only hiring about 10 percent of the applicants. The applicant pool is dried up for qualified law enforcement officers. So we don't have the cops. So if we have to put somebody, which we should do, to protect those kids, the good guy with the gun, we've got to rely on somebody else and something else."
Gualtieri also pointed to requirements that schools use the Florida Safe Schools Assessment Tool (FSSAT) to submit security assessments of their campuses.
"There was 100 percent compliance," Gualtieri conceded. "But there's wasn't 100 percent compliance until Damien Kelly, the director of the Office of Safe Schools, and we raised this in commission meetings, started calling people and prodding them to get their reports in. That's ridiculous. [The Department of Education] shouldn't be babysitting these people and telling them that they've got to get their reports in."
Kelly raised similar concerns in testimony to the Senate Education Committee in early January. Gualtieri says one solution is to give DOE more authority to sanction districts which are not complying with the law.
"The DOE in many respects is just a repository for the information. They don't have oversight authority with compliance authority, and importantly, I guess — because they're not doing it — sanction authority. I think that the legislature really needs to give Commissioner [Richard] Corcoran and the Department of Education greater oversight authority and sanction authority to ensure compliance, because it's not happening."
The MSD Commission made that suggestion in its initial report filed in December. Gualtieri says he's pushing for anything from financial sanctions to removal from office for officials who aren't complying. But he says his goal isn't punishment.
"The idea is not sanctions," Gualtieri argued. "The idea is compliance."