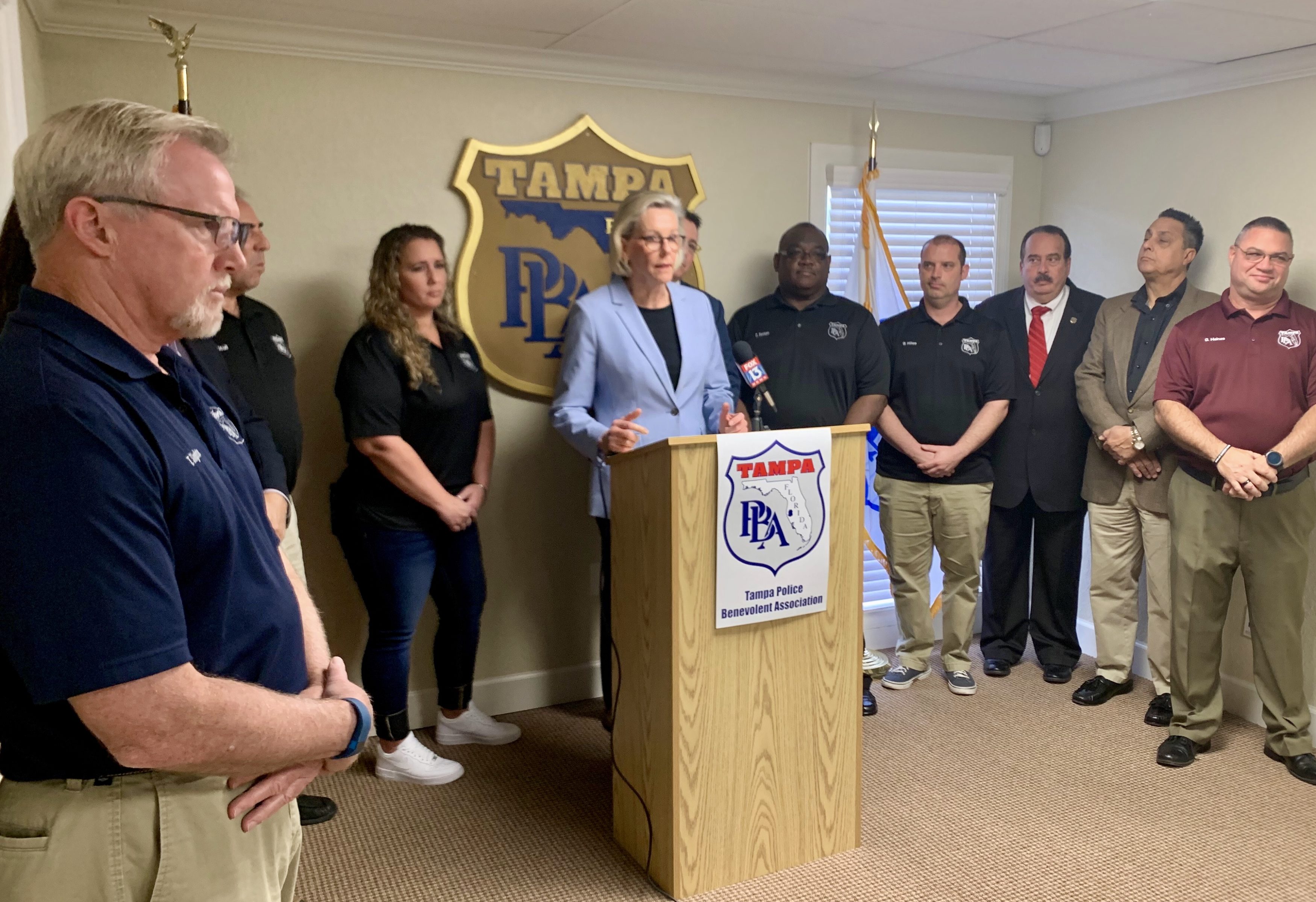 "There is no one more qualified than Chief Castor to be our city's next Mayor."
Tampa mayoral candidate Jane Castor has the backing from both local and statewide police groups. Both Florida and the Tampa Police Benevolent Associations announced its support during a news conference at the local Tampa PBA headquarters on Busch Boulevard Thursday.
The endorsement comes as little surprise. Castor served as the Tampa Police Department's first female chief and worked with the department for 31 years.
"One of the most important duties for Tampa's next Mayor will be keeping our citizens, and our nearly 1,000 Police Officers, safe. With decades of firsthand experience as an officer, as chief of this city's force, and as an advocate and mentor for our men and women in blue, there is no one more qualified than Chief Castor to be our city's next Mayor," said Abe Carmack, Tampa PBA President.
Castor served as chief for her final six years with the department before retiring in 2015.
"Today, the members of the Florida Police Benevolent Association are happy to announce our support for Jane Castor to be the next Mayor of Tampa," said Florida PBA President John Kazanjian. "Tampa's Police Officer will have a true ally in Chief Castor, with the skills, knowledge, and experience to keep their communities and officers safe."
Castor is running in a crowded field of candidates including some big names in local politics. That includes retired Tampa businessman and philanthropist David Straz, former Hillsborough County Commissioner Ed Turanchik, Tampa City Council members Harry Cohen and Mike Suarez, retired judge Dick Greco Jr. and small business consultant Topher Morrison.
Castor nabbed one of three endorsements from groups representing city workers. Suarez earned endorsements from the firefighters and Almagamated Transit local unions.
"I am proud to have the support of the men and women of the Florida and Tampa Police Benevolent Associations," Castor said. "As Mayor, I'll work every day to make our city safer, to support our men and women in blue, and strengthen the relationships between law enforcement and the neighborhoods they protect."
The PBA endorsements come just one day after Castor also earned an endorsement from Tampa Bay Lightning owner Jeff Vinik.
Castor was born and raised in Tampa where she attended public schools and graduated from the University of Tampa.
Tampa's municipal election is March 5 with a runoff scheduled for April 23.