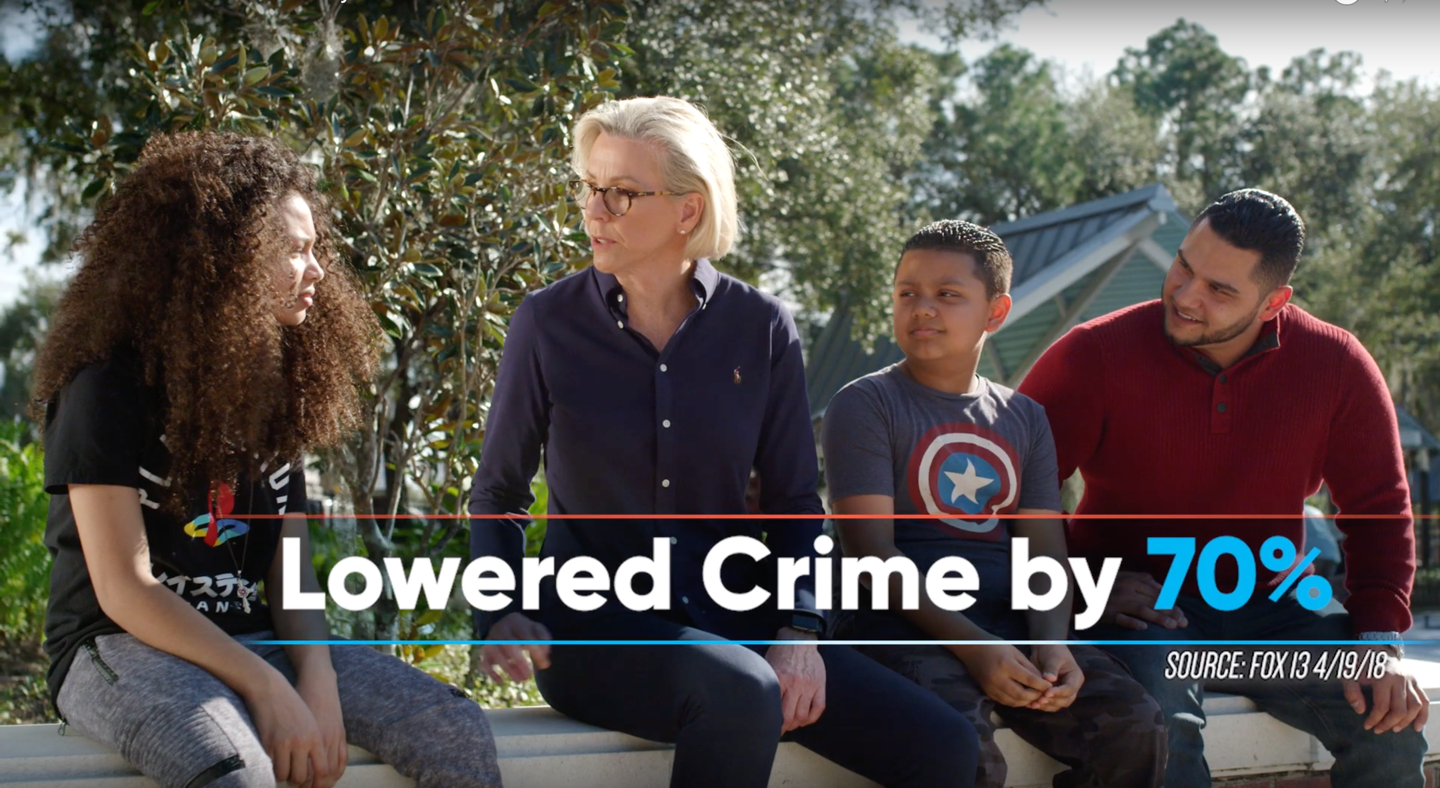 Castor highlights her law enforcement career while keeping an eye on other issues.
Jane Castor is releasing her first television ad in her campaign for mayor. The spot emphasizes her work with the Tampa Police Department over a career that spanned 31 years.
"The street's a lot different than when I first started patrolling it," Castor says in the ad. "It's safer, cleaner – the kind of place I'd like my kids to live and work."
During her tenure as the city's first female chief, crime dropped 70 percent.
But the ad shifts focus from public safety to important issues facing the city today including transportation and job growth.
The spot ends with Castor saying, "as your next mayor, I'll take us there."
Castor's first buy rang in at $35,000, according to campaign finance documents. The buy covers Monday through February 3 and includes more than 2,500 airings of a 30-second campaign commercial. It will be broadcast to Spectrum customers on channels including AMC, BET, CNN, ESPN and VH1, among others. Her ads will hit Spectrum's central and northwestern Hillsborough markets and satellite subscribers in the greater Tampa-St. Pete area.
"Tampa residents are looking for a leader who shares their values and is ready to solve problems and work together to keep our city moving forward," said Castor campaign manager Tim Wagner. "As a resident and as an officer protecting and patrolling our neighborhoods, Jane has always been guided by a dedication to doing the right thing and putting in the work to improve life for her fellow neighbors. This new TV ad underscores Jane's commitment to doing exactly that as the next Mayor of Tampa."
Castor is running in a competitive seven-way race. While she's been leading in polls, Castor faces a tough battle against so many big names in Tampa politics. She's running against two-term City Council members Harry Cohen and Mike Suarez and retired businessman and philanthropist David Straz who residents can easily recognize through his name gracing the local performing arts center.
Castor also faces retired judge Dick Greco Jr., who shares a last name with his father who served as Tampa Mayor for 15 years, lending him plenty of name recognition on the ballot. Former Hillsborough County Commissioner Ed Turanchik is also running with decades of transit activism on his side. An underdog candidate, small business consultant Topher Morrison, is also running and gaining an impressive following considering it's his first foray into politics.
Castor has raised more than $200,000 for her campaign alone and another nearly $300,000 in her affiliated political committee, Tampa Strong. Only Straz has raised more money, dumping $1.5 million of his own cash into his campaign and raising another more than $100,000 on top of that.
Candidates have just over a month of campaigning ahead of them with the March 5 election approaching quickly. If no candidate receives more than half the vote, the top two vote-getters will move on to a runoff election April 23.