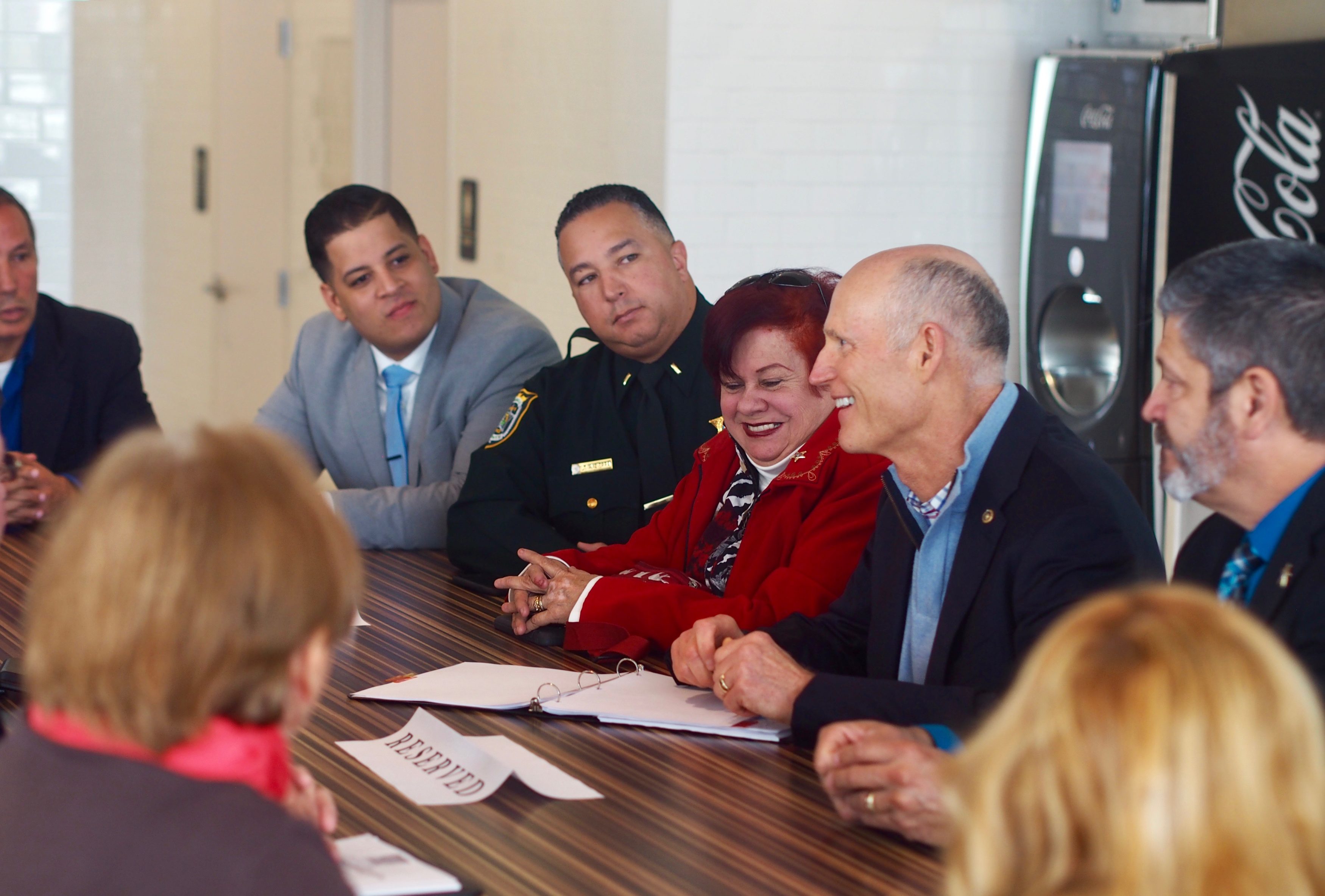 Scott prefers the phrase "physical barrier" to "wall."
Less than three weeks into office and for Republican U.S. Sen. Rick Scott Washington is shaping up to be as dysfunctional as he feared.
So while pushing for the current Congressional immigration and border security deal to include people in DACA and temporary protected status program, plus a border barrier, Scott is not expressing high hopes.
"It's going to be hard," Scott said in Orlando Monday, shortly before meeting with a group of Hispanic political activists, primarily Puerto Rican, on his first roundtable listening event since getting sworn in on Jan. 8.
It followed his first address from the floor of the U.S. Senate, which also was about Puerto Rico, and his bill amendment seeking $600 million in additional post-Hurricane Maria aid.
On Friday Congress and President Donald Trump just ended the most extended government shutdown in modern times when they approved a three-week funding package to run through Feb. 15. But the same issues, chiefly surrounding the Republicans' and Democrats' visions for border security, leave the process haunted by the prospect of another shutdown on Feb. 16 if another deal isn't stuck.
Without using the word preferred by Trump, "wall" — Scott preferred the phrase "physical barrier" — Florida's junior said Senator said Congress needs a barrier approved for parts of the southwest border with Mexico but also needs immigration reforms to assure secure status for young people in the Deferred Action Childhood Arrivals program and the TPS program for refugees from countries such as Haiti.
"We've got to have a permanent fix for DACA. We've got to have a permanent fix for TPS. And we have to have a permanent fix for border security so we don't go through this every year," Scott said, adding that his idea for border security means, "It's going to be technology. It's going to be people. It's going to be barriers. Different parts of the border require different things."
Scott charged that "the other side," Democrats under House Speaker Nancy Pelosi, are not interested in funding border security, a charge that almost all House Democrats strongly refute. They have offered bills that would agree with his priorities on people and technology, and what Scott referred to as a humanitarian answer, while rebuffing requests for a wall.
Scott entered office at a moment when this shouting match already was at full volume, having started in the last two weeks of the 115th Congress and reaching a crescendo when Pelosi took over the House in the 116th Congress a few days before Scott was sworn in.
The former Florida Governor campaigned for the Senate on a platform that Washington was dysfunctional and that his opponent, now former-U.S. Sen. Bill Nelson, was part of that dysfunction.
On Monday Scott got the opportunity to play the outsider who had entered a food fight in progress and then stepped out to shake his head.
"It's messed up. It's just crazy. We just had the shutdown. Everybody knows we shouldn't shut down the government. And everybody knows we need to secure our borders, but they don't pass a bill," Scott said. "And everybody, not everybody, I think most people, believe we need to take care of the DACA kids, at least I do. And the TPS program is not a program that works well.
"We've got to fix it … We need to fix immigration."