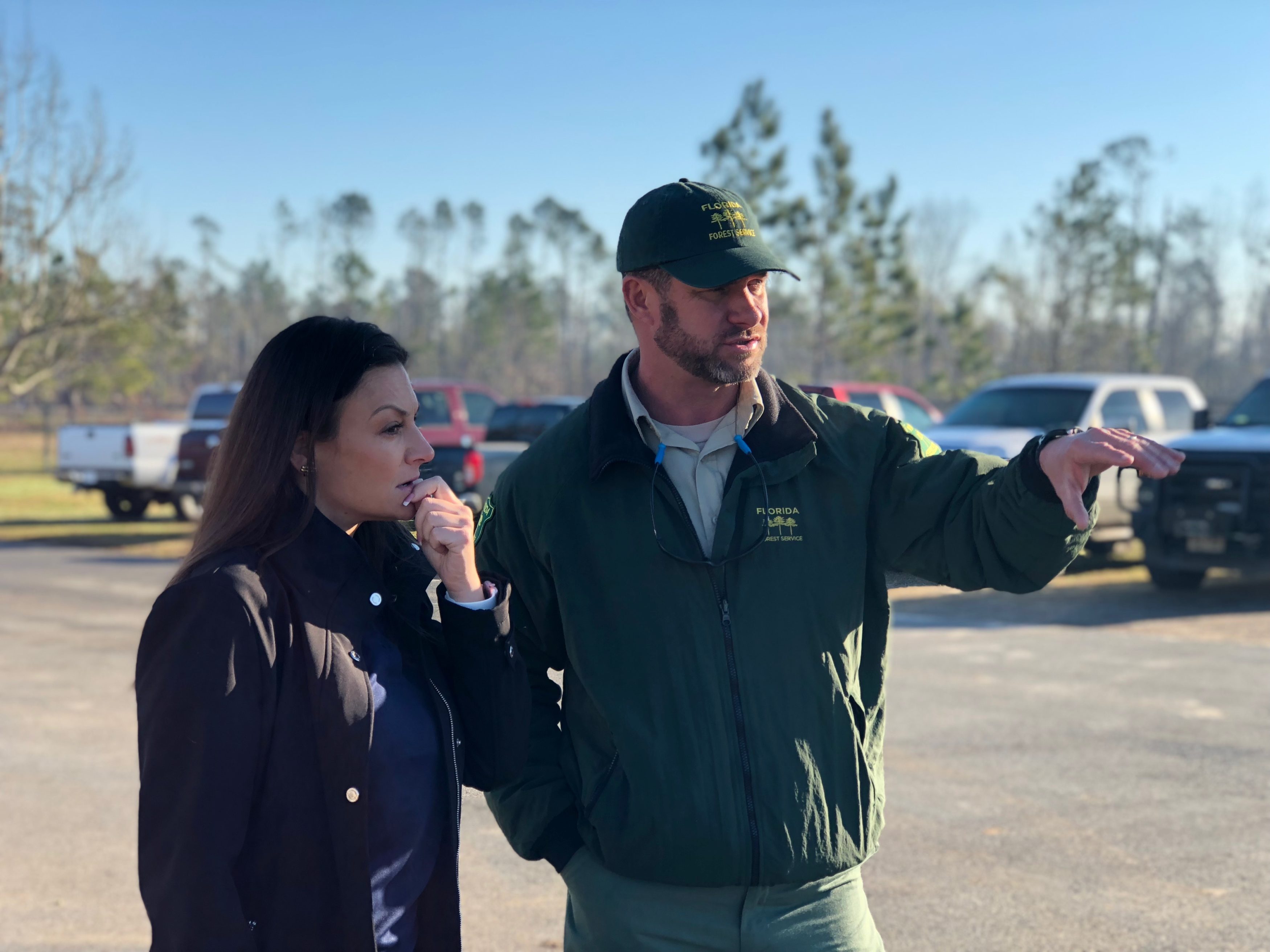 The Agriculture Commissioner promised to devote herself to the recovery effort.
Agriculture Commissioner Nikki Fried, the lone Democrat on the Florida Cabinet, toured hurricane-ravaged Jackson County Monday in the company of two Republican lawmakers and promised to devote herself to the recovery effort.
Fried cited the need to bounce back from crop losses, plus the danger of wildfire and pine beetle infestation unless millions of downed trees are cleared.
Statewide, timber losses have exceeded $1.3 billion.
"This must be the top priority of my administration, and we'll be working with our partners to get this done," Fried said during a news conference on the campus of Chipola College in Marianna.
"We have your back, and we'll be here every step along the way," she told Panhandle residents.
Accompanying Fried during the tour and a news conference were Sen. George Gainer of Panama City and Brad Drake of Eucheeanna, both Republicans, who thanked her for bringing attention to the local recovery efforts.
"Commissioner Fried, this community stands with our arms open wide," Drake said. "We will accept you into this community. You're a part of us now."
Fried plans to work with the lawmakers on an aid package for the 2019 Legislative Session.
It will include state-backed low-cost loans to help farmers with planting following extensive crop losses, a cost-sharing program to finance improved irrigation systems, and sales tax exemptions for equipment and materials, she said.
"Barns were knocked off and blown away. Fences. A lot of it is just rebuilding the basics," Fried said. "We don't want our producers and our farmers in this region to have a lost season. We can't afford that to happen. So we are going to fight every day to bring a solution here to this region."
Farmers and foresters told the group they need access to heavy equipment and bodies to clear debris and allow access to thousand of acres of fallen trees, Fried said.
"They know this is prime time to get it off before we get into the dry season. Time is not on our side," she said.
Amendment 1 — approved by the voters in 2014 to dedicate a portion of the real estate transactions tax to environmental land buys — might be a source of the money, Fried said.
Jim Karels, director of the Florida Forestry Service, accompanied Fried, Gainer, and Drake on their tour. At the news conference, he said his priority is to reduce the fire threat and help land owners "get back on their feet — open their lands, clear their lands, and become working, productive forest and ag. lands again."
State and federal dollars are especially needed in light of a significant drop-off in private donations compared to other recent disasters, Gainer said.
"This is probably one of the worst natural disasters we've ever had and it's being treated like nothing," he said.
He speculated that part of the problem was the difficulty aid groups had in traveling to the disaster zone, given the number of roads blocked by fallen trees and debris. Outsiders don't grasp the scale of the disaster, in which 43 people died in Florida, Gainer said.
"If you don't see it first hand, you can't appreciate the devastation," Fried said. Meanwhile, the federal government shut-down blocked farmers from seeking government assistance.
It's easy, she added, for people elsewhere in the state "to kind of forget what happened here. What I have pledged is that we are not going to forget.
"We are going to stand side by side as we replant, as we get our crops back into the ground, and we make sure that this community is vital," Fried said.
"Healing is very difficult," Drake said. "It takes time, and it takes a collective effort. And it's not a partisan issue.
"When people are trying to rebuild their lives, we don't care about what political affiliation someone is, or where they come from. We appreciate everyone's help."