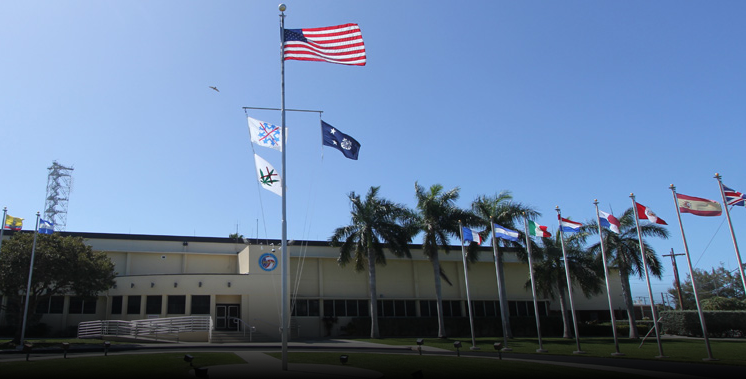 The task force is probably moving out of Key West, but where?
U.S. Rep. Michael Waltz is heading up a push including all 27 Florida members of the U.S. House of Representatives urging the U.S. Military Southern Command to keep in the state of Florida the Joint Interagency Task Force South that fights drug smuggling.
Waltz, the Flagler County Republican and lieutenant colonel in the Army National Guard who serves on the House Armed Services Committee, led an effort that drew in the other 26 members of Florida's House delegation, in all 14 Republicans and 13 Democrats, a rarity. They cosigned a letter Thursday to Admiral Craig S. Faller, commander of the U.S. Southern Command, expressing full support to keep the task force in the Sunshine State. They joined Florida's two Republican U.S. Sens. Marco Rubio and Rick Scott who sent a similar letter last week, making it a unanimous push by Florida's members of Congress.
The task force is a hub for coordinating drug interdiction efforts, not only between several American law enforcement agencies, but also among partner nations in the region, dedicated to stopping the trafficking of illicit drugs and dismantling illicit and converging threat networks in support of national and hemispheric security. The task force oversees an area of more than 42 million square miles stretching from the Caribbean to Cape Horn in the southern tip of South America.
The task force is likely to be moving a new headquarters because of a report released last year finding that its current location at Naval Air Station Key West is too small and not viable for long-term needs. So the question is whether it would find a new home in Florida or some other state or at a U.S. military installation in a territory or overseas.
"As you review and evaluate future locations for JIATF-South, we strongly encourage you to maintain the headquarters in Florida," the House members wrote.
Neither the letters topped by Waltz nor Rubio specifically called for the task force's office to remain in Key West, just in Florida.
"We write to express our full support for Joint Interagency Task Force-South to remain in the state of Florida. We hope you will appreciate the strategic benefits of maintaining the headquarters within Florida, not only for its mission success, bu for the quality of life for the personnel, and their families, assigned there," Waltz and the other 26 members of the House wrote.