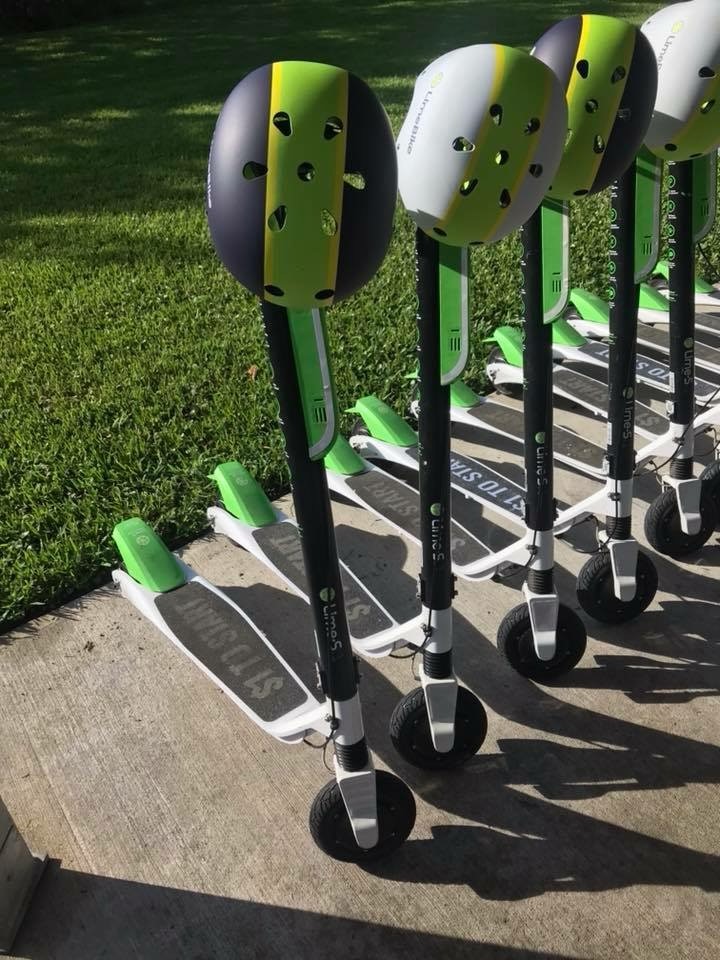 Florida law is ambiguous on how to classify scooters and prohibits them from use on roads.
St. Petersburg and Tampa may be letting an opportunity "scoot" away. 
Both cities have yet to capitalize on the electric scooter craze sweeping cities of a similar size nationwide. The tiny electric scooters zip around at 8-15 mph, solving first-mile/last-mile problems that arise when transit users have too far to walk between transit stops and their final or originating destinations.
They're also a tool for cities to use for increased mobility in downtowns. But Florida's regulatory environment makes it hard for cities to get on board.
Lime, the nation's largest electric scooter sharing company, currently only has one program up and running in the state, which is in Fort Lauderdale. Compare that to North Carolina, and it's clear Florida has a lot of catching up to do.
Three cities are using Lime scooters with two more finalizing plans. The same goes for Texas where programs are running in San Antonio, Austin and Dallas with El Paso and Laredo prepped to join them.
Current Florida law is ambiguous on how to classify the motorized scooters and regulations prohibit them from use on roads. Cities and counties can move forward with bringing electric scooter services in, but they can only do so by approving an ordinance and they can only allow operation on sidewalks.
"We just don't think that's safe in our downtown," said St. Pete Director of Parking and Transportation Management Evan Mory. "We have a compact downtown with a lot of pedestrians and we allow A-frame signs on sidewalks in front of businesses."
As if that's not enough to worry about for would be scooter riders, St. Pete's sidewalks also intersect with a handful of busy parking garages with minimal visibility for both approaching pedestrians and cyclists and exiting cars and trucks.
"Drivers are used to looking for people on foot, but if someone is riding up faster on a scooter, that could be dangerous," Mory said.
Because of regulations he and other city officials perceive as too prohibitive, St. Pete is waiting to move forward until the state passes legislation regulating street legal electric scooters.
Mory said the city would be happy with a variety of solutions. Ideally, legislation would allow scooters to operate in bike lanes and on low-speed streets.
Meanwhile, the city of Tampa is moving forward with an electric scooter pilot program.
The Tampa City Council has already approved an ordinance allowing scooters on sidewalks. The city is sending out a Request for Applications Monday and will select three vendors for a 1-year pilot program that should launch May 1, according to Tampa Director of Transportation and Stormwater Management Jean Duncan.
In their requests, companies will have to describe how many scooter staging areas they will need and how to delineate those spaces, which would likely be by painting areas on public rights of way.
Part of the city's ordinance requires scooter staging areas so riders could not just leave them anywhere, which has been a problem in some cities.
Lime is likely vying for one of the three vendor slots for Tampa and has been in discussions with St. Pete officials about launching a program there.
The company retained lobbyists late last year as lawmakers consider new regulations. Lime officials said the company could support any law that would provide streamlined regulations including allowing use for scooters on some roads and bike paths.
"I think that overall we would prefer that they operate in roadways and bike paths," said Lime Florida Community Affairs Manager Vivian Myretus. "From a safety standpoint that's preference."
The Legislature is considering a bill that would better meet St. Pete's needs and provide more flexibility for companies by allowing cities and counties to pass ordinances allowing use on streets so long as the terms don't contradict state or federal laws.
St. Pete Sen. Jeff Brandes and Tampa Rep. Jackie Toledo, both Republicans, filed bills.
In addition to providing additional flexibility, the proposed bills, which are similar but not identical, would allow companies to use sidewalks for scooter parking as long as doing so did not impede the overall right of way along those paths.