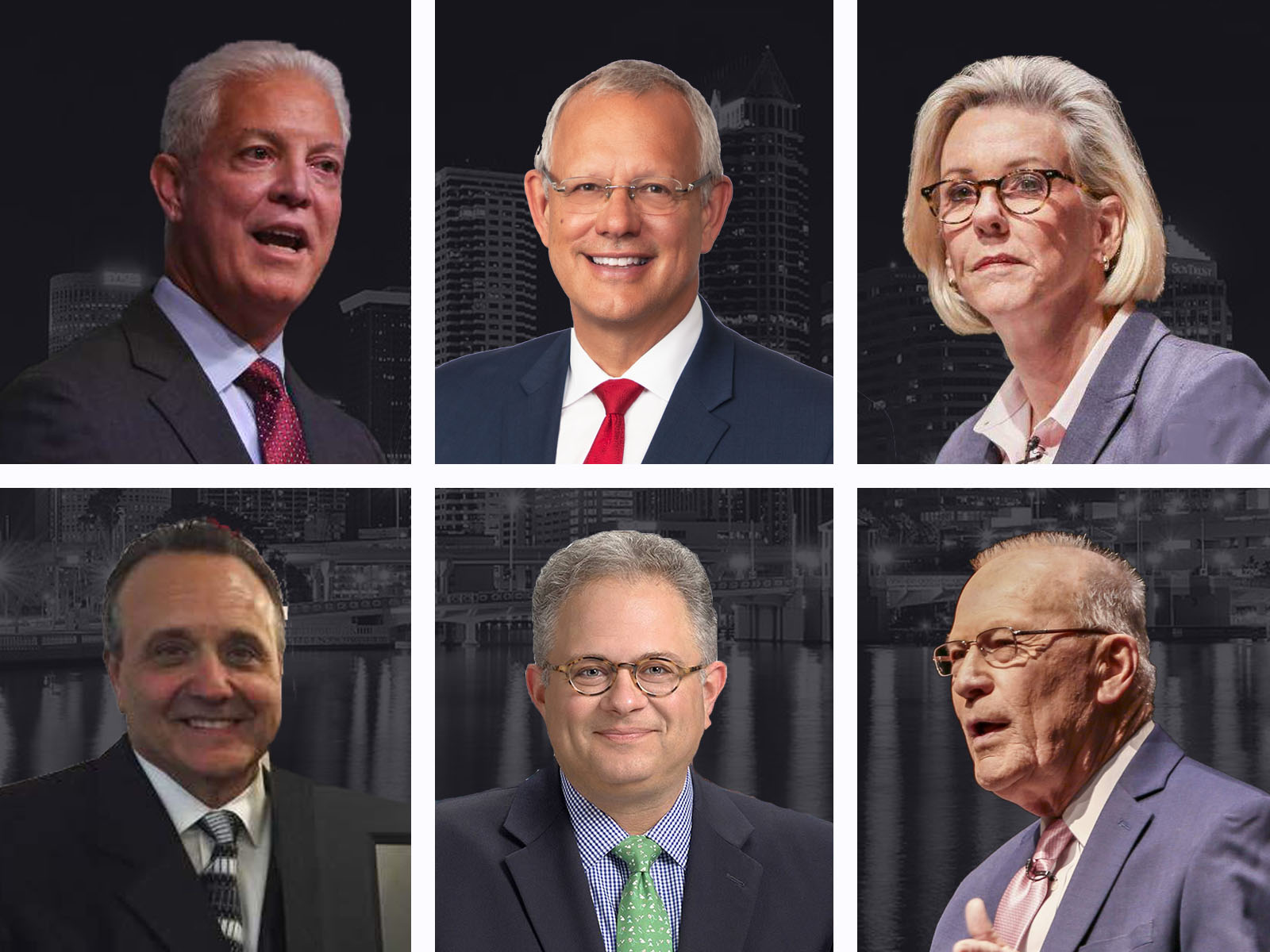 Experience matters.
The answer to whether or not endorsements are a big deal depends on who you're asking. And much like the great debate over yard signs, candidates continue to solicit and report them as much as possible.
That was the case Thursday when several candidates announced major endorsements.
From one City Council candidate dropping a trove of them all at once to a mayoral candidate announcing a national endorsement that could pay off big, here's what you missed if you weren't paying attention.
"John Dingfelder touts massive endorsement list" via Florida Politics — While most Tampa municipal candidates have been dropping endorsements one or two at a time, Dingfelder, a former Tampa City Council member, stockpiled an impressive list that includes both current and former elected officials.
Dingfelder is running for the citywide District 3 seat Yolie Capin is vacating due to term limits.
Tampa Mayor Bob Buckhorn tops his latest haul of supporters.
"Experience matters. John is ready on day one to do the job and build on the momentum of the last eight years and prepare Tampa for its next chapter," Buckhorn said.
Dingfelder also has support from Hillsborough County Commissioners Mariella Smith, Pat Kemp and Les Miller.
Other endorsers include Alex Sink, Mary Mulhern, Tom Scott, Sandy Freedman, Janet Cruz, Susan Valdes, Bob Henriquez and Julianne Holt. He also has support from a Republican, former State Representative Shawn Harrison.
"John is fair and never lets partisan politics get in the way of good governing," Harrison said.
"Nicholas Glover picks up two new endorsements" via Florida Politics — Former state Rep. Sean Shaw and business leader Tammy Charles both endorsed the District 3 candidate Thursday. 
Shaw most recently ran unsuccessfully for Attorney General. Since losing that election to Ashley Moody, the Tampa attorney has taken an advocacy role locally and now serves on the Independent Oversight Committee for Hillsborough County's new 1 percent transportation and transit sales tax. He also hosts a weekly radio show.
Charles is a local business leader and an outspoken and active advocate for women's rights. She recently served as co-chair of the MLK Leadership Breakfast and received the Tampa Chamber of Commerce's Deanne Dewey Roberts Emerging Leader Award last year.
"EMILY's List backs Jane Castor for Mayor" via Florida Politics — EMILY's List announced Thursday it was backing Castor. The endorsement comes on the heels of Ruth's List Florida also throwing its weight behind the former Tampa Police Chief.
"Jane Castor is an experienced leader with a proven history serving the city of Tampa," said Stephanie Schriock, president of EMILY's List. "Jane is a lifelong Tampa resident with over 30 years serving in the Tampa Police Department, dedicating her life to making Tampa a better place to live for all residents. With Jane's experience managing a large municipal agency, her long-standing commitment to protect and lead, and personal investment in the city's residents, she is the clear choice to be Tampa's next mayor."
The national group's endorsement comes with the potential of a big money boost. Since the group's founding in 1985 they have helped elect 150 women to the U.S. House of Representatives and 26 to the U.S. Senate. They've also helped more than 1,000 women seek state and local offices. During the 2018 election cycle the group raised $110 million to boost its efforts.
"Tampa PBA endorses Lee Lowry" via Florida Politics — A District 4 City Council candidate, Lowry serves on Citizens' Review Board for the Tampa Police Department as a Mayor Bob Buckhorn appointee, who also endorsed her. She said that experience gives her knowledge of the agency's operations.
"It is an honor to have these hard working public servants express support for my campaign for Tampa City Council. I look forward to working every day to help them have the resources they need to protect our citizens and serve safely and proudly;" Lowry said in a statement.
"Lytle touts neighborhood empowerment vision and collaboration" — In a press release, Lytle made a case for himself as a proactive candidate seeking collaboration with mayoral candidates knowing that one of them will eventually sit at Tampa's helm.
"I have proactively reached out to many of the mayoral candidates to attain their commitment to investing in our neighborhood empowerment department," said Lytle. "All of those I have spoken to have expressed interest in building a collaborative relationship with City Council and have committed to prioritizing investment for Tampa's neighborhoods."
He spoke to several mayoral candidates including Castor, Harry Cohen, Mike Suarez, and Topher Morrison. He provided comments from Cohen and Morrison. 
Cohen said he would work closely with City Council members. Morrison gave his commitment to support neighborhood empowerment initiatives. None of the information in Lytle's email amounted to an endorsement.
"Amendment 4 is already changing Tampa's electorate. Here's how:" via Tampa Bay Times — A Times analysis of voter registration data shows a surge in voter registration after a voter-approved constitutional amendment restoring rights to non-violent felons who had paid their debt to society went into effect. 
According to the Times, "At the beginning of 2019, 22 percent of Tampa voters were black. But on Jan. 8, the first day of Amendment 4, the black share of those registering to vote skyrocketed to 47 percent. For the entire week, black people made up 35 percent of new registrations.
When the Times analyzed records of Floridians taken off the voter rolls after a felony conviction, they found that black people were five times as likely to lose their voting rights as white people. Black men were much more likely to register to vote after Amendment 4 than black women."
The report notes that the greatest impact from Amendment 4-related voter registrations is in District 5, which is currently held by outgoing council member Frank Reddick. Five are running to succeed him including Orlando Gudes, Ella Coffee, Todd Cole, Jeffrey Rhodes and Ralph Smith.
Get Social
"With Jane's experience managing a large municipal agency, her longstanding commitment to protect and lead, and her personal investment in the city's residents, she is the clear choice to be Tampa's next mayor." – Stephanie Schriock, President of @emilyslist pic.twitter.com/A9DViMsx0e

— Jane Castor for Mayor (@JaneforTampa) February 7, 2019
Great call. Lee will be a great advocate for the men and women who put their lives on the line for us. https://t.co/l5WI6eMYCM

— Bob Buckhorn (@BobBuckhorn) February 7, 2019
I had a wonderful time at The Governor's Day Luncheon! Looking forward to working with this team to keep Tampa the powerhouse it is. It's not about party, it's about cooperation and connectivity! #Tampa #Florida pic.twitter.com/qjxh8MTukO

— Greco for Mayor (@DickGreco2019) February 7, 2019
Coming attractions: 
Harry Cohen will canvass with volunteers Saturday at 10 am and Sunday at 12 pm. The campaign and volunteers will meet at Jan Platt Public Library located at 3910 S Manhattan Ave.
Ed Turanchik will host a series of meet and greets every Sunday at 2 pm beginning this weekend at his campaign headquarters located at 1920 E. 7th Ave. Tampa in Ybor City.
Topher Morrison will host a virtual townhall on his campaign Facebook page every Saturday from 9-9:30 am beginning this Saturday. Participants can ask questions and discuss key issues facing the city.
Jane Castor Days of Action February 23 and March 2 with Equality Florida. Volunteers will help knock on doors to get out the vote. Meet at her campaign headquarters located at 3007 West Cypress St., Ste 2 in Tampa at 10 am.
Canvass with Greco: Saturday at 9:30 am at 1101 E Hillsborough Ave.