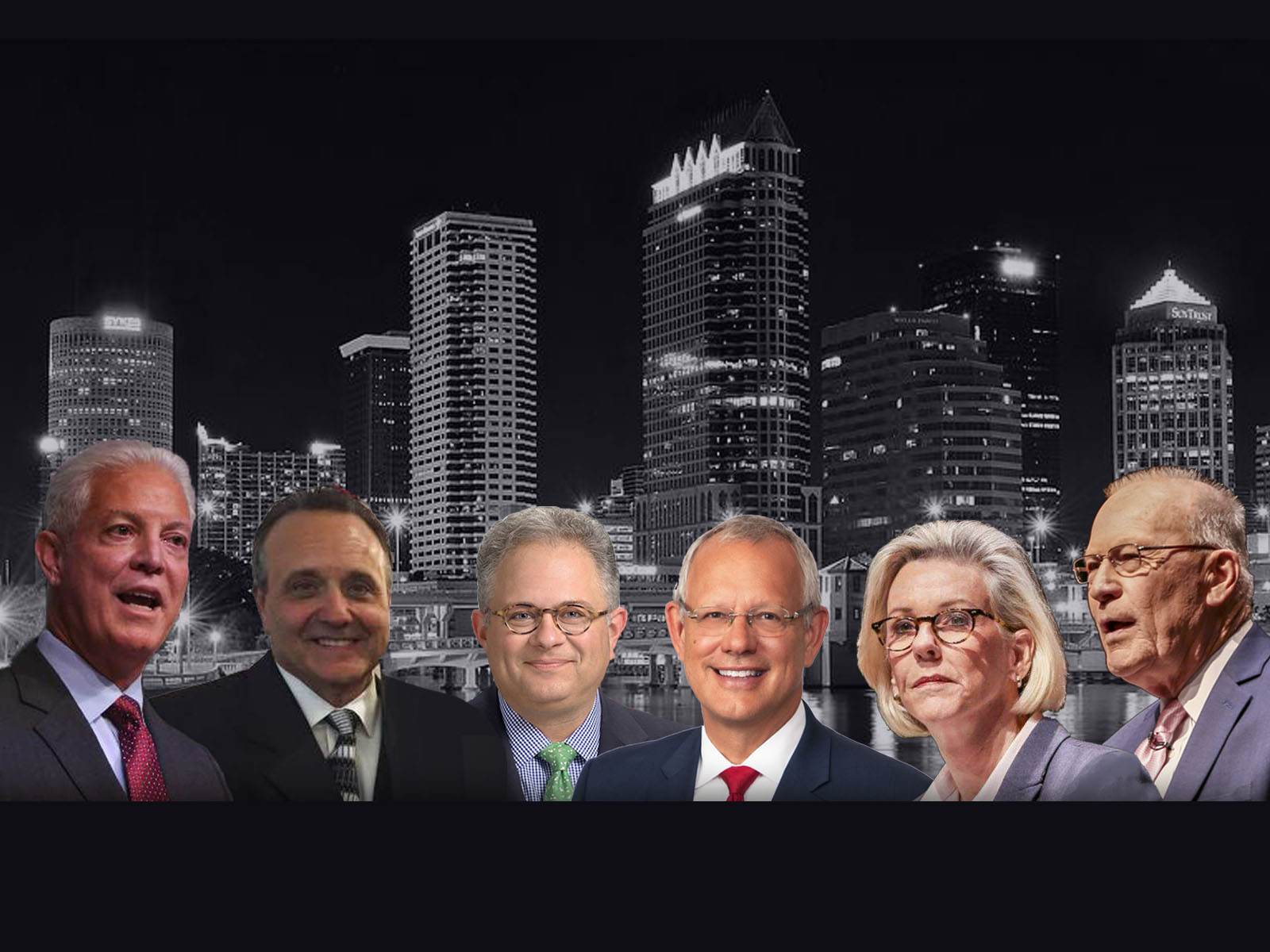 Candidates from four council districts faced off at a forum.
Another week of campaigning is in the books and Tampa municipal candidates have less than four weeks to get out the vote.
The first week of February marked a whole bunch of endorsements, a major poll with some expected data and some surprises and a couple of candidate takedowns.
On Friday, attention shifted away from the mayoral race and to City Council contests as candidates from four of the seven council districts faced off at a forum.
Here's what you missed, and what you should look forward to.
Tampa City Council Districts 3,4,6 and 7 candidates in massive lightning round forum 

When 10 candidates have an hour to share a stage, there's not much time for getting into policy specifics. That's what happened at Tampa Tiger Bay Club Friday when all but one candidate in the four races took turns cramming as much information as possible into 60-second answers.
Here are some questions and how the candidates answered:
Will you commit to historic preservation even against the will of property owners?
John Dingfelder: Yes
Nicholas Glover: Yes
Vibha Shevade: Yes, but (must respect property rights, use a carrot not a stick.)
Stephen Lytle: Yes, but (infringing property rights could lead to expensive litigation; reduce red tape to incentivize preservation)
Lee Lowry: Yes, but (proactively implement preservation ordinances)
Bill Carlson: Yes
Wendy Pepe: Yes, but (consider a tax break for preservation projects)
Guido Maniscalco: Yes
Luis Viera: Yes
Quinton Robinson: Yes
Of all of the candidates for mayor, name an idea you think is terrible, and one you think is good. 
Note: none of the candidates directly mentioned names, but where the implication was clear, we included that information.
Dingfelder: non-answer, focused on neighborhoods and his own experience
Glover: Doesn't like candidates who think they alone can fix city problems (likely referencing Ed Turanchik); likes any idea that includes integration of neighborhoods
Shevade: likes any innovative ideas about transportation and housing; cutoff for dislike
Lytle: disliked Topher Morrison's Urban Aerial Gondola idea; likes any commitment to neighborhood empowerment
Lowry: dislikes David Straz's proposed across the board 10 percent cut; likes any candidate who would be proactive
Carlson: dislikes Morrison's Hyperloop station to fund a baseball stadium idea; likes using empty buildings for artist space
Pepe: dislikes Straz budget cuts; likes transportation improvements
Maniscalco: dislikes Straz budget cuts; likes Harry Cohen's tiny homes and container housing for affordable housing
Viera: dislikes Straz budget cuts; likes social tolerance policies
Robinson: hasn't focused on the mayor's race
*District 4 candidate Sal Guagliardo did not attend.
"Cohen touts 'big plans' with fun TV spot" via Drew Wilson of Florida Politics — The spot eschews most political ad tropes — no dramatic music, stilted dialogue or mentions of kitchen table. Instead, it features a funky soundtrack and title cards more reminiscent of an action flick. That's not to say it doesn't hit on most of the relevant issues in Tampa politics.
"He's passed eight municipal budgets with higher bond ratings, saving taxpayers millions," a narrator says. "He's an expert on fixing Tampa's transportation challenges. He dreams about stormwater management.
"He's not fancy. Not tall," a narrator says as Cohen enters an elevator with men much taller. "But he's got big plans for Tampa and gets things done — a transportation plan, affordable housing, flood control, climate change, growing our city sustainably."
Cohen caps off the ad by saying he's "got plans, not slogans."
Straz launches two television ads
Two 30-second ads hit the airwaves on Spectrum channels in Tampa Friday that will run through Monday.
The two videos are identical in content. The only difference is there are different people voicing the script.
The ads center on Straz living the American dream "from sweeping floors to job-creating CEO."
The ads highlight Straz's philanthropic giving of "millions" to the Straz Center for the Arts, Lowry Park Zoo and the University of Tampa.
Both ads end by asking voters to "just imagine what he could do as mayor."
Get Social 
David was thrilled to have the opportunity to speak to such an enthusiastic crowd at the #EastTampa Meet and Greet Luncheon at Maestro's At @StrazCenter. #Tampa #StrazMayor2019 #JustImagine pic.twitter.com/K4eSRiRpUZ

— David Straz for Mayor (@StrazForMayor) February 8, 2019
Missed it? Mayoral candidates (except Straz) meet with Historic Ybor Neighborhood Association
Coming attractions:
Saturday 12:45-3:30 p.m.: United Voices at Islamic Society of Tampa Bay; 7326 E. Sligh Avenue.
Tuesday 6:30-8 p.m.: Forest Hills Neighborhood Association; 11412 Forest Hills Dr.
Wednesday 6-8:30 p.m.: Hillsborough County LGBTQ Caucus; 4500 W. Cypress Avenue.
Friday 11:30-1: p.m.: Tampa Tiger Bay Club, Chester A. Ferguson Law Center 1610 N. Tampa St. (tickets required).
February 19, 6-9:15 p.m.: New Tampa Council; St. Mark Evangelist Catholic Church at 9724 Cross Creek Blvd.
February 20, 5-8 p.m.: Tampa Bay Sierra Club; HCC Ybor congregation room, 2112 N. 15th St.