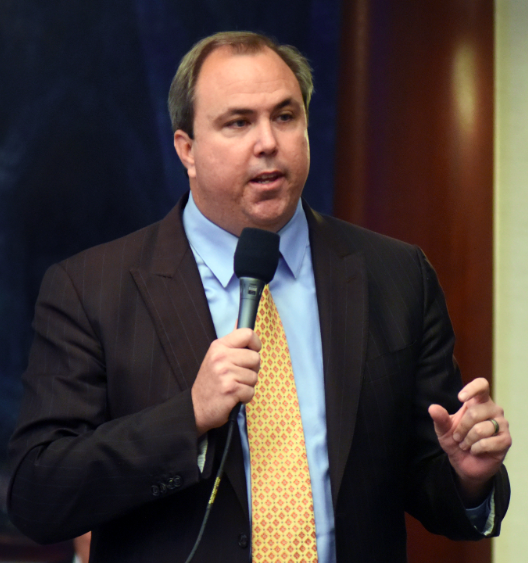 Critics say bill will lead to immigrants being targeted for deportation.
The Senate Judiciary Committee tabled "Sanctuary Cities" legislation Monday after critics from the state packed a chamber to voice opposition.
State Sen. Joe Gruters insists his bill (SB 168) banning "Sanctuary Cities" seeks to require law enforcement follow federal law. But immigrants and advocates say the measure threatens to tear families apart.
Monday marked the first committee hearing for the legislation, which Gruters labels a top priority this legislative session.
The Sarasota Republican said the proposed law would hold jurisdictions accountable and require cooperation with federal authorities. It will also define "sanctuary" policies, which remain nebulous under Florida law.
As written, the bill will prevent any local policy "which knowingly prohibits or impedes a law enforcement agency from communicating or cooperating with a federal immigration agency with respect to federal immigration enforcement."
That means cities and counties must comply with immigration detainers and cannot deny the federal government access to an inmate or refuse to provide updates on detainees' status. It also covers whether jurisdictions must initiate immigration status investigations.
Violators could be subject to legal action.
"This bill is about the rule of law," Gruters told the Senate Judiciary Committee.
But state Sen. Jose Javier Rodriguez, a Miami Democrat, said he feared the legislation might place an undue financial burden on jurisdictions.
He noted Miami-Dade County for five years had a policy not to honor federal requests to hold immigrants arrested for local crimes for more than 48 hours. That was lifted in 2017.
The reasoning for the policy, Rodriguez said, was financial, not showing hospitality to undocumented immigrants.
"Detainers don't come along with federal dollars," he said.
Gruters said the now-rescinded Miami-Dade policy would meet his bill's definition of a sanctuary city. He also acknowledged there could be a cost for local jurisdictions.
But he noted there's a process in place for local governments to recoup $50 per day of costs from the federal government when detaining individuals.
Gruters agreed to many amendments suggested by committee members, but debate time Monday was limited primarily because of the high number of opponents who trekked to Tallahassee to oppose the bill.
In fact, Gruters was ultimately the only speaker at Monday's committee meeting to talk in favor of his bill.
Margarita Romo, executive director of Farmworkers Self-Help, said in 40 years helping immigrants she never saw a need for the Sanctuary Cities bill.
"If someone is really a criminal and you have to do something with a criminal, we are all in agreement," she said. "But if someone is not a bad guy what do you do with them when taking them into jail?"
She feared undocumented workers without driver's licenses will be taken into jail and kept until Immigration and Customs Enforcement can deport them, despite a stated intention to focus on criminals already in the justice system.
Ida Vishkaee Eskamani of the Florida Immigrant Coalition said the bill could expose immigrants to discrimination by law enforcement.
And Rev. Andy Oliver of Allendale United Methodist Church called the legislation an extension of President Donald Trump's "rapist, murderer, drug dealer, fearmongering rhetoric."
Gruters served as Florida co-chair for Trump's presidential campaign.
For his part, Gruters said his legislation aims to ensure "bad guys" face proper action under federal law.
"This is not about targeting people for jaywalking or minor offenses," he said.
He noted even green card holders and other noncitizens in the country with documentation can get driver's licenses.
But those committing serious offenses — or even repeat offenses — risk deportation if they are in the country illegally.
"My advice to them is don't break the law," he said.
Three children testified during the hearing, including one Sofia Lazano, who worried her mother could be arrested while taking her to school and then be deported.
Evan Oliver, age 7, testified police should not be forced to report undocumented immigrants to the federal government and then break up families.
The Judiciary Committee delayed a vote on the legislation to a future meeting to allow more debate and testimony.
Committee Chair David Simmons, a Longwood Republican, said many fears of the bill appear to be unfounded.
During several instances, Simmons interrupted individuals who testified the bill could lead to family members' deportation. He stressed the proposal focuses on those already in the criminal justice system.
"I can tell there's a misconception about this bill and what it does," he said.
And Gruters said he knows many groups will support the legislation but have not yet had the opportunity to speak to the legislation.
"I want to make sure all voices are heard, and all voices are answered," he said. "This is a common-sense bill."