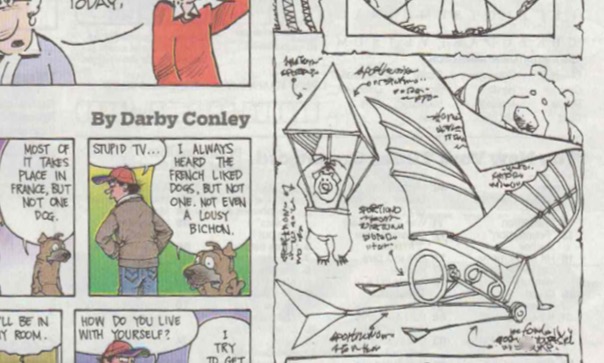 "This [is] a breach of trust with our readers."
At least two Florida newspapers, the Orlando Sentinel and the Sun Sentinel of South Florida, announced Tuesday they are dropping the comic strip "Non Sequitur" after the author slipped a vulgar reference to President Donald Trump into Sunday's cartoon.
The Sunday comic by David Wiley Miller included a little scrawl in the bottom of one of the drawings that appeared to read, to those readers who looked closely, "Go F*** yourself TRUMP."
According to the Sentinel and the Washington Post, it slipped by editors of the press syndicate that distributes the strip, Andrews McMeel Syndication. The syndication company and the author have apologized, they reported.
Julie Anderson, editor-in-chief of the Orlando Sentinel and the Sun Sentinel, penned a note in the corrections columns of those papers Tuesday morning declaring that they consider "this a breach of trust with our readers and will halt publication of the Non Sequitur cartoon."
The Washington Post reported that more than a dozen newspapers have done so, and that more than 700 papers had carried it.
In a message to Florida Politics, Wiley Miller wrote:
"When I opened the paper Sunday morning and read my cartoon, I didn't think anything of it, as I didn't notice the scribbling that has now caught fire. It wasn't until later when sharp-eyed readers pointed it out that I remembered doing it, as the cartoon was done about eight weeks ago. I now remember that I was particularly aggravated that day about something the president had done or said, and so I lashed out in a rather sophomoric manner as instant therapy. It was NOT intended for public consumption, which is why it's scribbled. Had I intended to make a statement to be understood by the readers, I would have done so in a more subtle, sophisticated manner. This coming Saturday will mark the 27th anniversary of Non Sequitur, and in all that time, I have never done anything like this, nor do I intend to do so in the future."
Andrews McMeel Syndication provided this statement:
"Regarding the "Non Sequitur" Sunday comic published Feb. 10, containing vulgar language, we are sorry we missed the language in our editing process. If we had discovered them, we would not have distributed the cartoon without them being removed. We apologize to Non Sequitur's clients and readers for our oversight.
According to the statement published in the Sentinel, the Sun Sentinel and other Tribune Publishing Co. papers, carried in column published Tuesday by John Cutter, the Sentinel's content director for operations and standards, noted, "Cartoonist Wiley Miller, in a statement, said he had prepared the cartoon with the vulgar message several weeks ago, intended to remove the message before the cartoon was distributed, but neglected to do so. However, in a Twitter post on Sunday, the cartoonist wrote: 'Some of my sharp-eyed readers have spotted a little Easter egg from Leonardo Bear-Vinci. Can you find it?' "