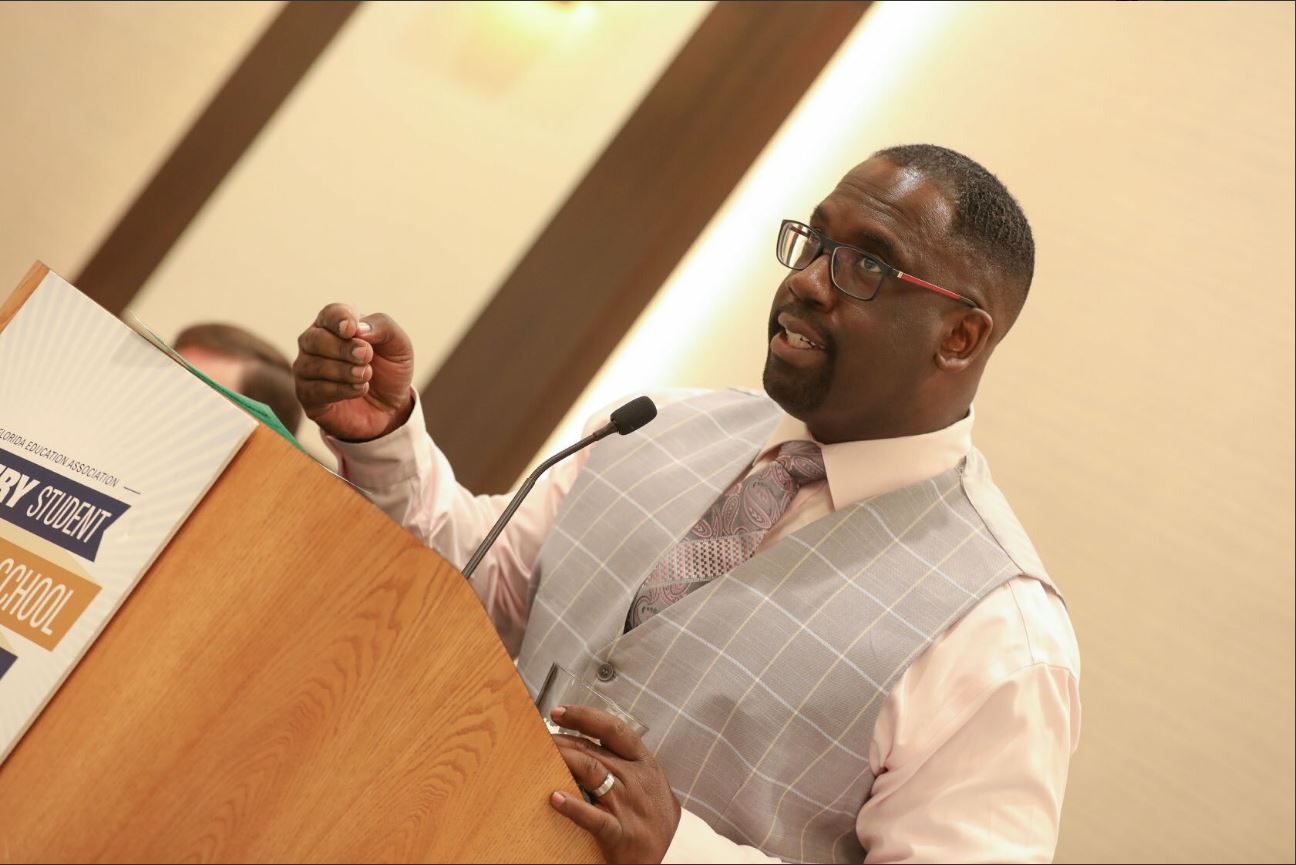 On Tuesday, the Senate Education Committee advanced legislation to arm teachers.
Fedrick Ingram, president of the Florida Education Association (FEA), is pushing back against lawmakers' efforts to allow teachers to train and be armed to enhance school security.
Under SPB 7030, advanced Tuesday through the Senate Education Committee, teachers would not be required to carry weapons. They would merely be added to the list of eligible individuals to participate in the state's Guardian program.
But Ingram, a former high school band director elected to lead the FEA in October, believes having guns inside the classroom isn't a solution.
"That's the wrong conversation," he argued. "The conversation should be about how we deal with our students."
"The issue is: why are these kids in situations where they feel like they have to get a gun and do these kinds of crimes in a school? There's an issue there that we're not talking about."
Instead of expanding the Guardian program, Ingram is pushing to ramp up funding for mental health hiring throughout the state's schools.
"We know that we don't have enough psychologists, mental health professionals, and counselors in our schools," Ingram said.
"So we're advocating for those things so that our kids have an outlet of people who they can talk to, people who they can vent to."
Florida schools are not required to employ mental health counselors, but increased funding could be enough to court schools to beef up its staff in that area.
Ingram says he's not opposed to increased security measures as well. He says that while he doesn't want campuses to become fortresses, he and the FEA do support increased safety measures such as ID's for students and making sure entrances and exits are appropriately staffed.
"We know that we need better school designs," Ingram noted.
"We know that we need security. We believe in our law enforcement professionals."
That is: If guns need to be on campus, leave them in the hands of the pros.
"We want those folks in or about our schools because we know that they have a job to do," Ingram said of trained law enforcement. "And we want them to do their job."
"It is those people's jobs to go to incidents and to keep our schools and our communities safe."
But Pinellas County Sheriff Bob Gualtieri responded that there simply aren't enough cops to go around.
Gualtieri chairs the Marjory Stoneman Douglas High School Public Safety Commission, which put forward the proposal to allow for the arming of teachers under the state's Guardian program. The commission was created following last's year's shooting in Parkland.
Gualtieri said that while he used to echo Ingram's statements regarding a preference for trained law enforcement handling weapons in schools, hiring shortfalls have made it all but impossible.
"Even if the funding is available, the people aren't available," Gualtieri argued at a January hearing in front of the Legislature.
"We're only hiring about 10 percent of the applicants. The applicant pool is dried up for qualified law enforcement officers. So we don't have the cops. So if we have to put somebody, which we should do, to protect those kids, the good guy with the gun, we've got to rely on somebody else and something else."
Ingram said that "somebody else" should not include classroom teachers.
"What you don't want to have is a mistake happen in a school as it relates to a firearm and one of our teachers and one of our students," he added.
"I don't believe that my colleagues want to have target practice as a part of their curriculum."
That wouldn't be the case, at least under the current proposal. The measure advanced Tuesday simply allows teachers to undergo firearm training if they choose to do so.
"No educator is required to be a Guardian," said state Sen. Dennis Baxley at Tuesday's hearing.
"No educator is required to carry any kind of defensive weapon. So no one has to do anything that — that is, one of the educators in this setting — except those people who are in a situation where they do feel charged with the responsibility and would like to be empowered to act."
But Ingram counters that the risk of having weapons inside classrooms isn't worth it and that lawmakers should listen to those who have classroom experience going forward.
"I don't want any of my children's teachers having guns because I don't want them to be placed in a situation to make a mistake," Ingram said.
"If you want to deal with our public schools — in making our schools safe, or you want to talk about student success or any issue as it relates to the traditional public school — people should ask teachers. People should ask students.
"That voice should be big and it should be bold because these are the people who are impacted one way or another."