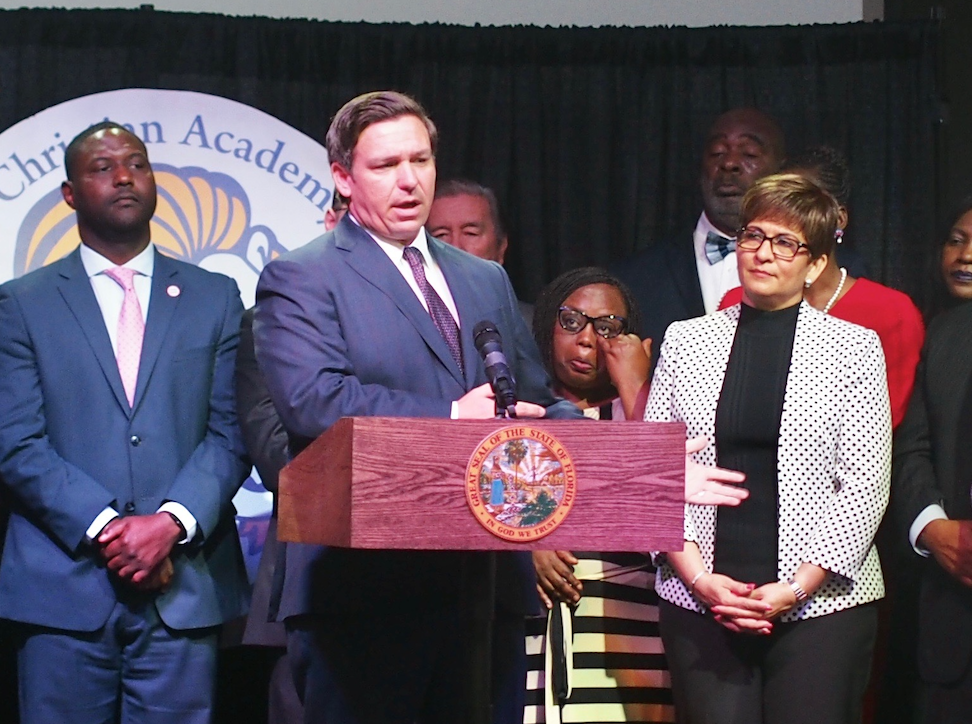 'Let's build on the success we've had with the tax-credit scholarship. '
Saying it would clear out the 14,000 students now on a waiting list for the Florida Tax Credit Scholarship, Gov. Ron DeSantis called on the Florida Legislature Friday to create an "Equal Opportunity Scholarship" for students wishing to attend private and charter schools, at a cost that could reach $100 million.
"I'm asking the Legislature, send a bill to my desk that provides this equal opportunity for those folks who have not had the ability to access a good scholarship," DeSantis said. "Let's do this. Let's build on the success we've had with the tax-credit scholarship. Let's continue to make Florida an innovation center for education,"DeSantis said at an announcement at the Calvary City Christian Academy, an Orlando private school centered in and serving low-income and predominantly Hispanic and African-American communities.
DeSantis offered only vague direction about how the scholarship will be structured or funded, saying it would not be done through tax credits, as the Florida Tax Credit Scholarship is done, but might be a hybrid of that and tax revenue. He said he would leave that up to the Legislature, through he said he was sending the Legislature some supplemental budget language to cover it, and was asking the Legislature to make it work.
"Look. I'm open to doing it different ways. It's sort of a hybrid between tax credit, Gardiner, McKay, and we're just trying to do it the most efficient or effective way possible," he said.
This year he wants the scholarship to cover 14,000 students, at about $6,500 apiece, that would work out to between $90 and $100 million, he said. He's also seeking $18-19 million to expand the Gardiner Scholarship Program.
He deflected criticism that such choice programs ultimately divert resources and achieving students from public schools, hurting them as more avenues for parental choice are created and backed by state money. DeSantis maintained that the efforts make the educations public at the private and charter schools, such as the Calvary City Christian Academy.
"For me, if the taxpayer is paying for the education, it's public education," DeSantis said. "It doesn't matter if you're going to the district school that you're zoned for, or if you're going to a public magnet or a public charter, if you take the Tax Credit Scholarship to go to a private school, or if you use an ESA for home school, to me that is all a public commitment to make sure that our kids have the best education."
He also dismissed prospects that courts might strike down the diversion of state tax money to private and religious schools, which has been done in the past. He said Florida has learned its lessons and he expects the program to be designed "to pass muster."
"I think at the end of the day, you see the kids out here, you see the testimony up here. The idea that you would want some court to block opportunity when we know this puts students on the path of success, I'm not worried about that. I think this will do very well," he said.
Former Gov. Jeb Bush, who is a national school-choice leader, was quick Friday to praise DeSantis' decision to "empower students."
"I applaud the governor's leadership and look forward to the future where every hard-working family has the ability to choose a school that works best for their children," Bush said in a statement.
Fort Lauderdale Democratic Sen. Gary Farmer disagreed, blasting the proposal as unconstitutional.
"Today, Governor Ron DeSantis and Education Commissioner Richard Corcoran revealed their true intentions to fully privatize Florida's K-12 education system. This is an unconstitutional and transparent attempt to institute universal vouchers in Florida and conclude a twenty year assault on public education," Farmer said in a news release.
"Taking money from the state's FEFP funding and putting it directly into the pockets of unaccountable private institutions directly contradicts the precedent established by the Florida Supreme Court in Bush v. Holmes, violates the Florida Constitution's 'no aid' provision, and subverts the mandate to provide a 'uniform, efficient, safe, secure, and high quality system of free public schools' for our children.
"I will fight this attempt to flout our Constitution tooth and nail on behalf of every parent, teacher, and student in our state."
Farmer's sentiments were echoed by Florida Education Association president Fedrick Ingram and Florida Democratic Party Chairwoman Terrie Rizzo.
"Let us be clear. Vouchers do not create choice for parents, but rather choice for private schools — they can reject students based on economic status, academic achievement, disabilities, English proficiency, immigration status, sexual orientation or even gender," Ingram said.
Rizzo added that the "honeymoon was over" with the DeSantis administration.
"It's clear that Ron DeSantis intends to govern just as the Republican Party of Florida has governed for decades, by selling out Florida families and children to corporate special interests," Rizzo said.
DeSantis' office further detailed the proposal in a news release sent out after the announcement. It said funding for the scholarship program would come from the Florida Education Finance Program (FEFP) and would equate to a slightly lower payout than the per-student funding average in the receiving student's district.
The 14,000-student cap is a half percent of statewide public school enrollment. The governor's office said the cap would increase by an additional one percent of statewide public school enrollment each year.
___
The News Service of Florida Contributed to this post.