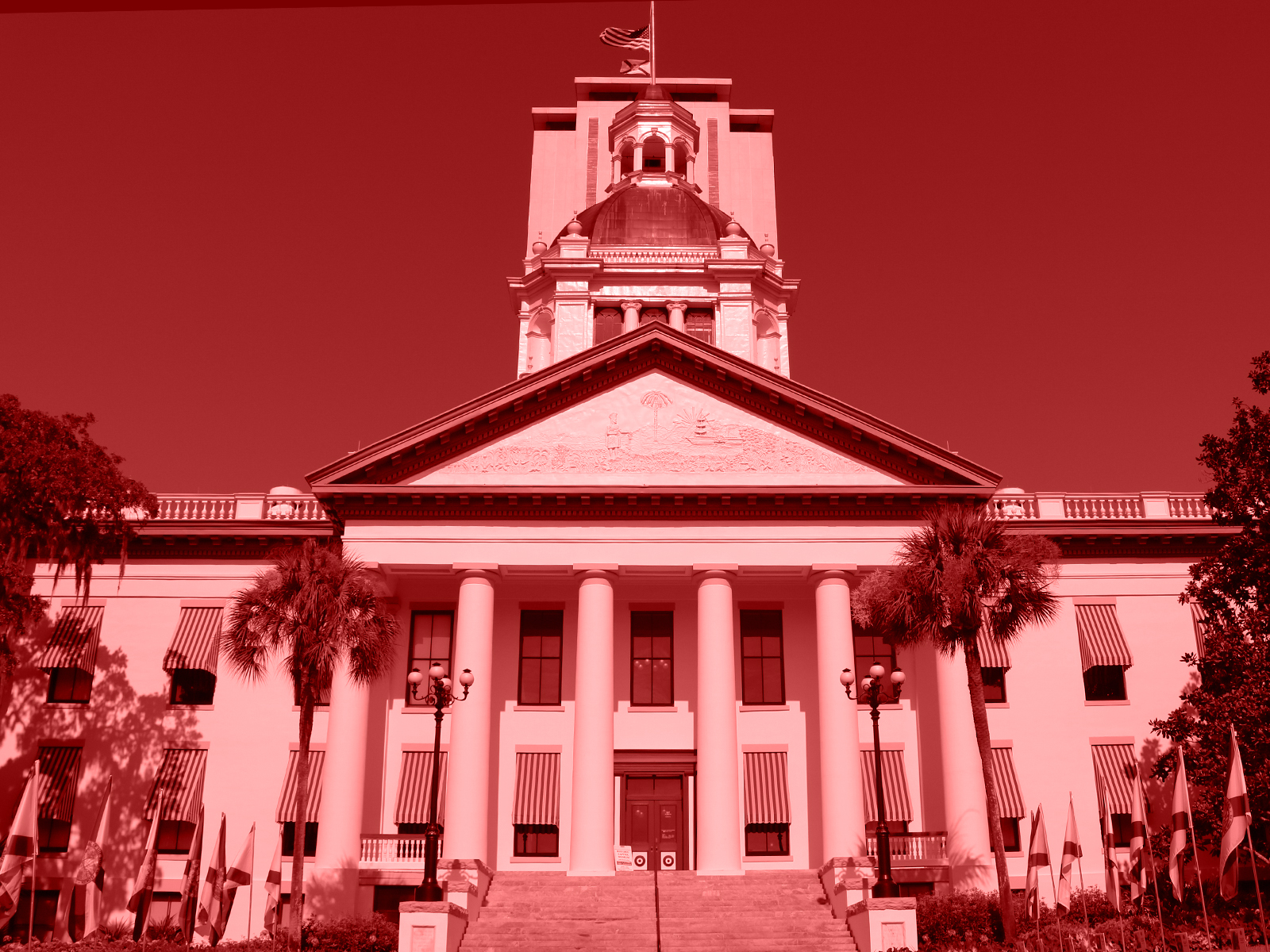 Session, strike-alls and 'Sixty Days': Your guide to what happened today in Tallahassee.
Sixty Days — A prime-time look at the 2019 Legislative Session
The Last 24
Good Monday evening. "Payment for pooches?" The battle over greyhound racing promises to heat up again as dog owners plan to ask lawmakers for a bailout now that voters OK'd a constitutional amendment banning betting on the sport. A House hearing is set for later this week. Already, the industry's lobbyist is saying the Legislature can pay up now or later, meaning if they don't get a bailout, they might sue. Racing ban backers, meantime, say the industry doesn't have a legal leg to sue on. Sit back; Sixty Days will make the popcorn. Here's your nightly rundown.
Dog days: The supporters of last year's dog racing ban say lawmakers aren't compelled to bail out the greyhound industry, but an industry lobbyist says it's absolutely needed — even required.
'Bold' vision for education: Not waiting on legislators, Gov. Ron DeSantis issued his own bills for his key education ideas.
Hurricane Michael's costs: Fix the Mexico Beach Pier. Repair FSU's Panama City campus. They're among the latest storm-related proposals looking to get into the 2019-20 state budget.
'Easing the process': People fleeing from natural disasters might be able to more easily get driver's licenses and professional licenses in Florida under proposed legislation.
Quote of the Day
"Compensating the (dog) owners is not a discretionary act … the Legislature is obligated to pay them." — Paul Hawkes, a lobbyist for the Florida Greyhound Association.
Bill Day's Latest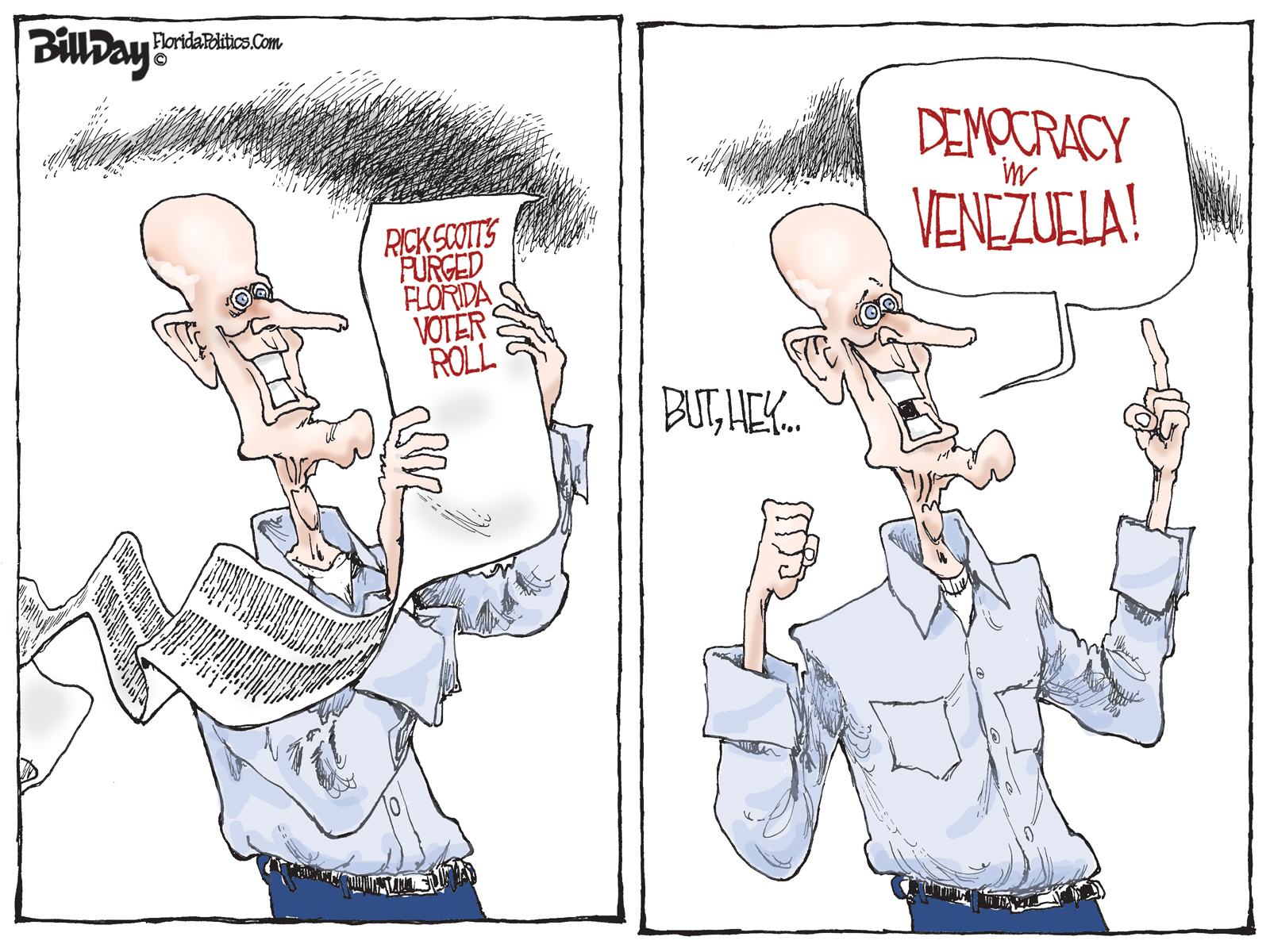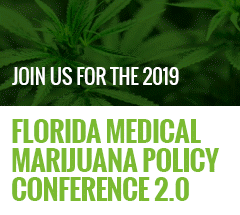 3 Questions
One of the chief issues facing House Judiciary Chairman Paul Renner's panel is confusion surrounding Amendment 4, which automatically restores voting rights to certain felons who have completed their sentences. Renner recently fielded questions from reporters about implementing the amendment. The Palm Coast Republican shared how he believes felon voters should move forward for upcoming mayoral elections.
Q: Before moving forward with legislation related to Amendment 4, don't you have to determine what constitutes the end of a sentence and what offenses are included?
Renner: The voters said, 'We want people who are convicted of felonies who complete their sentence to be able to vote unless they have been convicted of murder or a felony sexual offense.' Even within murder, which is kind of the smaller group — I think we all agree first-degree murder is murder. Some would suggest that second-degree murder is not murder, well, it seems like it would be. But people might have differences of opinion. You heard about manslaughter, where the intent is not there, it's an issue of reckless indifference to human life. That's a little different issue. But what about attempted murder? Where the heart of the individual is the same, they just weren't successful in their intent to take someone's life?
… It's up to the committee in the House and the Senate to in good faith talk through where that line should be drawn. But the voters have drawn it in the broadest sense, but there are areas in the gray where we need to look at.
Q: How do you resolve all these complications?
Renner: We're going to continue our discussions with members of the committee, members of the public. We ran out of time today, but I would certainly want to hear from the state attorneys, public defenders and criminal defense attorneys to gather and at least give us some input. We obviously can't poll the 4 or 5 million voters and ask them each individually. I can guarantee you individually that each would have a difference of opinion. I think that's fair to say. We have to try to aggregate that in good faith and try to hit the right spot.
Q: There are two mayoral elections (Tampa and Jacksonville) coming up that will probably be decided before the ambiguity is resolved. What do you tell those who believe they are eligible to vote but are not sure?
Renner: We in our daily lives have to operate in areas where there is no certainty. They should go down and register to vote, if they believe they are entitled to, and talk to their supervisor … [Amendment 4] gives them that right today. The question though is in some of these areas that will affect a small number of people — it may be thousands but it won't be the 1.5 million we talked about. They should go down and register to vote and with the expectation that the supervisor will in good faith look at the statute and their situation and if they're entitled under the amendment, allow them to vote. I don't think we want anybody to go away from today thinking that they shouldn't proceed with registration. They should. And we're going to make sure that we bring clarity and remove any subjectivity that would stand in the way of the voter's intent.
Lobby Up
Lobbying compensation reports are in for the fourth quarter of 2018. The top-earning firms should be recognizable to most who follow the lobbying side of Florida politics, but what about the principals?
Dozens of local, national and international companies have a stake in the Sunshine State, and they're willing to spend big bucks hiring multiple firms to get what they want from the state's lawmakers, Governor and Cabinet.
Here's a rundown of the 10 principals — 11 really — that spent the most coin in Q4, based on median figures:
— Construction firm K.A.S. & Associates paid $250,000.
— Utility company Florida Power & Light Company spent $230,000.
— Clewiston-based U.S. Sugar spent $205,000.
— Telecom giant AT&T shelled out $180,000.
— Cutler Bay-based Title Clerk Consulting Company spent $175,000.
— West Palm Beach-based Florida Crystals Corporation paid its lobbyists $145,000.
— Coral Springs Corp. Performance Title Services paid out $143,000.
— Hospital giant HCA Healthcare spent $136,000.
— Miami-Dade County, Miami-based Dosal Tobacco Corporation and disaster recovery group Ashbritt tied for the No. 9 spot, spending $135,000 apiece.
According to data compiled by LobbyTools, there were 31 principals who paid $80,000 or more in lobbying fees last quarter, and more than 20 of them broke the six-figure mark.
Some of the recognizable names further down the list: The Florida Medical Association at $120,000, Associated Industries of Florida and the Seminole Tribe of Florida at $115,000 apiece, red-light camera company American Traffic Solutions and mega-insurer State Farm at $90,000 each, and Disney at $85,000.
Breakthrough Insights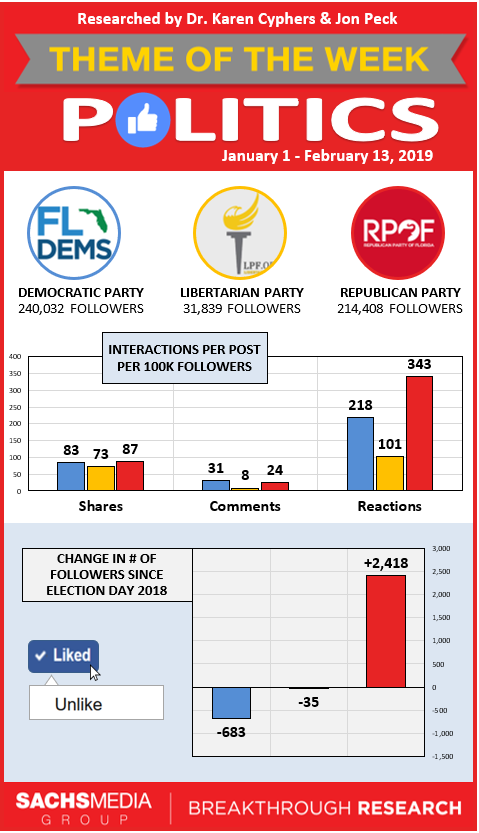 The Next 24
The House Ways & Means Committee will receive a presentation about Florida's corporate income tax and federal tax reform. That's at 8 a.m., Morris Hall, House Office Building.
The Senate Commerce and Tourism Committee is slated to hear presentations from Ken Lawson, executive director of the Florida Department of Economic Opportunity, and Jamal Sowell, president and CEO of Enterprise Florida. That's at 10 a.m., 110 Senate Office Building.
The Senate Criminal Justice Committee will take up a bill to try to curb human trafficking. Among the steps would be requiring that public-lodging establishments train employees in identifying, preventing and reporting human trafficking. Also, it would require law-enforcement officers to complete training in identifying and investigating human trafficking. That's at 10 a.m., 37 Senate Office Building.
The Senate Health Policy Committee will consider a series of bills, including a proposal to expand a needle-exchange program for intravenous drug users. That's at 10 a.m., 412 Knott Building.
The House Education Committee will hold a panel discussion on school choice at 11 a.m., Reed Hall, House Office Building.
The House Health & Human Services Committee will hold a workshop on suicide prevention, with speakers expected from the Department of Children and Families, Florida State University and the University of Central Florida. That's at 11 a.m., Morris Hall, House Office Building.
The Senate Banking and Insurance Committee will take up a bill that would provide a contingency for people with pre-existing medical conditions if the federal Affordable Care Act is ever repealed or invalidated. That's at 12:30 p.m., 412 Knott Building.
The Senate Children, Families and Elder Affairs Committee will consider a proposal that would make changes in child-abuse laws, including addressing cases in which children die or suffer more-severe injuries because they were not properly restrained in vehicles. That's at 12:30 p.m., 301 Senate Office Building.
The Senate Judiciary Committee will take up a bill that seeks to prevent "sanctuary cities" in Florida. That's at 12:30 p.m., 110 Senate Office Building.
Senate Special Master Dudley Goodlette will begin moving forward with an appeal by suspended Broward County Sheriff Scott Israel, stripped of his post by Gov. Ron DeSantis. Goodlette will hold a case- management conference at 1 p.m., 401 Senate Office Building.
The House Public Integrity & Ethics Committee will hold an investigative hearing on the University of Central Florida's improper use of operating funds to pay for building projects. That's at 2 p.m., 404 House Office Building.
The Senate Governmental Oversight and Accountability Committee will consider a proposal to abolish the Florida Constitution Revision Commission. That's at 2:30 p.m., 301 Senate Office Building.
The House State Affairs Committee will take up a bill to expand the circumstances in which law-enforcement agencies can use aerial drones. That's at 3 p.m., Morris Hall, House Office Building.
The Senate Infrastructure and Security Committee will consider a proposal to allow law-enforcement officers to pull over motorists for using cellphones while driving. That's at 4:30 p.m., 110 Senate Office Building.
Sen. Jeff Brandes, a St. Petersburg Republican, is expected to take part in a screening of the HBO film "The Sentence." The screening, hosted by the Project on Accountable Justice and FAMM, will be preceded and followed by a panel discussion on criminal justice reform. That's at 5:30 p.m., Challenger Learning Center, IMAX Theatre, 200 South Duval St., Tallahassee.