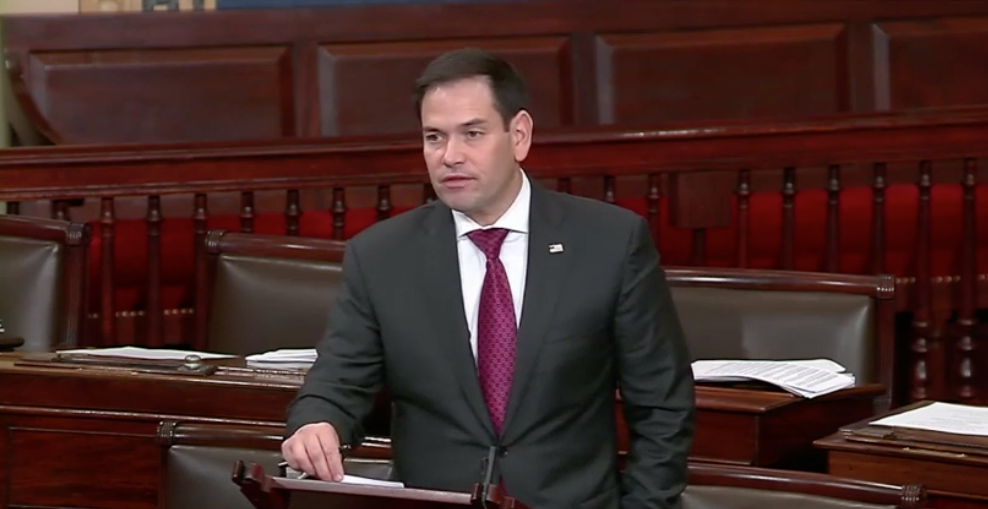 Bipartisan group of senators invoked Magnitsky Act to demand more information.
U.S. Sen. Marco Rubio is leading a bipartisan group of senators demanding President Donald Trump's administration investigate the Saudis.
The move came months after the death of Washington Post columnist Jamal Khashoggi. U.S. Senators invoked the Global Magnitsky Human Rights Accountability Act.
The Florida Republican and U.S. Sen. Ben Cardin, a Maryland Democrat, led a bipartisan call for demanding Secretary of State Mike Pompeo provide further information of the death.
Most believe Saudi officials acting on behalf of Saudi Prince Mohammed bin Salman lured Khashoggi into a Turkish embassy and murdered him.
Rubio's resolution also condemns ongoing detention of women's rights activists arrested by the Saudis in May.
He and Cardin introduced a Senate resolution that "urges the Government of Saudi Arabia to reform its laws that restrict basic human rights, including women's rights."
The documents names six activists in custody.
Those include: Hatoon al-Fassi, the first Saudi woman to obtain a drivers license; Loujain al-Hathloul, who previously spent more than two months in jail for defying a driving ban; Samar Badawi, a woman seeking the right to run for office in Saudi Arabia; Nassima al-Sadah, who has campaigned against a male guardian law; Nouf Abdelaziz, an activist fighting for women's rights; and Mayaa al-Zahrani, arrested largely for an association with Abdelaziz.
The activists hold various levels of international acclaim. Badawi, for example, received the International Women of Courage Award from the United States Department of State in 2012.
Rubio's resolution stresses the importance of the diplomatic relationship between Saudi Arabia and the United States. But he makes clear continued flouting of human rights by Saudi leaders endangers that connection.
In December, Rubio said Saudi actions may "pull us into a war."
The resolution introduced by Rubio and Cardin boasts bipartisan co-sponsors, including Republicans Jerry Moran of Kansas, Susan Collins of Maine and Benn Sasse of Nebraska, and Democrats Dick Durbin of Illinois, Tim Kaine of Virginia, Chris Coons of Delaware, Cory Booker of New Jersey, Jeff Merkley of Oregon, Jeanne Shaheen of New Hampshire and Ed Markey of Massachusetts.