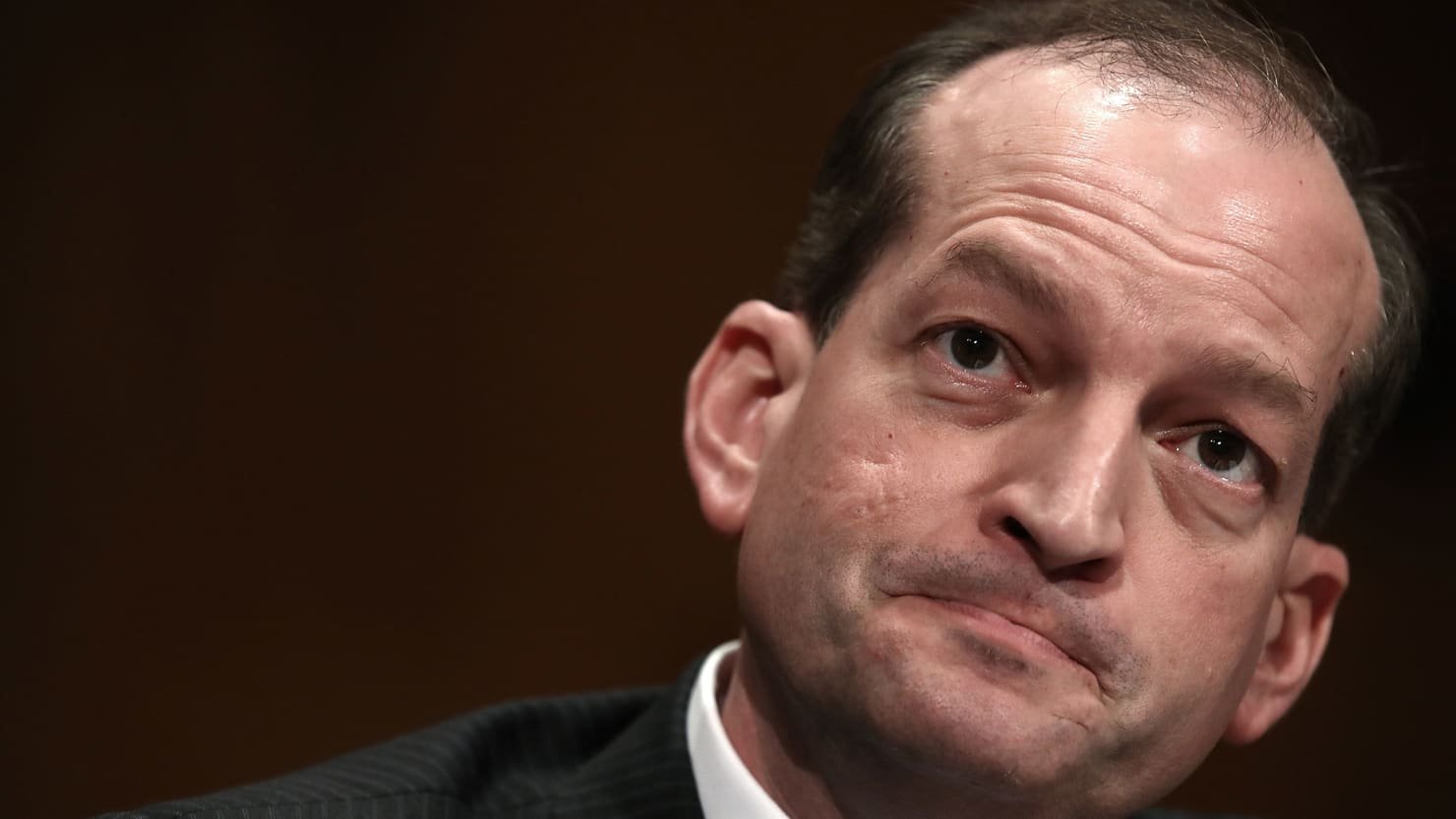 Demand comes amid new revelations about Jeffrey Epstein plea deal.
Five Democratic congressmen from Labor Secretary Alex Acosta's home state of Florida called Friday for his immediate resignation.
The demand comes amid fallout over handling of sex abuse charges against hedge fund manager Jeffrey Epstein while Acosta served as Miami's U.S. Attorney.
U.S. Reps. Debbie Wasserman Schultz, Debbie Mucarsel-Powell, Lois Frankel, Ted Deutch and Kathy Castor all signed onto a letter to President Donald Trump calling for swift action.
"We strongly believe that Secretary Acosta was negligent in his duty to represent the best interests of the victims and the U.S. Government," the letter reads. "As such, we request that you immediately demand his letter of resignation."
While the Epstein case predates Acosta's selection for his Cabinet post, recent revelations about the handling of the sex crime charges inspired fresh scrutiny.
Federal judge Kenneth Marra ruled this week federal prosecutors, including Acosta, violated the law in cutting a deal with Epstein, as reported by The Washington Post. No victims were notified a deal had been struck, which violates the Crime Victims' Rights Act.
The news prompted the White House to start "looking into" Acosta's role in the plea deal, according to the Associated Press. However, when asked about the matter Friday, Trump told reporters "That seems like a long time ago."
Trump Press Secretary Sarah Sanders, when asked if the president still had confidence in Sanders, said "we're looking into the matter. I'm not aware of any changes."
The letter from 19 members of Congress said the severity of the favoritism and the heinousness of Epstein's crime warranted action.
"Mr. Epstein, a billionaire with deep political connections, has been accused of molesting and trafficking over 80 young women, according to various reports, since the early 2000s," the letter reads.
"In an article published by the Miami Herald last November, several women gave detailed accounts of being lured to his Palm Beach mansion and being forced to have sex with Epstein or other men who came to his home. They also discovered that after he had been arrested, multiple women were intimidated by Epstein and his staff and told not to talk to the police, which led to many victims remaining silent."
Yet Acosta struck a non-prosecution deal in 2007 with Epstein's team that allowed him to serve just 13 months in jail and to stop further investigation. Epstein was allowed to leave jail six days a week for stretches as long as 12 hours.
Acosta has maintained the deal was appropriate.
The congressional letter states Epstein, had he been prosecuted under federal human trafficking laws, should have faced life in prison. The short sentencing came after Epstein pled guilty to prostitution-related charges.
"Victims were told to be 'patient' while the FBI continued to investigate, when really Acosta's team was deep in the process of negotiating with the defense," the letter reads.
"Acosta himself stated that Epstein's legal team had intimidated him to not take the case to trial and investigated him and his team to disqualify them from the case. Due to the deal struck, it's clear that Acosta succumbed to the pressure."