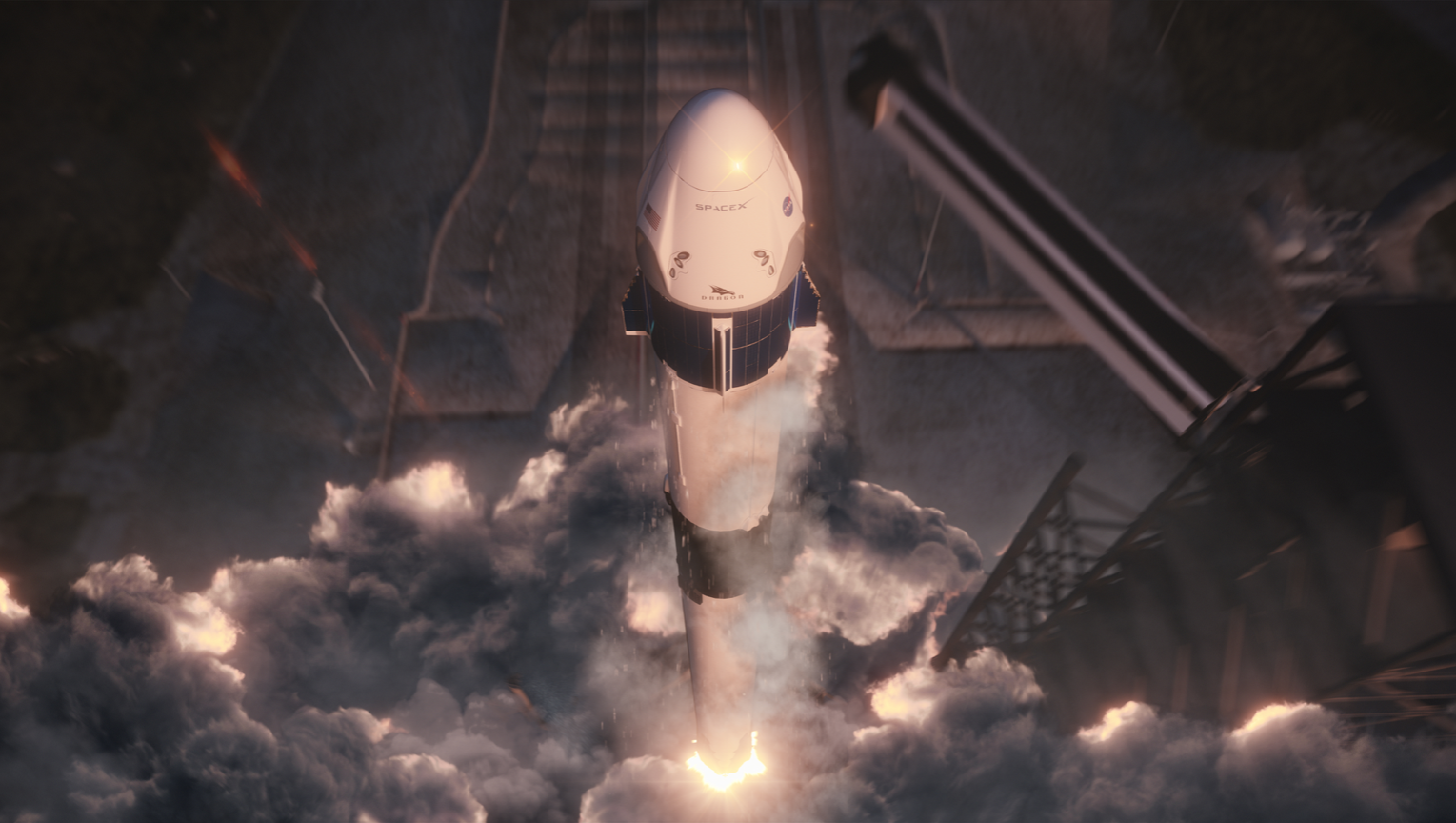 'I guarantee everything will not work exactly right. And that's exactly what we want.'
Early Saturday morning, NASA and SpaceX hope to take the next step toward where no man has gone before: launching astronauts into space aboard a private rocket.
SpaceX and NASA intend to launch the Crew Dragon spacecraft aboard a SpaceX Falcon 9 rocket from Launch Complex 39A at Kennedy Space Center to the International Space Station at 2:48 a.m. Saturday.
It would be the first time a commercially built and operated American rocket and spacecraft designed for humans will go into orbit.
Inside the capsule will be a test-flight dummy in a space suit, and six empty seats.
If all goes as planned, the second launch of a Crew Dragon capsule atop a Falcon 9, the SpaceX Demo-2 mission, will take place in July, this time with astronauts aboard. This would mark the return to flight for astronauts aboard a rocket launched from American soil since the Space Shuttle program ended with the last flight of Atlantis in July 2011.
"It's more than a test flight. It's really a mission to the International Space Station. It's part of the commercial crew program that really gets us to the Demo-2 and the crew flight that comes up later," William Gerstenmaier, NASA's associate administrator for human exploration and operations, said during a readiness-review briefing last week. "So this is an absolutely critical first step that we do as we move toward eventually returning crew launch capability back here to the U.S."
Since the shuttles were retired, astronauts were ferried to and from the space station on Russian Soyuz spacecraft, while SpaceX and Northrop Grumman have been space trucking supplies and equipment.
Meanwhile, SpaceX, Boeing and Sierra Nevada Corp. are developing the next generation of astronaut shuttles, with SpaceX and Boeing just about ready to go.
"Human space flight is basically the core mission of SpaceX. So we are really excited to this," said Hans Koenigsmann vice president of flight reliability at Space X. "There is nothing more important for us than this endeavor."
The Dragon spacecraft should reach the International Space Station at 5:55 a.m. Sunday. Unlike the similar Dragon spacecraft, SpaceX's Dragon 2, or Crew Dragon, will not need to be drawn with a robotic arm to a docking hatch.
Instead, it will ease in on its own, docking to a new crew dock that has never been used.
In addition to the test-flight dummy, the capsule will have some cargo, which the three astronauts on board the space station, an American, a Russian, and a Canadian, will unload. It'll also take some materials back to Earth when it leaves March 8.
"I fully expect we're going to learn something on this flight. I guarantee everything will not work exactly right," Gerstenmaier said. "And that's exactly what we want to do. We want to maximize our learning so when we put crew on we're ready to go do a real crew mission."
If weather or technical issues scrub Saturday morning's launch, there will be only two more immediate opportunities, with the next coming on next Tuesday. After that, other traffic scheduled at the space station will get in the way, postponing the test run for several weeks.
On March 14, NASA astronauts Nick Hague and Christina Hammock Koch and Alexey Ovchinin of the Russian space agency are scheduled to launch aboard a Soyuz spacecraft from the Baikonur Cosmodrome in Kazakhstan. In April a Northrop Grumman resupply mission is scheduled to go up.
Also in April is the next planned test launch of a commercial astronaut vehicle.
Boeing's Starliner spacecraft is set to launch on a United Launch Alliance Atlas V rocket from Space Launch Complex 41 at Cape Canaveral Air Force Station.