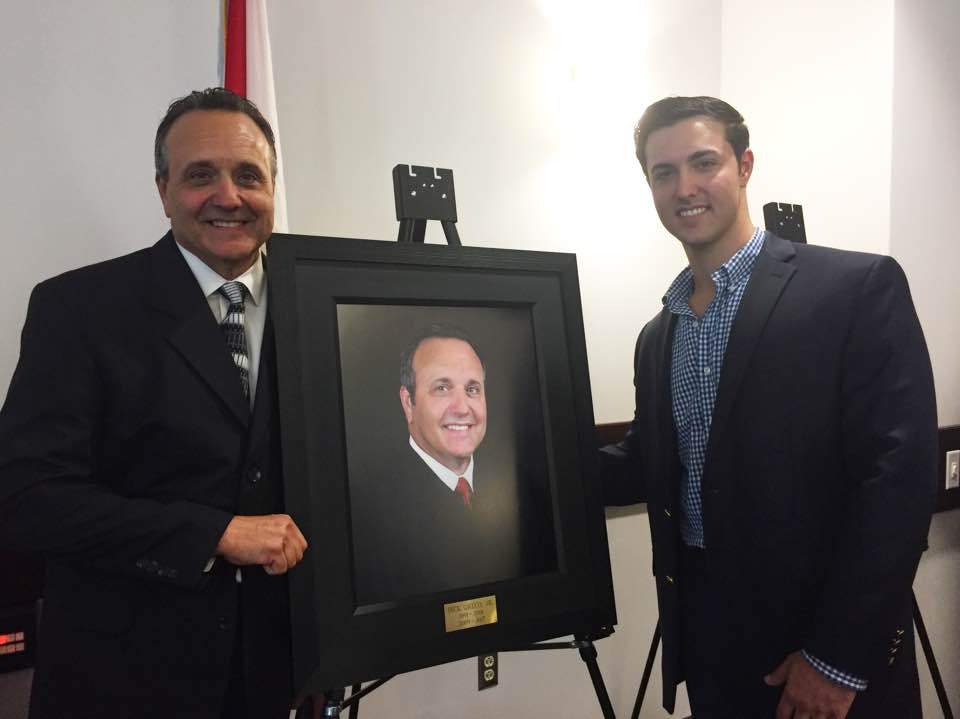 Straz learned of Greco Jr.'s campaign as he was visiting Greco Sr. in the hospital.
The race for Tampa Mayor is in the final stretch and former judge Dick Greco Jr. is playing dirty.
The son of former mayor Dick Greco entered the crowded race shortly after the new year, but that wasn't originally in the cards.
According to a source with close ties to the Greco family, the elder Greco was set to endorse businessman and philanthropist David Straz, who is a longtime family friend. The source also said they were in the room for a meeting between the two Greco men and Straz in September and both agreed to endorse Straz' campaign.
The elder Greco went so far as to approve the wording of a news release on the endorsement. The full text:
"David Straz is honored to receive the endorsement of former 4 Term Tampa Mayor Dick Greco. Mayor Greco has been a leader in Tampa's growth and success over many years," says an unsent news release obtained by Florida Politics.
"The honorable former mayor Greco says, 'There is no better person to serve as Tampa's next mayor than my friend David Straz. David loves this city and is the most qualified candidate to budget taxpayer money with honesty and integrity.'
"Straz says, 'It is a privilege and honor to have the endorsement of someone who has served as Tampa's mayor for 4 terms and been a dear friend. Dick's support and insight will be very helpful in making Tampa the best city it can be. Just imagine!'"
That ace endorsement was yanked after the former mayor was laid up in the hospital following a major surgery in early January. Straz reportedly visited his close friend regularly and after leaving the hospital on one of those visits a campaign staffer broke the news to Straz that Greco Jr. had launched a campaign.
A source close to the Greco family says it was Greco Jr.'s step-mother, Linda Greco, who threw a wrench in the gears. At her urging, the Greco men reneged on the endorsement pledge so Greco Jr. could enter the race
The conspiracy may stink of inside baseball, but it helps make sense of Greco Jr.'s odd campaign platform.
Since entering the race, the former judge rolled out a texting campaign slamming Straz for endorsing 2018 Democratic gubernatorial nominee Andrew Gillum while attempting to differentiate his campaign from Straz' by staking out the far-right lane in the race.
That started after Linda Greco, who apparently is in complete control of her adult son, had a flameout with the initial campaign manager, Joey Precopio, causing him to walk out the door. The campaign then brought on Republican consultant April Shiff.
Her hiring has seen Greco Jr.'s campaign move to the right.
Take his aggressive stance on conservative tropes such as banning sanctuary cities. That's obviously red meat for right-wing voters, but it's not possible to accomplish considering Tampa has no jails.
He's poured more snake oil on the campaign trail by promising "more money for schools" in his first ad. That's another empty promise — the Mayor has no control over the funding of Hillsborough school.
Best of all, he's openly acknowledged he has no plan to get those things done, passing off his lack of a road map as not getting into the weeds during the campaign. That's probably for the best, strategy wise.
But why even take those positions in the first place? It's no secret Democrats dominate in Tampa.
The only answer is he's looking to squeeze into the potential runoff against front-runner Jane Castor. Either that or he and his mother are so acidic they're just looking to deny Straz a shot.
But the most damning piece of the puzzle is that Greco Jr. has only lived in Tampa for about a year. He owned a home in Homosassa through late 2017 and claimed a homestead exemption on it, so he either lived there or was A-OK committing property tax fraud.
Hillsborough County records show he picked up his current home, a condo on Harbour Island Blvd., in September 2017.
After less than two years in the city, it certainly takes some chutzpah to run for Mayor. Come Election Day, Greco may get Straz to say "Et tu Dick?" but he won't be in the runoff. The latest poll shows him in sixth place out of eight candidates — seventh if "undecided" is thrown into the mix.