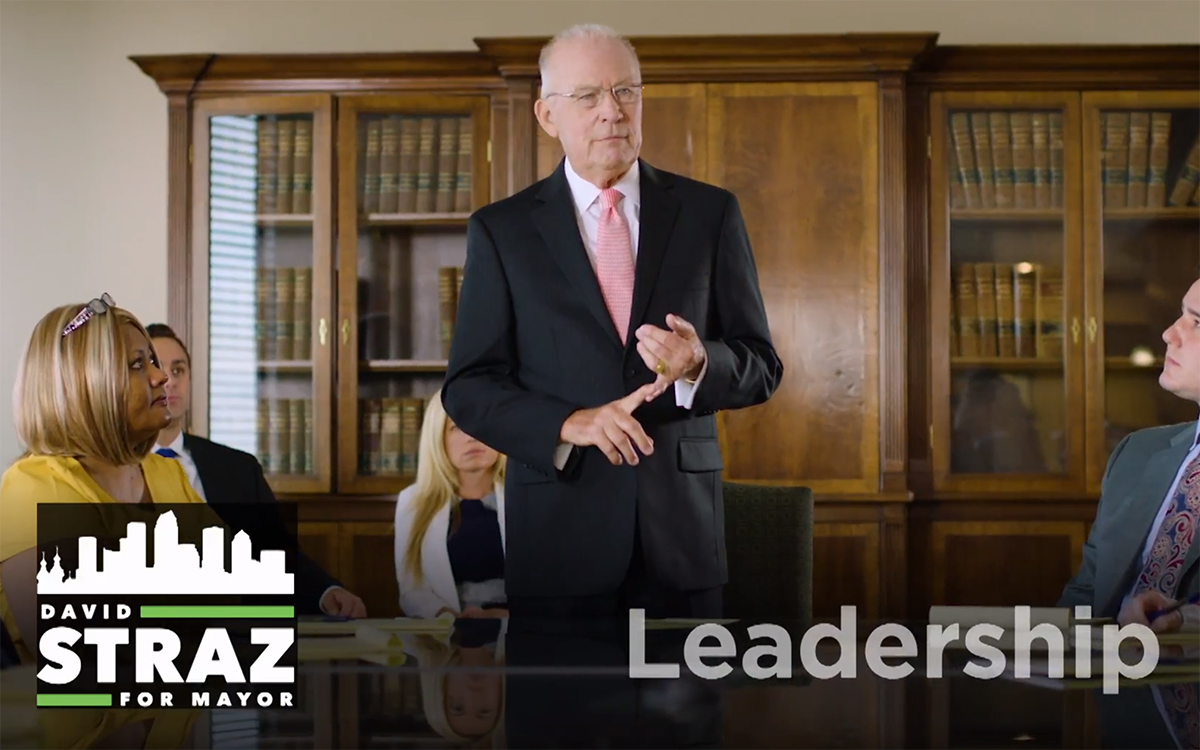 The ad takes a backhanded swing at the Tampa Bay Times.
Tampa mayoral candidate David Straz is out with two new advertisements.
Beginning Wednesday, a television ad will run on all local broadcast channels in Tampa and about a dozen cable channels, according to a Straz spokesperson.
The ad takes a backhanded swing at the Tampa Bay Times saying, as Straz stands at a desk looking over two newspapers, that he was "endorsed by the newspapers we trust. The two newspapers shown were La Gaceta and the Florida Sentinel Bulletin, which both endorsed Straz. One is a trilingual local paper serving the city's Hispanic and Latino community. The other is Florida's only African-American newspaper.
The Tampa Bay Times endorsed Jane Castor for Mayor. Straz repeatedly criticizes the paper for what he sees as unfair coverage of his campaign. He announced earlier this month the Times' leadership had approached him to invest in the paper as part of a massive bailout, but he declined.
The television ad also plays on some of Straz's key campaign themes as a narrator says "he'll manage Tampa with honesty, integrity, transparency, imagination and ends with Straz's campaign slogan, 'Just Imagine.'"
The 30-second spot also speaks to religious voters noting that Straz is "a believer in faith, prayer and giving."
Scenes flash to blue-collar workers alongside Straz in a hard hat and then to a working-class man as the narrator lists endorsements from labor unions and neighborhood leaders who are "committed to improving our quality of life," a nod to Straz's oft-touted "Quality of Life Cabinet" he would form to guide city policy.
The ad also mentions Straz's promise to get rid of red light cameras in the city and promise to buy new ambulances.
A campaign mailer that hit voters' mailboxes this week also emphasizes Straz's ambulance promise.
"Prioritizing the budget — it's a matter of life and death," the header of the front of the mailer reads above an image of a person on a stretcher being wheeled into an ambulance.
Along the side, the mailer describes a 2018 incident in which a man having a heart attack was delayed in being taken to the hospital after the ambulance that would have taken him would not start.
Straz has complained the city is neglecting its emergency response fleet by misappropriating ambulance fees collected from people transported.
"Precious time passed," the mailer reads. "The man died."
The other side of the mailer provides details about Straz's "Quality of Life" cabinet. The ad says members of that cabinet would include representatives from the police and fire departments, neighborhood empowerment, parks and recreation, economic development and minority business development departments.
"Every Monday morning at 8 a.m., David Straz will convene his quality of life cabinet in the mayor's office. He will run the meeting himself. Working as a team, they will focus on his top priorities, public safety, transit, strong neighborhoods and job creation," the piece reads.
It's topped with a quote from Straz saying he will "change the way government works in Tampa."
The ad follows another that voters received this week that came under fire after Mayor Bob Buckhorn complained about a quote that seemed to imply he had endorsed Straz, which he hasn't.
The Straz campaign pulled the quote from a 2011 news release in which then Buckhorn was quoted praising Straz for his business acumen after receiving his endorsement. Buckhorn called the use of the quote misleading and inappropriate.
Straz is fighting to make the runoff election April 23. He's currently polling second in the seven-way race to replace Buckhorn. By all accounts, Jane Castor is the clear frontrunner. As long as she doesn't get more than half the vote next Tuesday she and the No. 2 vote-getter will face off in April.