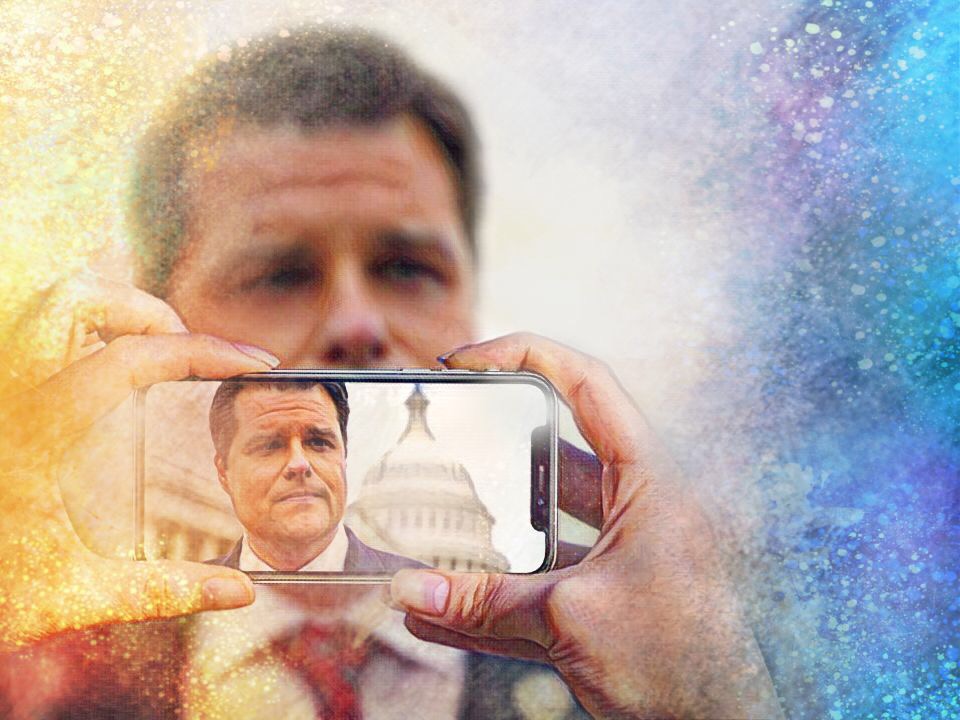 The line's unclear between his First Amendment right and professional conduct rules.
The Florida Bar "opened an investigation" into U.S. Rep. Matt Gaetz after a tweet from the Panhandle Republican goaded former Donald Trump attorney Michael Cohen.
On Wednesday, a spokesperson confirmed the action into the staunch Trump ally.
Cohen testified Wednesday morning against Trump before the House Oversight Committee, saying he lied and otherwise covered up a wide range of misdeeds for his former client, including arranging payments for adult film star Stormy Daniels, who said she had an affair with the married Trump in 2006.
Gaetz's tweet, since deleted, the night before said: "Hey @MichaelCohen212 – Do your wife & father-in-law know about your girlfriends? Maybe tonight would be a good time for that chat. I wonder if she'll remain faithful when you're in prison. She's about to learn a lot …"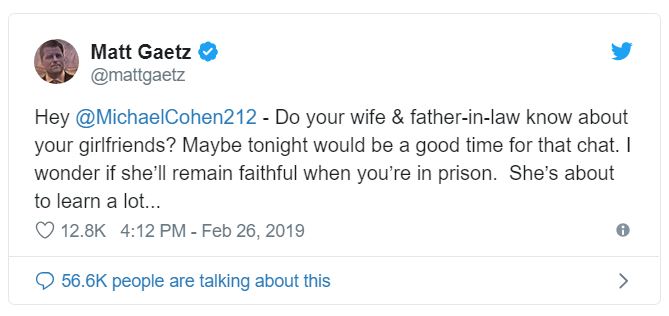 After an indirect scolding from Democratic House Speaker Nancy Pelosi, Gaetz responded: "While it is important (to) create context around the testimony of liars like Michael Cohen, it was NOT my intent to threaten, as some believe I did.
"I'm deleting the tweet & I should have chosen words that better showed my intent. I'm sorry."
Gaetz is licensed to practice law in Florida, and the Bar can enforce its Rules of Professional Conduct against attorneys as related to their professional acts. Gaetz's tweet, however, related to his role as a congressman.
Democratic U.S. Rep. Bill Pascrell of New Jersey separately tweeted that Gaetz's comment was "grossly unethical and probably illegal" under federal witness tampering law, suggesting the House Ethics Committee "investigate this disgrace and stain on our institution."
Bar communications director Francine Andía Walker said in a statement that "any time the words or actions of a Florida lawyer result in complaints, The Florida Bar will fully investigate those complaints through its established grievance process to determine if Bar rules have been violated."
Walker did not say how many complaints were filed or by whom.
"If rules have been violated, The Florida Bar will vigorously pursue appropriate discipline by the Florida Supreme Court," she added.
" … The Bar is aware of the comments made in a tweet yesterday by Rep. Matt Gaetz, who is a Florida Bar member, and I can confirm we have opened an investigation. Our rules of confidentiality do not permit me to provide any other information at this time but you are welcome to check back on the status of the case."
Gaetz told The Daily Beast earlier Wednesday he was unaware of any investigation.
The preamble to the Bar's Rules of Professional Conduct says, in part: "While it is a lawyer's duty, when necessary, to challenge the rectitude of official action, it is also a lawyer's duty to uphold legal process."
Jillian Lane Wyant, Gaetz's chief of staff, later told Roll Call that "it seems that the Florida Bar, by its rules, is required to investigate even the most frivolous of complaints."
Updated 10 p.m. — Gaetz tweeted Wednesday night that he had "personally apologized" to Cohen for his original now-deleted tweet.
I've personally apologized to @MichaelCohen212 4 referencing his private family in the public square. Regardless of disagreements, family members should be off-limits from attacks from representatives, senators & presidents, including myself. Let's leave the Cohen family alone.

— Matt Gaetz (@mattgaetz) February 28, 2019