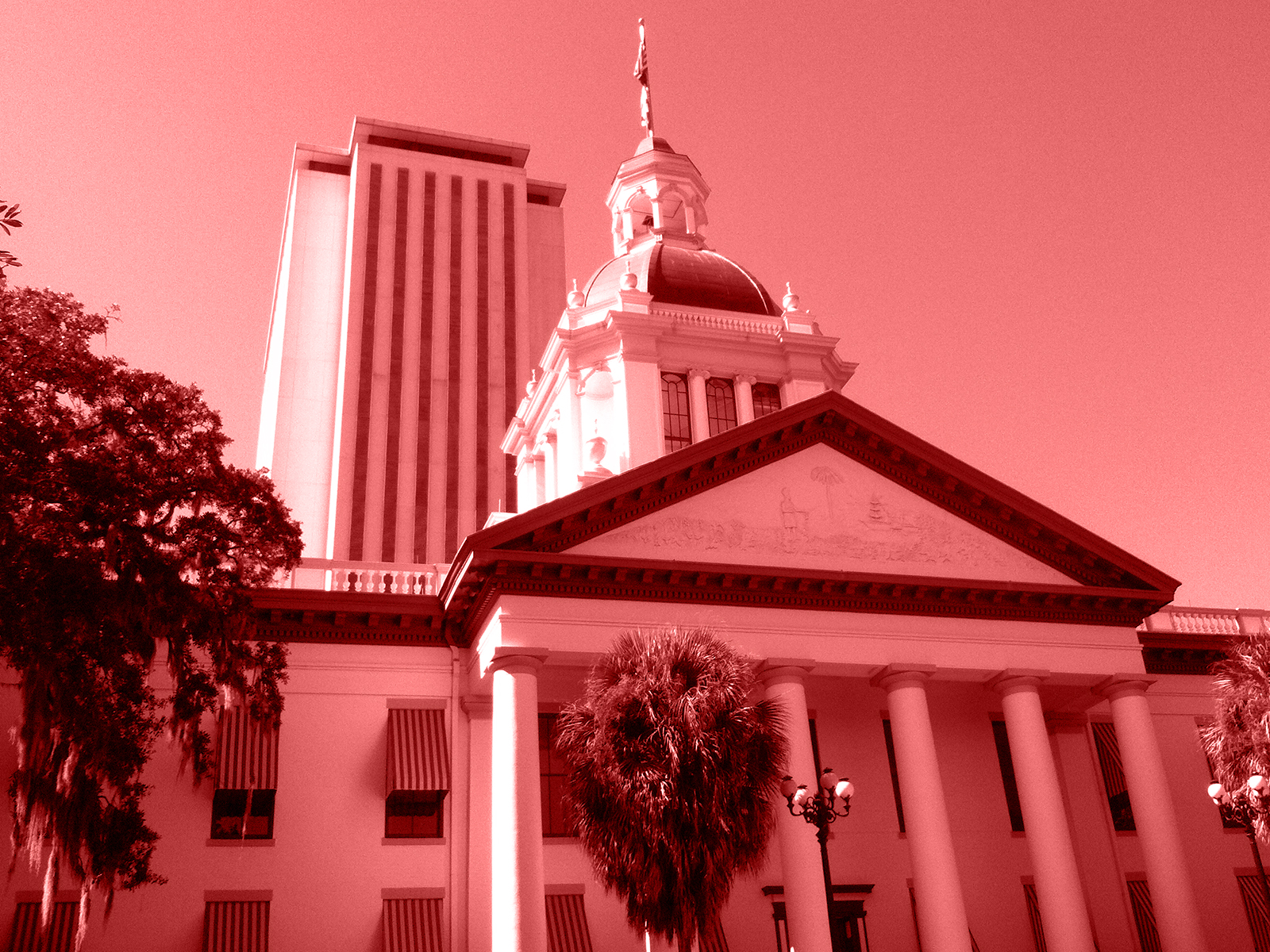 Your nightly review of Session news. It's 'Sixty Days' — right now.
Sixty Days  — A prime-time look at the 2019 Legislative Session
The Last 24
Good Monday evening. Session begins Tuesday (on Mardi Gras!), so PAC chairs and Tallahassee lobbyists made sure to throw some last-minute fundraisers for legislators and candidates. (Fundraising isn't allowed during the annual Legislative Session.) Later in the day, lawmakers met in committee to tackle issues from plastic straws to drones. Sixty Days is never on autopilot. Here's your nightly rundown.
Rob Bradley's concern: The Senate budget chair says recent hurricanes "created a major cash flow issue for our state."
Hold your straws: A bill would bar local governments from passing a single-use plastic straw ban before July 1, 2024.
Droning on …: A bill that would expand what police can do with remotely piloted aircraft cleared a Senate panel.
LGBT+ protections get more sponsors: "It shouldn't matter who an individual loves, or what their gender identity is, when it comes to our workforce."
Cash crunch for kids? In a conference call, a Florida teachers union official said lawmakers had "underfunded and diverted funding from public schools over the past 20 years."
Ready for our close-up: Will lawmakers reboot a program this year to entice producers to come back to shoot movies and TV shows in the Sunshine State?
Sex for pay in spotlight: Sen. Lauren Book says she'll add language covering massage parlors to a measure aiming to curb human trafficking in the state.
Quote of the Day
"No one knows what's going to happen." — Rep. Shevrin Jones, a West Park Democrat, on the inscrutability of GOP Gov. Ron DeSantis' legislative agenda.

Your Metz Husband Daughton-sponsored question of the day is:
What's Oxford Dictionaries' 2018 word of the year?
Click here to tweet your answer to @MHDFirm. The first tweet with the correct answer will get a shout-out in tomorrow's 60 Days!
Bill Day's Latest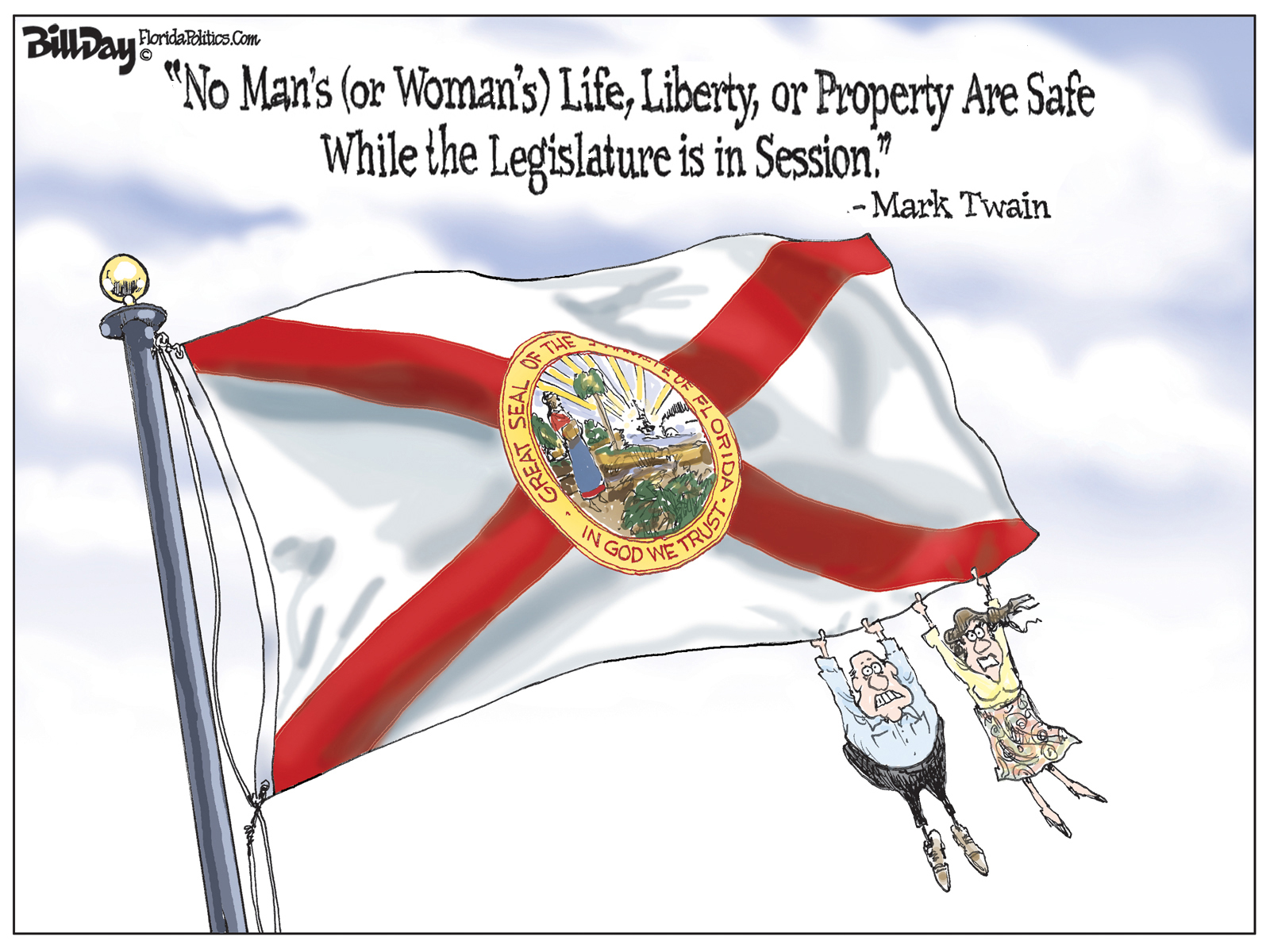 3 Questions
Lawmakers are taking another stab at overhauling community redevelopment agencies (CRAs). Republican state Rep. Chip LaMarca, of Lighthouse Point, and Thonotosassa Republican state Sen. Tom Lee have filed legislation that would bring more accountability and transparency to CRAs, which target slum and blight at the local level. The Florida League of Cities welcomes such changes but opposes the more restrictive and punitive components of the bills. David Cruz, legislative counsel for the League, explained the opposition to reporters earlier Monday during a roundtable discussion. (We edited and adapted his remarks for the "3Q" format.)
Q: What prompted these measures?
Cruz: There have been some audits and some reports that have found that CRAs need to address some issues dealing with accountability and transparency. If we dealt with those issues, (then) the League of Cities would be at the podium tomorrow supporting these bills wholeheartedly. Unfortunately, the bills include extremely punitive provisions that are extremely concerning to our members, and therefore the League of Cities is opposed to HB 9 and SB 1054.
Q: What's are — in the League's view — the positive aspects of the bills?
Cruz: On the accountability and transparency side of things, the bills deal with ethics training requirements for CRA board members, requiring four hours of ethics training. They require standardized procurement, so that the city and the CRA are using the same procurement method. The bills have additional reporting and audit requirements, some audit reporting requirement for the county within the CRAs boundaries and some additional data that the CRAs would now have to collect to measure their effectiveness at the local level and to see how effective they're doing their job. The legislation also imposes some lobbying requirements, so all CRAs would have to have a lobbyist registration program in place. If that's all that the bills did, the League of Cities would be supporting them.
Q: So how do local governments stand to lose?
Cruz: I think it's important to frame the legislation keeping in mind one very important thing: CRAs are funded exclusively with local dollars. There are only city and county funds that go into the tax increment funds that the CRAs use to do all of their redevelopment efforts. So the state essentially does not have any skin in the game yet it is including these extremely restrictive provisions in this bill that cause our members concern.
HB 9, for example, sets up a phaseout for all CRAs in Florida by 2039, unless the CRA has bonds that extend past that date. There is a provision in the bill that if the city or a county wants to extend past 2039, they would have to do a supermajority two-thirds vote to try to get out of this phaseout provision.
Another extremely restrictive provision in the House bill is the creation of new CRAs. So after Oct. 1 of this year, if a city or county wanted to create a new CRA they would have to go through a new process that would entail a countywide referendum vote be taken and that the referendum pass with two-thirds support from the electorate.

Lobby Up
K-12 and higher ed funding add up to more than a quarter of the state budget, and the 2019 Legislative Session will feature a slew of proposals to change the way that money is spent.
Chief among them: Gov. Ron DeSantis' plan to expand Florida Tax Credit Scholarships through a new "Equal Opportunity Scholarship" program.
The Florida Education Association, the state's largest teachers union, would rather strengthen traditional public schools — and it's hired Converge Government Affairs to get that point (and others) across.
Converge partners Jonathan Kilman, Carlos Cruz and Nancy Texeira will take the point in pushing FEA's priorities, and Kilman said he plans a bipartisan approach.
"We start with the premise that all elected leaders care deeply about the students and employees in public education," he said. "As a strong voice for public education, FEA will be reaching out to both sides of the aisle seeking support and shared goals for Florida's students and schools."
Texiera added that the firm wants to help FEA define the "common ground" between their goals and those of the Republican-dominated Legislature, which has put the union on the defensive in recent years.
Doing that might take some creative strategies and, as Cruz added, the firm plans to help FEA "approach both politics and policy in new, effective ways."
Breakthrough Insights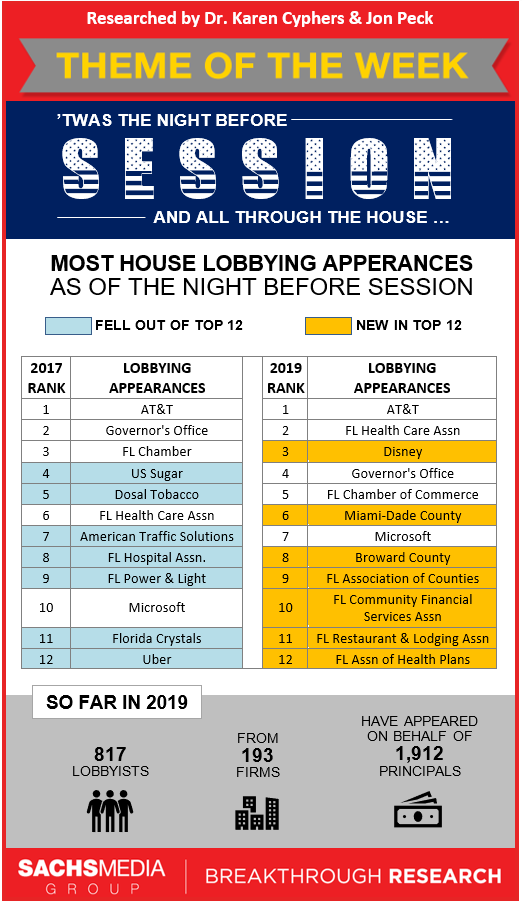 The Next 24
The Senate will meet before moving to the House chamber to hear Gov. DeSantis' State of the State address, 9:30 a.m., Senate chamber.
The House will meet before holding a joint session with the Senate to hear the State of the State address, 10 a.m., House chamber.
DeSantis, who took office Jan. 8, will give his first State of the State address to formally start the 2019 Legislative Session, 11 a.m., House chamber.
The House Agriculture & Natural Resources Appropriations Subcommittee will take up a bill that would revise criteria used by the Florida Department of Environmental Protection in ranking beach-management projects for funding, 1 p.m., Morris Hall.
The House Health Quality Subcommittee will consider a proposal that would allow pharmacists to test and treat patients for influenza and Streptococcus, 1 p.m., 212 Knott Building.
The House Local, Federal & Veterans Affairs Subcommittee, will take up a bill that would make it harder to raise local sales taxes. The bill would require sales-tax referendums to be held at the time of general elections and would require two-thirds approval from voters, 1 p.m., 12 House Office Building.
The House Transportation & Tourism Appropriations Subcommittee will consider dozens of budget requests for local projects, 1 p.m., Reed Hall.
The House Criminal Justice Subcommittee will take up a bill that includes lowering the minimum age for correctional officers from 19 to 18. The proposed change is aimed at increasing the number of potential officers, 1:30 p.m., 404 House Office Building.
The Senate Community Affairs Committee will consider a proposal that would increase benefits for firefighters who are diagnosed with cancer, 2:30 p.m., 301 Senate Office Building.
The Senate Environment and Natural Resources Committee will take up a bill that would set aside $50 million a year for projects in Northwest Florida counties hit by Hurricane Michael. The money would be available for such projects as reforestation, debris removal and beach renourishment, 2:30 p.m., 37 Senate Office Building.
The Senate Ethics and Elections Committee will consider a proposal that seeks to end public financing of statewide campaigns, 2:30 p.m., 412 Knott Building.
The Senate Infrastructure and Security Committee will take up a bill that would take the initial steps toward building three major highway projects, a priority of Senate President Bill Galvano, 2:30 p.m., 110 Senate Office Building.
The House Commerce Committee will consider a proposal that would place additional restrictions on local impact fees, 4:30 p.m., 212 Knott Building.
The House State Affairs Committee will take up a proposal that would prevent the state Constitution Revision Commission and the Taxation and Budget Reform Commission from "bundling" multiple subjects into individual constitutional amendments, 4:30 p.m., Morris Hall, House Office Building.
CFO Jimmy Patronis, lawmakers and Florida firefighters will hold a news conference regarding firefighter cancer coverage legislation. It seeks to grant certain insurance benefits to firefighters who receive a cancer diagnosis, 4:45 p.m., in front of the Senate chamber doors, 4th floor.