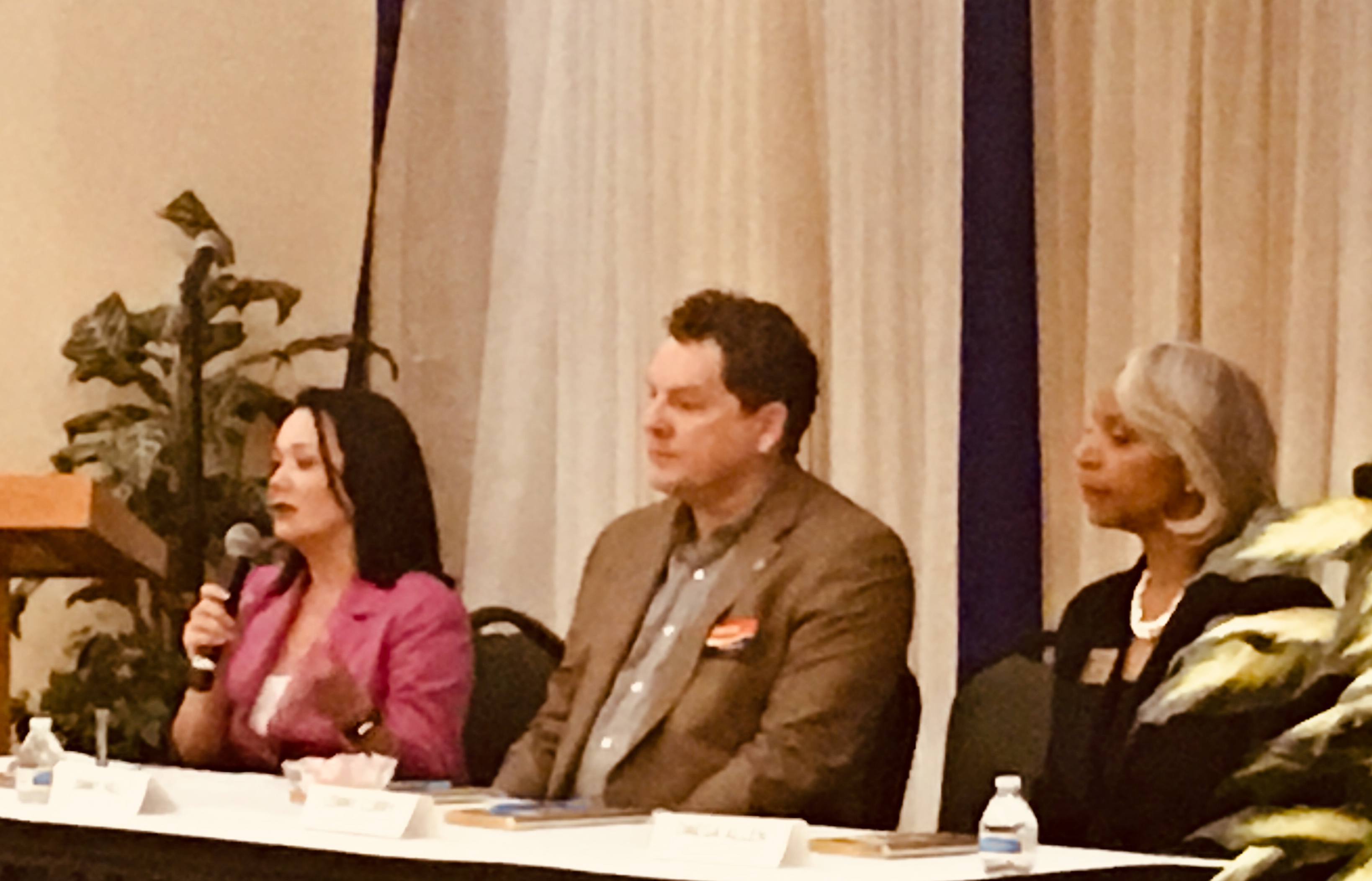 Brosche delivered her remarks with passion, a highlight of the event.
With Early Voting underway, challengers to Jacksonville Mayor Lenny Curry made their pitches Monday night at a forum in the Northwest Quadrant.
Central to the evening's considerations: issues of importance to African-Americans, including public safety, economic development, diversity, and transparency in govenment.
Curry was not in attendance: indeed, the challengers will get to confront him in person only once.
That television debate is Wednesday on WJXT.
One by one, the challengers made what are now familiar cases of opposition to the status quo.
"Our city lacks integrity," Republican City Councilwoman Anna Brosche said. "How many times have we heard 'One City, One Jacksonville'? We aren't there."
A half hour into the program, Brosche previewed a more aggressive oratorical tone, ahead of Wednesday evening's televised debate.
This was the highlight of the forum, a Hail Mary for a mayoral campaign that has underperformed by most metrics.
"Mayor Curry bludgeoned our former Mayor Brown [on crime in the streets]," Brosche said. "Our funding for children has not increased in more than ten years."
Brosche wasn't done.
"One-hundred-fifty officers have been hired in the last four years, and I doubt very seriously they are on the streets," the Councilwoman said.
Using one of the most shopworn lines of all candidate forums, the former Council President said she wants "Officer Friendly" back in schools.
"The Sheriff's Office has become a political tool," Hill added, urging a "JSO ice cream truck" as an ice breaker with potentially at-risk youth.
Soon enough, Brosche rehearsed another applause line for Wednesday.
"Nobody understands how our priorities became Hart Bridge teardown or election year payouts," Brosche said when asked about spending more money on prevention programming for youth.
Brosche delivered fire in disparaging the Curry economic development strategy for the long-suffering Northwest Quadrant, saying the Mayor "thinks it's going to fix itself."
And she also slammed the proposed deal Curry lined up to get the Jacksonville Landing back to the city as "an election-year payout designed to keep Toney Sleiman out of the election."
"Black-owned businesses," said Brosche, need to be part of the redevelopment of the parcel.
Brosche also said the Curry boards and commissions "need to be purged," as a refinement of a recurrent complaint about Curry replacing previous appointees with loyalists on boards.
Note: these moves all required City Council confirmation and included moves made when Brosche was Council President.
"I don't want a lot of Curry yes people on the boards," Brosche said, one of many slams of "cronyism" in city government.
"It's not about party. It's about power. Curry's party is no longer with him on many issues," Hill added.
Brosche, a registered Republican still, lambasted Curry for going on a "fishing trip" when President Barack Obama came to town but finding the time to rally with candidate Donald Trump.
"Institutional and systematic racism," said Brosche, can be blamed for the city's disparities in economic, educational, and health outcomes.
Brosche also noted that if "we could see who's getting the checks" from the city, we'd have a better sense of how business is done.
"There's a culture of backroom … of not wanting to disclose what's going on the city," Brosche said. "I would open it all up."
Brosche drew applause when noting that she stopped Curry from selling JEA, and said she would not allow a sale of the utility should it come up when she is Mayor.
"It doesn't matter what I introduce," Brosche said regarding her thwarted transparency legislation. "The Mayor's going to kill it."
Indeed, her open government bill was thrashed by Curry allies, including the current Council President.
Brosche also noted that the Ethics Office is hamstrung by requiring a city budget, suggesting that the state could offer guidance.
"We've got to create some type of opportunity for the ethics office not to turn to the Mayor's Office for its budget," Brosche said.
Finally, Brosche stood up for NFL players who kneel, a phenomenon Curry called "stupid" in 2017.
"Yes, I would absolutely respect people's right to protest," Brosche said, saying Curry had a "narrow-minded perspective."
Zippy lines notwithstanding, Brosche and the other challengers face a structural issue two weeks out from vote counting.
Turnout is still south of 3 percent. Curry is dominating the airwaves. And the only question left is whether three protest candidates (Brosche, Republican Jimmy Hill, and NPA Omega Allen) add up to 50 percent, even amid the softest turnout imaginable.