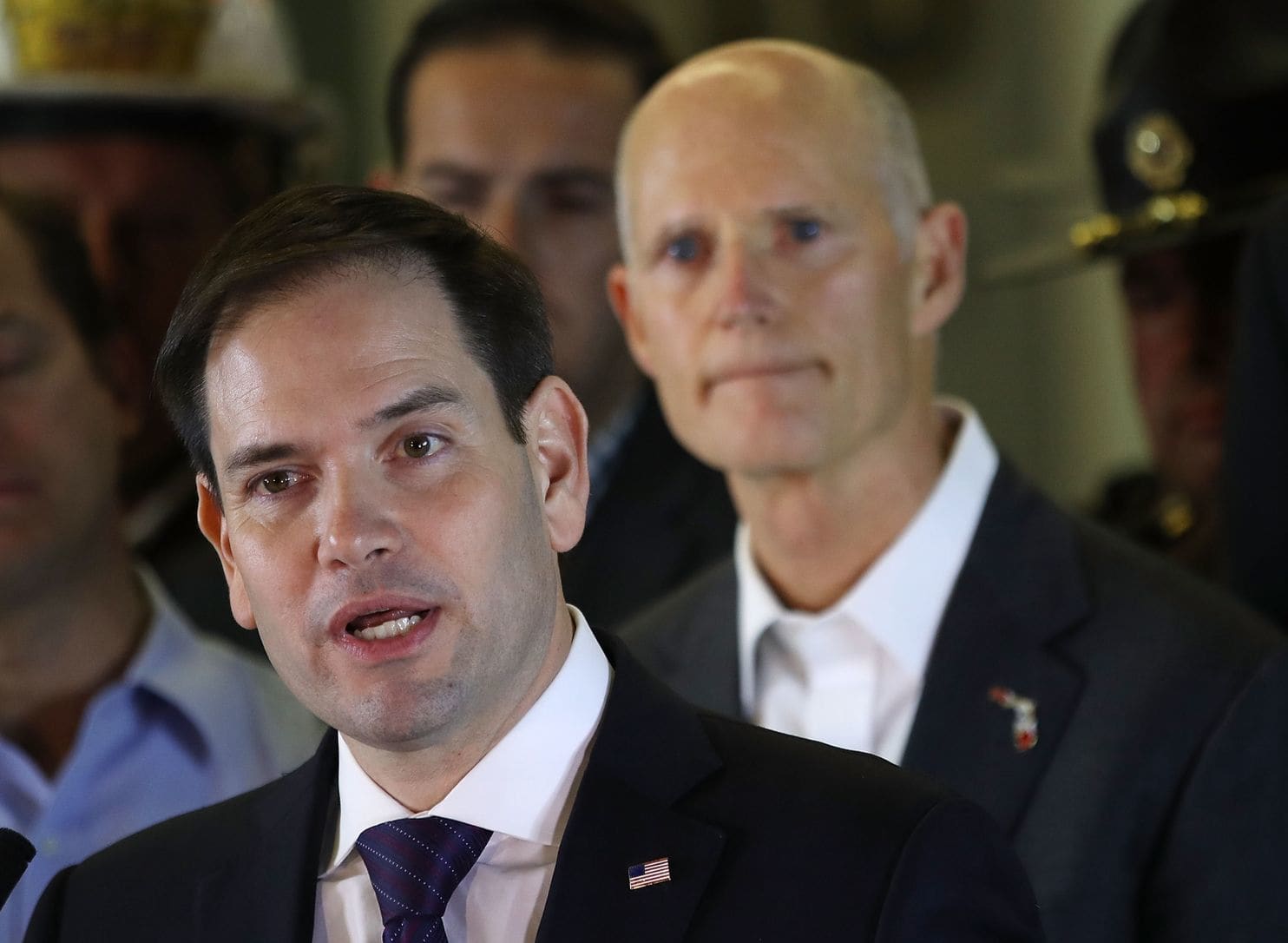 But Nikki Fried remains largely unknown.
Forget the honeymoon.
U.S. Sen. Marco Rubio enjoys a higher approval rating than freshman U.S. Sen. Rick Scott among Florida voters.
That's according to a new poll from the University of North Florida's Public Opinion Research Lab.
Both Republicans enjoy stronger support from their own party and stiff opposition among Democrats
Nevertheless, Rubio claims majority support overall. The Miami Republican holds a 51-percent approval rating. That includes 17 percent of respondents who 'strongly approve' of the senator's job performance and 34 percent who 'somewhat approve.'
About 30 percent of those polled, though, aren't so happy with the job Rubio does. That includes 16 percent who "strongly disapprove."
Among Republican respondents, Rubio holds a strong 71-percent approval rating, even if that support seems a little lukewarm. About 42 percent of Republicans "somewhat approve" of Rubio, and 29 percent "strongly approve." Only about 15 percent of GOP voters disapprove of Rubio, and only 6 percent "strongly."
But Democrats hold a more negative view of the senator. He holds a 36-percent approval rating among Democrats and a 43 percent disapprove. Only 11 percent of Democrats "strongly approve" of Rubio's performance while 24 percent "strongly disapprove."
Meanwhile, Florida's junior Senator and former Governor enjoy a positive approval rating but not nearly that of his senior.
Rubio, a former Speaker of the Florida House and presidential candidate, easily won re-election to a second term in 2016.
Scott, a Naples Republican, holds a 43-approval rating two months into holding office. His disapproval number sits around 33 percent.
Like Rubio, Scott bears stronger numbers with Republican respondents. He holds a 64-percent approval rating among GOP voters, with 36 percent who "strongly approve." Only 13 percent of Republicans do not approve of Scott's job so far.
But Democrats still hold significant disdain for Scott. He has a 53-percent disapproval rating among those voters. About 36 percent of Democrats strongly disapprove of the senator. Only about 23 percent of Democrats approve of Scott, and only 8 percent "strongly."
Scott just won his Senate seat by defeating incumbent U.S. Sen. Bill Nelson by a record close margin.
Neither boasts the popularity of new Gov. Ron DeSantis, who holds a 60-percent approval rating in the same poll. DeSantis, interestingly, won his seat by almost as close a vote as Scott in November.
But voters do have opinions on all of three statewide officials.
Agriculture Commissioner Nikki Fried, who also won a close contest in November, now serves as the only Democrat holding statewide office. But voters in both parties remain largely unaware of her less than four months after the election.
The Democrat enjoys a net positive rating. About 32 percent approve of Fried's performance thus far, while just 11 percent disapprove. But 58 percent of voters answer "Don't Know" when asked about her handling of the job.
About 63 percent of Republicans express indifference about her, and so do 54 percent of Democrats.
Among voters in her own party, 20 percent "somewhat approve" and 13 "strongly approve." About 8 percent "somewhat disapprove" and 5 percent "strongly disapprove."
The Republican numbers don't look that different. About 21 percent of Republicans "somewhat approve" and 8 percent "strongly approve." Only about 6 percent "somewhat disapprove" and just 3 percent "strongly disapprove."