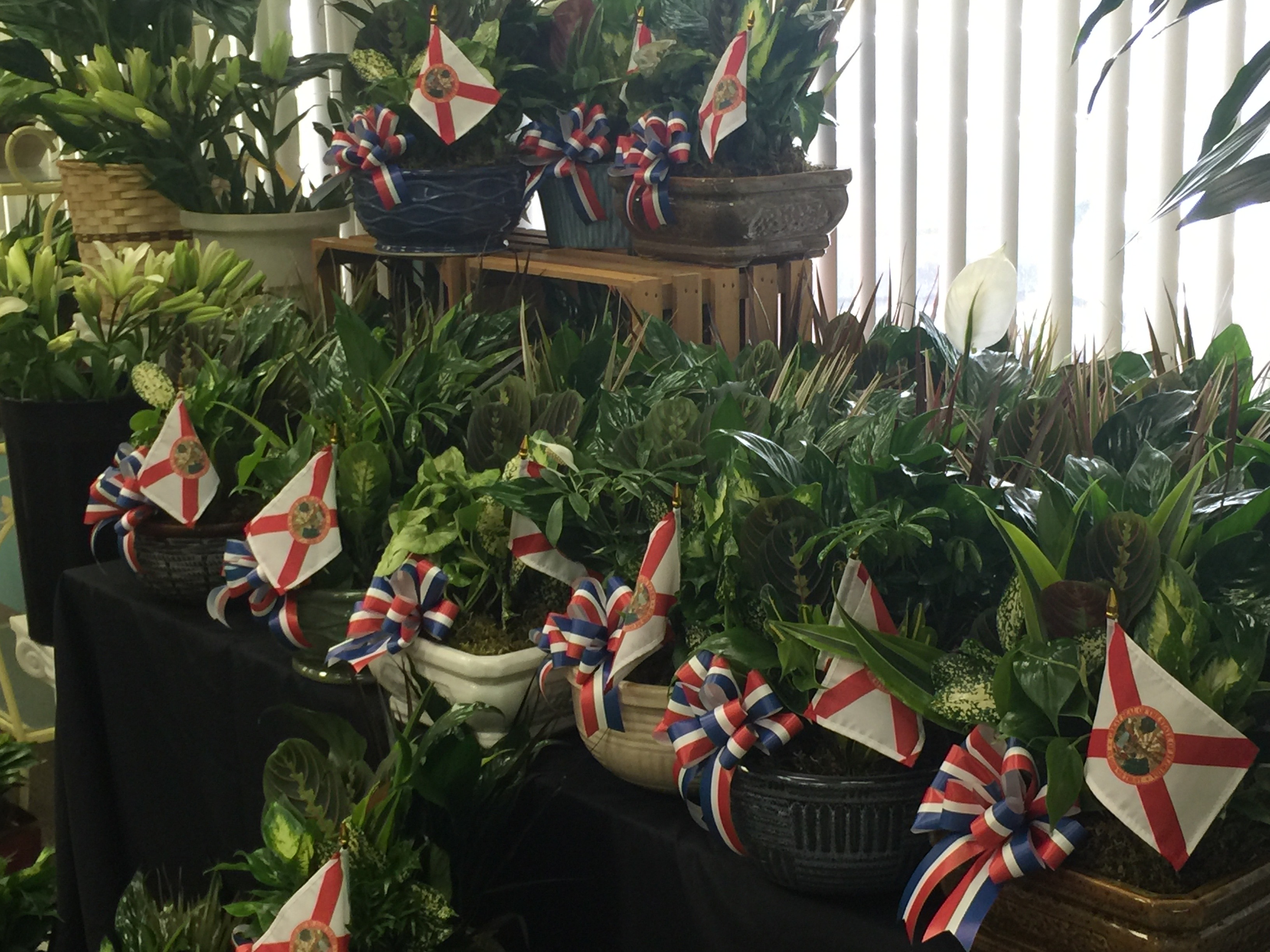 "Our business is word of mouth. Everybody knows where to call."
While the hankie drop is the iconic symbol for the end of Session, nothing says Opening Day like the spectacle of the House and Senate chambers overflowing with floral tributes on the members' desks.
Behind each of those arrangements, dish gardens and baskets is a florist. And for most of them, that florist was Elinor Doyle.
Just to be clear, there was an Elinor Doyle, who started the business in 1926, but she's been dead for nearly half a century. Her picture, however, was hanging in the Tennessee Street storefront, keeping watch over owner Roxie Anne Clark and Liz Santini (who has worked there for 22 years) as they cleaned the bowls of 106 dish gardens, gave the leaves a shine and gussied them up with a red, white and blue bow and a State of Florida flag.
Valentine's Day is the No. 1 busiest day of their year, but at Elinor Doyle Florist, the start of Session is definitely No. 2. They started getting ready three weeks earlier, and as March 5 approached, the team worked long hours over the weekend to assure their flowers arrived in peak form. The Saturday before was the dish gardens, which would get the colorful addition of red mini carnations and white cushion mums on Monday. (An aside to the aides: Those gardens will last throughout Session if they're watered weekly and kept in a not-too-sunny spot.)
Sunflowers were lined up, soon to be arranged in 160 bud vases that would be delivered to each member of the House and Senate, courtesy of Florida's chiropractors. Spray roses were waiting to be fashioned into unisex boutonnieres the Florida Democratic Party ordered for its members. There were orchids on hand, a favorite gift from lobbyist Ron Book, who always sends a large basket of the tropical blooms to his daughter, Sen. Lauren Book. Other flowers would be made into arrangements on Monday, with an eye on a 5 p.m. deadline.
Clark said after 911, restrictions were put in place on when the chambers were open for deliveries. This year, all of her arrangements must be delivered between 5 and 7 p.m. Monday evening. Her entire family will be pressed into service, and it will probably take four trips with the company van to get all the orders delivered. "We've always been the last flower shop down there," she said.
For most of its history, Elinor Doyle Florist was located downtown, in the shadow of the Capitol. But after she bought the business seven years ago, beset by high rent and a lack of parking, Clark moved to its current location, in the shadow of the Sheraton Four Points.
For the most part, the clientele moved with her. "Our business is word of mouth," she said. "Everybody knows where to call."
And if they ask for Elinor Doyle, the easiest answer often is: "Yes, may I help you?"