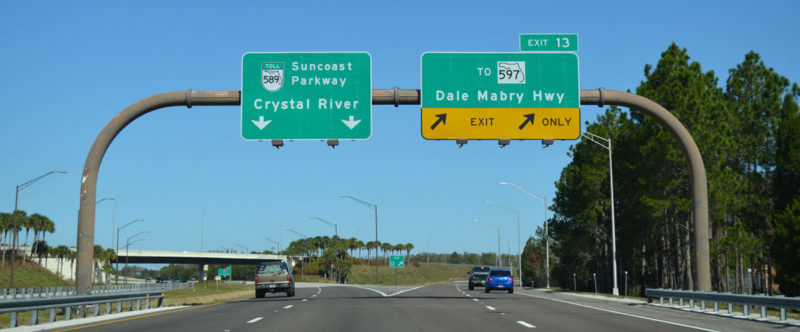 'We want to revitalize these concepts,' Sen. Tom Lee said.
The measure to plan and fund three potential new cross-state toll road expressway projects rolled smoothly out of the Florida Senate Committee on Infrastructure and Security Tuesday opening the road for one of the top priorities for Senate President Bill Galvano.
The committee introduced, heard, and then unanimously approved Senate Bill 7068. It would restart three long dead or dormant expressway concepts, one to extend the Suncoast Parkway all the way to Georgia, one to extend Florida's Northern Turnpike to a juncture with the Suncoast Parkway, and to create an all-new expressway, the Southwest-Central Florida Connector, cutting from Polk County to Collier County.
The bill also would reserve up to $109 million a year from license plate fees and another $35 million a year from general revenue money to pay for those and related roads. That money plus future tolls would pay for them. All the projects are envisioned as toll roads that would join the state's toll road system under Florida's Turnpike Enterprise.
Galvano, from Bradenton, had advocated for the projects not just for transportation but as part of the "Florida Strategic Intermodal System." As such they would be planned and built out as multi-use corridors to carry utility lines, trails, other infrastructure and economic opportunities through swaths of primarily rural Florida that to date have not felt the state's recent prosperity, inland from Florida's Nature Coast and upward through the Panhandle to Georgia; and inland from Polk County through central south Florida to Naples.
"The president really felt that given where we are in Florida today, the rate of growth that we're having, the fact that we have so many counties that have not benefited from the economic growth of our state and the need to drive not just transportation but other infrastructure-related services like high-speed internet and utilities and perhaps bike trails through these communities, we want to revitalize these concepts," said Committee Chair Tom Lee, the Republican from Thonotosassa who carried the bill Tuesday.
The proposals have emerged before, sometimes facing staunch opposition, or no money, or studies indicating that not enough people would drive the roads to justify them. For now the projects are little more than broadly defined corridors, stating that somewhere a new highway needs to be built roughly connecting points A and B.
The bill proposes starting planning essentially from scratch, with environmental impact studies helping determine if there is an acceptable build alternative. The bill also dictates that construction would start no later than 2022 and the new expressways would open by 2030.
"Over the course of time we have identified some additional corridors in the state of Florida, at various stages in recent history the Legislature has tried to move in the priority list. And for one reason one another those corridors have never been developed or built out," Lee said.
On Monday, the SB 7068 received some opposition from the Sierra Club of Florida, concerned about whether environmental impacts would be significantly considered, and from the Florida RV Trade Association, frustrated that the 2009 license plate fee increase money its clients pay was supposed to be rolled back, not redirected, when budgetary times got better, as they have.
And almost everyone who supported the bill bemoaned that the highways would be more toll roads, but they conceded it was probably the only way they could be built.
But otherwise, the bill found a fairly warm reception from the committee members and lobbyists at Tuesday's hearing. Democratic state Sens. Janet Cruz of Tampa and Linda Stewart of Orlando both raised concerns about the diversion of general revenue money and how that might affect their priorities such as education and environmental protection. But both accepted Lee's point that would have to be worked out by the Senate Committee on Appropriations, not the infrastructure committee, with assurances that there would be changes as the bill progresses.
"I know that Florida is facing real transportation and infrastructure issues. … But I know that we need to move Florida into the 21st Century, and I know that we have to create some transportation solutions that work for all of the residents of our state," Cruz said.
"We need to pass this," said Stewart. "I think this is needed for us to improve economic development and improve connectivity to the rural areas."