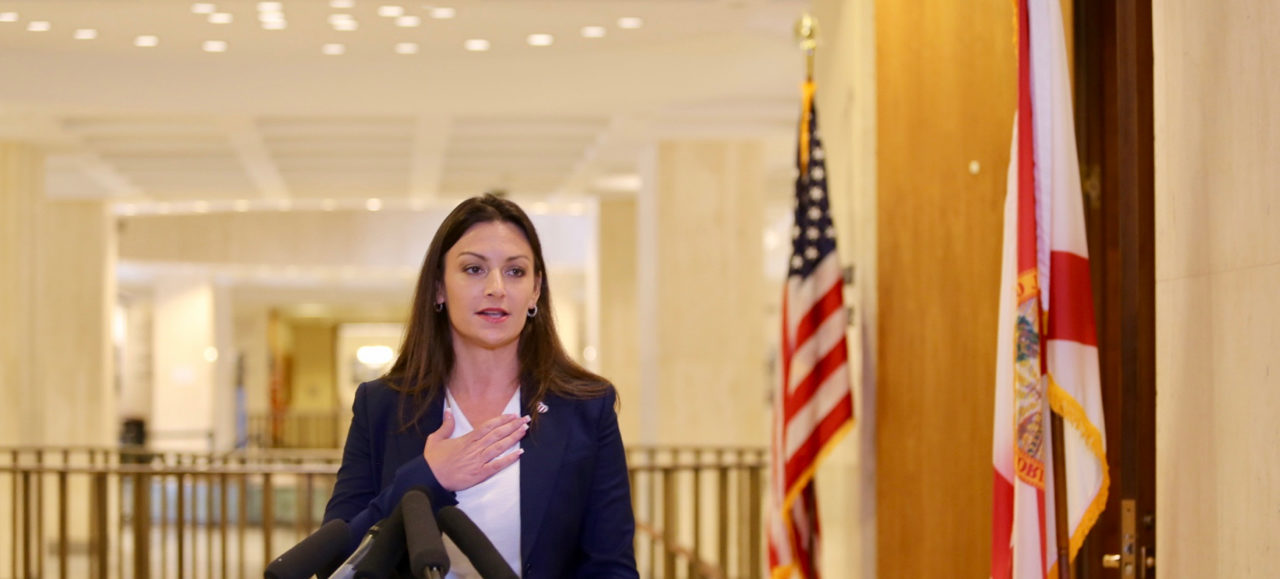 "The sale of CBD products is not currently legal in Florida."
Agriculture Commissioner Nikki Fried may soon try to shut down sales of CBD products in Florida.
After reports Wednesday that Fried's office was getting ready to send "cease and desist letters" to retailers who sell CBD oil and other products, spokesman Max Flugrath said none had yet been issued.
"However, the Commissioner has made clear her position that the sale of CBD products is not currently legal in Florida until state hemp legislation is passed," he said.
In Florida, however, scores of over-the-counter products claiming CBD as an ingredient are now on shelves in independent pharmacies, specialty shops, and even supermarkets.
That's despite now-outgoing U.S. Food and Drug Administration (FDA) Commissioner Scott Gottlieb's position that the feds have exclusive "authority to regulate products containing cannabis or cannabis-derived compounds."
Cannabidiol (CBD) and tetrahydrocannabinol (THC) are the major compounds in cannabis. The "non-euphoric" CBD is mostly extracted from hemp, a form of cannabis, and used for treating pain and relieving inflammation. THC is the "psychoactive" ingredient that causes marijuana's "high."
Fried "is working with lawmakers to support that legislation so that CBD products, once legal for sale, are tested and regulated for consumer safety," Flugrath added.
That brought a rebuke from Tampa lawyer Michael Minardi, general counsel for Florida NORML (National Organization for the Reform of Marijuana Laws).
"These kinds of comments don't help," he said. "They just further encourage law enforcement to go around and start arresting people."
Minardi also promised that as soon as the first letters go out, he would file a lawsuit on behalf of the state's CBD retailers, saying a state official such as Fried can't "interfere with interstate commerce."
And he is filing an administrative petition against Attorney General Ashley Moody, asking that she "take immediate action to adopt an emergency rule to remove hemp as a controlled substance" under state law.
The Farm Bill that was passed and signed by President Donald Trump last year legalized regulated production of hemp.
State lawmakers now are considering legislation to create a state hemp program overseen by Fried's Department of Agriculture and Consumer Services. She recently hired Holly Bell as her "director of cannabis" to oversee that program.
Even the state's top medical marijuana official as recently as last month said products with CBD were in a "gray area."
But Courtney Coppola, interim director of the Department of Health's Office of Medical Marijuana Use, also told a House panel "there is no currently approved hemp retailer in Florida."
In Tallahassee recently, local police seized a half-million dollars' worth of hemp-derived products from the Natural Life store under a federal warrant. Coppola then said that shop was the only one her office has sent a cease and desist letter to.
Jeff Sharkey and Taylor Biehl, who run the nascent Florida Hemp Industries Association, said in a statement that "despite the passage of the 2018 Farm bill that removed hemp from the Controlled Substances Act and made it federally legal, there is still confusion among lawyers whether hemp-derived products like CBD are legal to sell and purchase in Florida.
"Once again, the state and federal laws are in conflict on this important issue," they continued. "We urge the Legislature to pass the hemp bills filed, which will clear up once and for all this confusion, and allow Florida to actively pursue growing and selling high-quality hemp products."