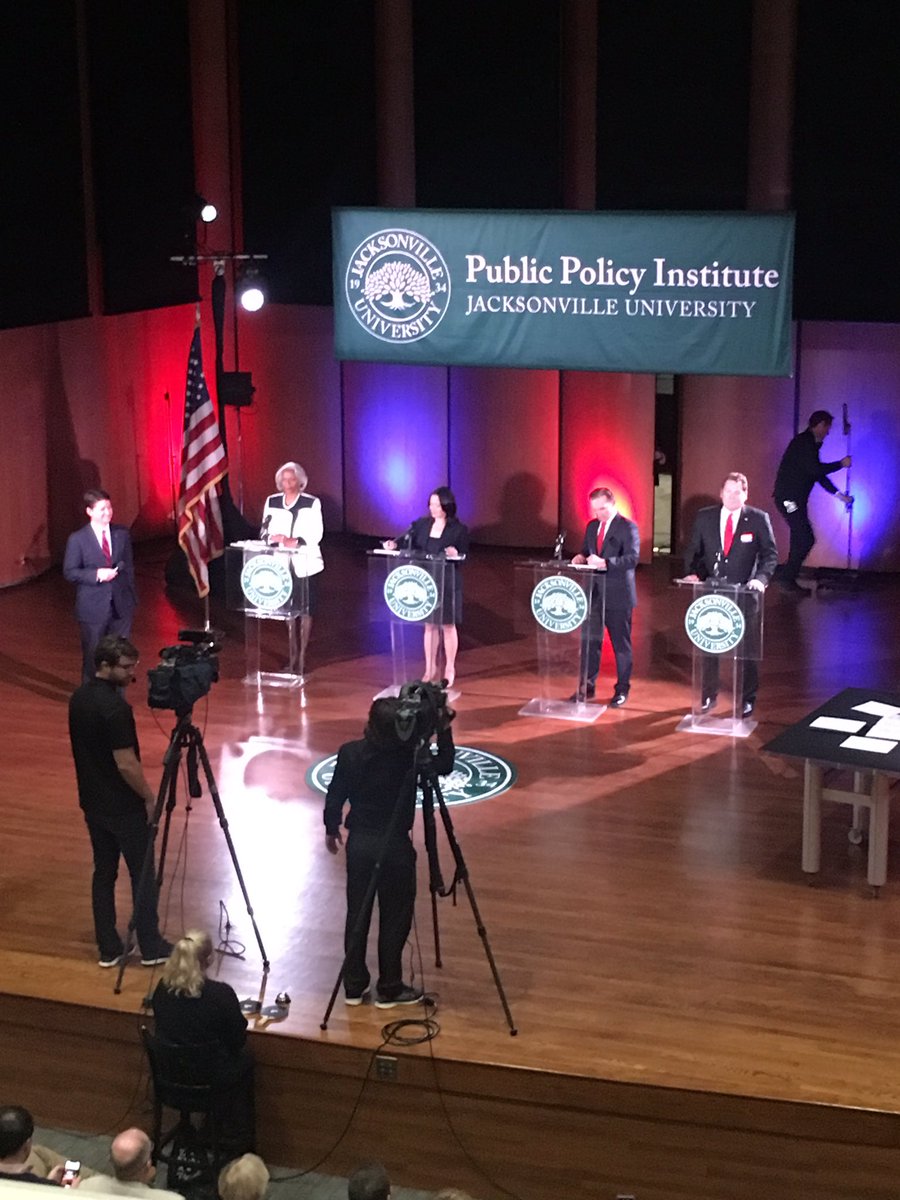 For those who wanted a knockout punch, it wasn't there.
Jacksonville Mayor Lenny Curry on Wednesday debated his opponents for the first and only time in his re-election campaign.
The event was in a 600-seat auditorium on the Jacksonville University campus, with a raucous crowd packed with supporters, consultants, and politicians from across the local spectrum.
Curry, who has polled at or above 50 percent in multiple surveyss of the race, needs to cross that threshold when votes are counted Mar. 19.
Jacksonville City Councilwoman Anna Brosche, a former President of the Council and a Republican like the Mayor, is considered to be the most serious challenger.
The friendliest polling, via Gravis, still shows her south of 30 percent.
No Party Affiliation candidate Omega Allen and former Atlantic Beach Commissioner Jimmy Hill fill out the field.
For those who wanted a knockout punch, it wasn't there.
This was a sparring match, nothing more.
The event started as one might expect: Curry itemizing his record, and Brosche bashing him, saying that the city wasn't safer after his four years, and that his administration was in favor of "the privileged few."
Brosche was able to address violent crime, a talking point into which her campaign has invested hundreds of thousands of dollars.
Brosche asserted that "prevention and intervention" have been ignored, with "election-year law enforcement" being a substitute for concerted policy.
Curry countered that when he was elected, the Sheriff told him he needed more police officers, and so he added 180 police officers.
"I've spent time in neighborhoods," Curry said, "with at-hope youth."
"Our investments and work with law enforcement and the State Attorney are beginning to work," Curry said, thumping the lecturn. "I'm going to continue to work with them every day."
"I'm going to stay the course," Curry added, noting that he has invested in technology upgrades long sought.
Brosche finally got to turn the heat up 15 minutes in, when she asserted that the Sheriff said he didn't need anymore resources at a luncheon.
"It's amazing that we can find $15 million for the Landing payoff … but only $300,000 for microgrants," Brosche said.
"This is just the politics the Councilwoman has been playing since she decided she wanted to run for office," Curry said. "The people see it for what it is: dirty politics."
"Funding for children's services has not increased in ten years," Brosche said.
Brosche noted she voted for Curry's budgets.
"I wanted him to succeed … but his priorities have not solved the problem," Brosche said. "It takes election time to get things moving."
Curry defended capital investments, including $45 million in the sports complex.
"I stand by my budgets, I stand by my record," Curry said, noting that Brosche, despite being City Council President, was a cipher on public safety issues.
"As a member of City Council," Brosche said, "I can't pass my own budget… this City Council gave the Mayor what he asked for."
Hill and Allen on the stage benefited Curry. Two candidates with no paths to Suite 400, filling up time that Brosche may have been able to use to her benefit.
Soliciting the opinions of Allen and Hill on the Jacksonville Landing, while interesting in an academic way, has no bearing on what policy will look like post July 1.
Brosche was able to say, again, that she "didn't favor the election-year payout," calling proposed demolition of the thirty-year-old structure foolish.
"It's the home plate of downtown," Brosche said, not for the first time.
"I get things done. I make things happen," Curry said, noting that "projects are happening" now.
"The Landing … has been sitting and rotting for years," Curry said. "I'm glad we're going to move forward."
Curry was vague on details of what could happen in the space ("greenspace and development"), but discussed his approach to leadership more.
"Many of my votes have been 19-0," Curry said. "I'm going to keep leading."
The flashpoint of the Curry/Brosche feud, ultimately, was over the issue of JEA.
A major talking point of Brosche's has been the effort in 2018 to, as she puts it, "sell JEA."
Brosche, Council President at the time, went to war with the administration over a desire to see what JEA might be worth to potential buyers.
Soon enough, the valuation/evaluation report manifested. Pushed forth by Public Financial Management, a national company also involved in helping to broker the exploration of value, the numbers were eye-popping.
Proceeds, the report said, could be between $2.9 billion and $6.4 billion after the retirement of debt.
Values ranged from $7.5 billion up to $11 billion, based on cash flow, price/earnings ratios, and other metrics.
All of this was, critics contend, aspirational.
At a special meeting of the Council on the subject, the then-President did not allow Mayor Curry to speak.
Tensions were so pitched thereafter that the Council nearly issued a subpoena to JEA's then CEO.
With a year having passed since the height of the drama, the bet Brosche has made is that voters still care.
Curry said that he wasn't interested in selling JEA, though he did agree with exploring the value.
Curry asserted that effort was politicized.
"I will not be introducing legislation to sell JEA," Curry said.
Hill, taking the attack role as the debate went on, predicted the utility would be sold as soon as the election's over if Curry wins.
Brosche contended that Curry still wants to sell the utility, and that he pushed "crony and political contributor" Aaron Zahn to be CEO and tried to use a senior staffer to push the sale of the utility.
As the debate reached its end, the challengers continued to slam Curry for cronyism.
Curry, tapping the lecturn, noted that the Council has confirmed "every one" of his appointments.
Oppo against the challengers finally flew at the end.
Hill answered for his bankruptcy, saying the administration "targeted" his boat show.
"That's what happens when you stand up and do the right thing," Hill said, noting that he is satisfying the bankruptcy agreement.
Allen had to answer as to why she is running again after getting 2 percent of the vote four years prior.
Brosche had to answer for her Sunshine Law investigation and the multiple indictees she appointed to Finance.
Brosche asserted she has never violated the Sunshine Law, and that "deals are getting done in back rooms" by this administration.
"This mayor says he gets things done," Brosche said. "Promises made, promises broken."
Curry noted that Brosche was subject of a "criminal investigation" from the State Attorney, and hired a defense attorney "so she wouldn't have to talk."
Brosche, with passion in her voice, inveighed against a "culture of fear and intimidation."
"There were over 400 calls made," Curry said, between Brosche and Councilman Garrett Dennis.
After the debate, Curry and Brosche talked to media.
Brosche, when asked about the impact of a four-person field, said the debate "went how it needed to go" and that people could "glean" what was going on.
When we asked Brosche if a more traditional campaign structure would have served her better, she said "we've run a really good campaign in light of the challenges we've faced."
Those challenges include fundraising, as Curry has raised over $5 million for his re-election bid.
As a Republican effectively primarying a Republican mayor, we wondered what living Republican Brosche identified with.
"John McCain," she said.
McCain has passed on, however, and she couldn't name a second living Republican she saw as an influence.
Curry was blander than styrofoam in his remarks, having fulfilled his obligation to debate exactly once.
"I've got a record of four years," Curry said. "I know what I feel and see on the ground … we're going to keep this thing going."
Worried about a runoff?
Nope.
"I'm going to get up tomorrow and govern just like I did today," Curry said.