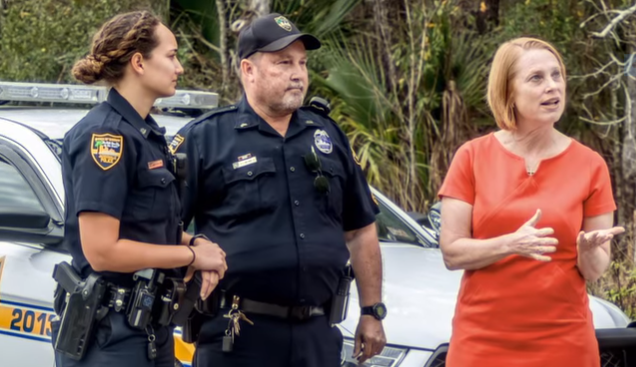 These candidates should align on most key issues.
Jacksonville residents are noticing ad buys, including citywide broadcast, for City Council candidates aligned with Mayor Lenny Curry.
These buys include candidates running for district seats.
Republican Randy DeFoor, running for an open seat in District 14, has been on air since Feb. 27 and will run through the campaign.
All told, $86,250 of a $96,250 buy goes on broadcast; the remainder, on cable.
Her spot contends she's "ready to lead," promoting public safety endorsements.
DeFoor has raised over $240,000 between hard money and committee money. This is more than raised by her three opponents: Republican Henry Mooneyhan and Democrats Sunny Gettinger and Jimmy Peluso.
The top two finishers, regardless of party, will move to a May runoff (unless someone scores a majority in March).
Rose Conry, running for an open seat in District 6, will see her race against fellow Republican Michael Boylan decided in March.
Conry, a fixture at Republican establishment events, is moving $80,000 of the $130,000 she has raised to television, with $62,000 on broadcast.
Boylan has been competitive; the former WJCT CEO himself has raised over $100,000.
In addition to district candidates, television is being used by aligned at-large hopefuls.
Current District 10 Councilman Terrance Freeman, running in a five-way race for an open at-large seat, is spending in hopes to making the top two.
A recent poll from the University of North Florida showed Freeman, an establishment favorite who lost his last campaign (the 2016 HD 12 primary) despite heavy establishment buy in, garnering an anemic 5 percent of the vote.
Freeman likewise has an $80,000 buy that boosters hope will carry him past March. Of that spend, $66,000 goes to broadcase; cable buys include Fox News and the Golf Channel.
Between his political committee and campaign account, Freeman has reported raising nearly $95,000. In terms of fundraising, he is dominating an otherwise lightly-capitalized field. Democrat Lisa King is his closest competition, with over $46,000 raised.
Also on air: at-large candidate Matt Carlucci, a political perennial seeking a return to the Council dais.
Carlucci is the leading Council fundraiser, having brought in over $300,000 in hard money against two Republicans who can't match him.
However, his total TV spend will ultimately be a fraction of that budget: $57,567.
Another Curry candidate, Ron Salem, is also on television. Salem is spending much of his $201,000 nestegg on the buy.
With turnout low this year (around 5 percent, with Early Voting in progress), it will be interesting to see if these candidates who are spending on television reap rewards.