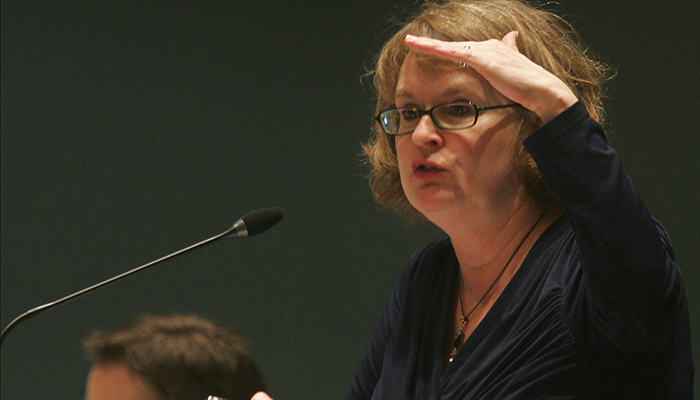 Then again, "there's negatives every year."
State revenues will remain level heading into next fiscal year chiefly because of about $200 million in unspent reserves that will roll over from the current year, a top state economist said Thursday.
"The result over the two years is essentially zero" difference, said Amy Baker, coordinator of the Office of Economic & Demographic Research.
"We're going to add approximately $200 million to this year and we're going to subtract approximately $200 million from next year" from the revenue forecast, she said.
"Which, for legislative purposes, means that they're essentially at zero — they're back to where they started from," Baker said.
The exact numbers were up by $201 million this year and down $208.7 million next year, compared to earlier estimates.
The problem, Baker said, is that the rollover money will be non-recurring — a one-shot infusion rather than a continuing source of revenue.
"In that respect, they're worse off, because you'd rather have recurring than nonrecurring."
Baker spoke with reporters after deliberations by the state's Revenue Estimating Conference, made of numbers crunchers from the Governor's Office, Legislature and others.
A preliminary projection places general revenues at around $33.5 billion during the budget year beginning July 1. You can find the data on the office's website. The Legislature relies on the revenue forecast when writing next year's state budget.
Underpinning the numbers is that the national economic forecast has weakened since the December conference, and so, subsequently, has Florida's, Baker said. That trend will be more marked next year and in the foreseeable future.
"And as you move throughout, there are negatives every year. The long-term forecast will be down some," she said.
Also significant was the state's Hope Scholarship's failure to catch on with the public. The grants are designed for students victimized by bullying, harassment and assault and are financed by car-buyers designating a portion of their sales tax.
Similarly, the Florida Sales Tax Scholarship Program, its financing tied to credits against the tax on commercial leases, has experienced "very little activity," Baker said: "Businesses are not participating; therefore there's no money to give to scholarships."
The result is that $67 million previously forecast for scholarships will instead land in the General Revenue Fund.
In December, the group began planning for an economic forecast trend line that will resemble a "U-shape," she said. Behind the decline are factors including tariffs, the slowing global economy, Brexit, and uncertainty about U.S. interest rates.
"All of those real issues and kind of angst coming from global effects are starting to feed back into the U.S. And then, the stimulus from the increased federal spending that our government did a year ago is going to start fading out of the forecast," Baker said.
The housing sector never fully recovered from the 2008 economic crash and will be among the first to feel the effects of the slowdown. And that will depress collections of documentary tax and ad valorem taxes.
"Pretty much any construction measure, we weakened it between December and February," Baker said.