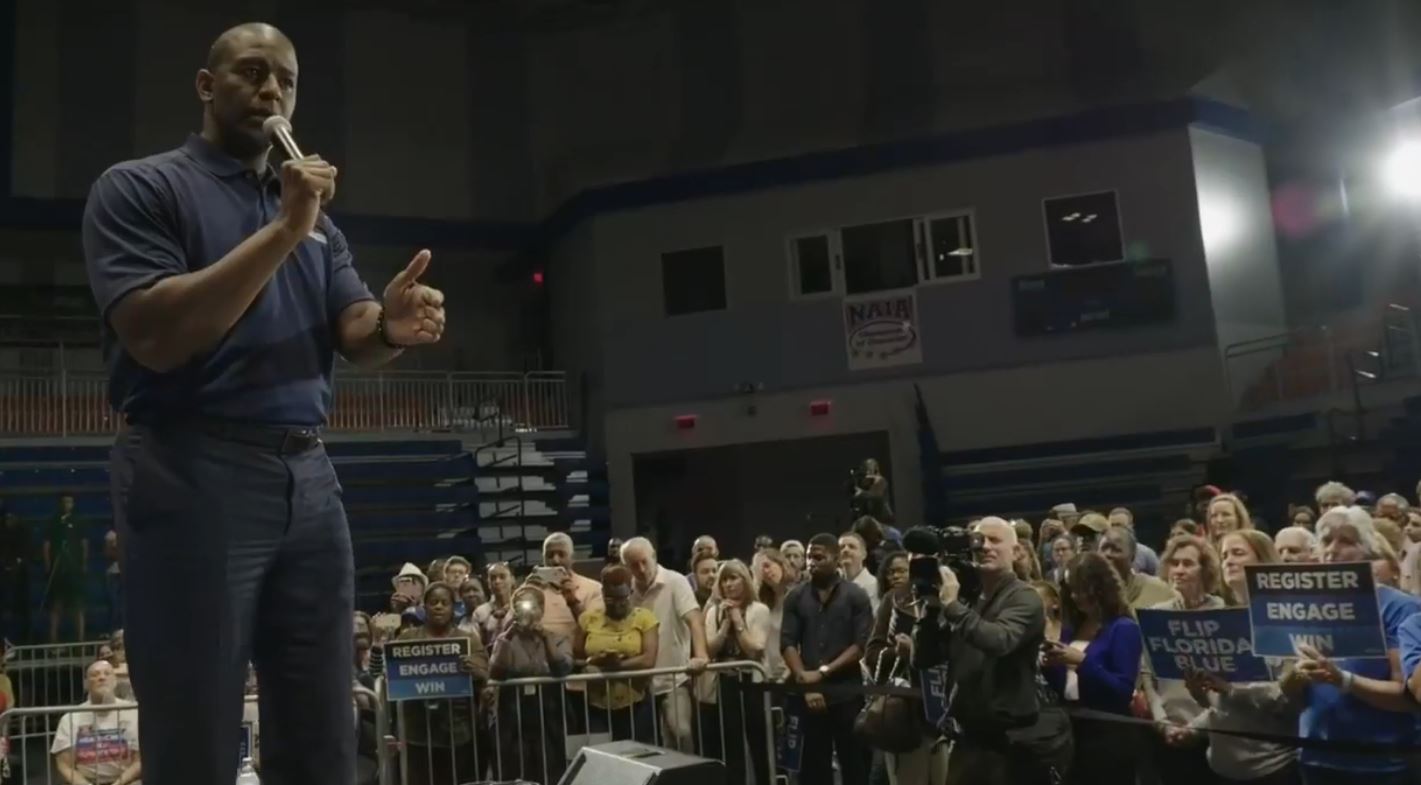 Gillum had received hype as a 2020 presidential candidate.
At a much-hyped event early Wednesday evening, former Democratic gubernatorial candidate and oft-rumored 2020 presidential candidate Andrew Gillum had a major announcement regarding his 2020 plans.
No, he's not running for President.
Instead, as earlier reports Wednesday previewed, Gillum announced a new voter registration effort aimed at helping Democrats build off their success in 2018. Gillum's goal is to register 1 million voters in Florida between now and the 2020 election.
The initiative will be managed by "Bring it Home Florida," a recently registered organization named after Gillum's gubernatorial campaign slogan.
As noted by POLITICO, which first reported Gillum's voter registration plans, the former candidate still has almost $4 million in his campaign's political committee, Forward Florida.
"Are y'all ready to flip Florida blue?," asked Gillum from Florida Memorial University in Miami Gardens.
"Are y'all ready to flip the United States of America blue?"
Gillum said he would be working with groups like the Florida Democratic Party, SEIU, Dream Defenders and the Florida Immigrant Rights Coalition, among others.
Miami Gardens Mayor Oliver Gilbert III, who spoke shortly before Gillum took the stage, echoed the need to increase voter participation from the last cycle.
"Every place where someone could vote but they didn't vote, every place where someone could be registered but they aren't registered is ground zero for the America that we want," Gilbert said.
Gillum also touched on the new voting rights restoration amendment which was passed last cycle, giving the right to vote back to more than 1 million nonviolent felons.
"Because we voted like our lives depended on it, 1.4 million people now have the ability to register to vote here in the state of Florida," Gillum said.
"That's a big deal."
Gillum said his ultimate goal is getting enough Democrats out to vote in Florida to flip the state blue and kick President Donald Trump out of the White House.
"I just can't wait for the image of us rolling them right on out of the White House and back to whatever planet they may have come from and rolling in whoever the Democratic nominee, and I mean whoever the Democratic nominee is, for President of the United States."
But Gillum said he isn't one of those candidates running to be the nominee. Instead, he said his focus is on getting people to the polls in 2020.
"I'm sure it's probably more fun for some of those out there running for President," Gillum said.
"This is the hard work of democracy."