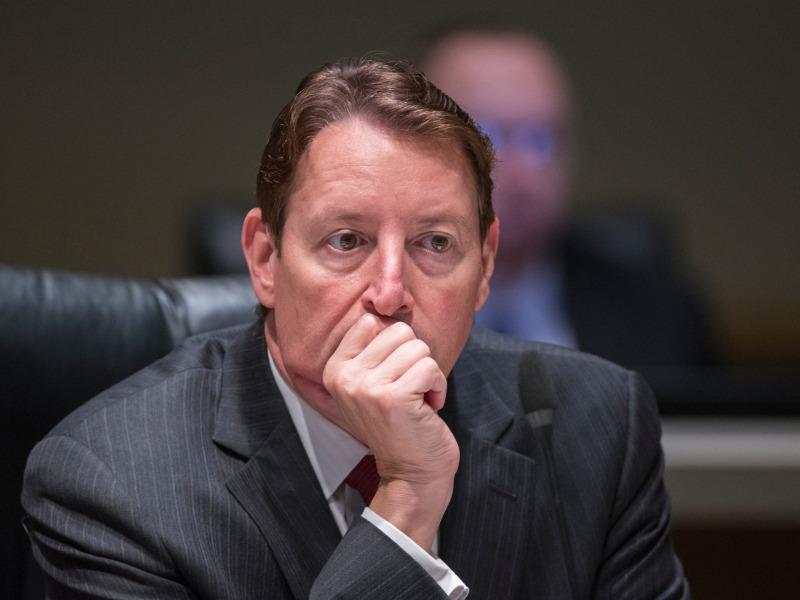 "...Maybe it's a next-year issue."
The Senate's proposed $90 billion state budget for next year is missing something: Any gambling money from the Seminole Tribe of Florida.
That's roughly $164.5 million so far this current fiscal year, according to state records — representing only about two-tenths of a percent of the proposed budget for 2019-20.
What's more telling about Senate President Bill Galvano's pronouncement is what it suggests about talks his staff has been having with the Seminoles about renewing their revenue sharing agreement with the state.
Tied into that are his interests to run a sports betting bill this Session or an overarching gambling bill, or to combine them.
It's in many ways his defining issue: Galvano – when he was a House member – was one of the architects of the original Seminole Compact, the gambling agreement signed in 2010, and he's a past president of the National Council of Legislators from Gaming States. 
"What I've said is that there's a process and there are stages to that process," Galvano told reporters after Thursday's floor session. "And step one is to stabilize the legal issues between the state and the tribe — or not."
"… We may not have anything this Session, but efforts will continue to try to make progress," he added. "Remember, this is something that also has to come together with the House … I'm perfectly content to just take our time and move forward and maybe it's a next-year issue."
Despite a legal right to cut off the money, the Seminoles decided last April to continue paying the state its share of Indian casino gambling revenue each month. The Tribe pays $19.5 million monthly, with occasional balloon—or "true-up"—payment.
"It has never been in their mindset to stop or reduce payments just because they have a legal right to," Barry Richard, the Tribe's outside counsel, said last year. "Now, they would have liked the Legislature to have corrected some of the problems that exist … but they will wait and see what happens."
The Tribe paid a little more than $2.2 billion into state coffers as part of a 2010 agreement that guarantees it exclusivity to offer certain games, particularly blackjack. (Exclusivity essentially means freedom from competition.) Only the Tribe offers blackjack in Florida, and slot machines outside South Florida.
Though the Tribe and the state settled a lawsuit over blackjack with the Rick Scott administration, allowing them to offer the game till 2030, the Tribe's continued payments to the state are contingent on state gambling regulators promising "aggressive enforcement" against the games that threaten their exclusivity.
The subject of the suit was designated player games, a hybrid of poker and blackjack, offered by pari-mutuel card rooms in the state that the Seminoles complain play too much like blackjack. But "electronic gambling parlors" in the Jacksonville area also have provoked their ire.
The sides had been in a "forbearance period" that ended last March 31, after which the Tribe was entitled to stop paying. Pari-mutuel lobbyists say those games continue to be a thorn in the Tribe's heel and they've let legislative staffers know that. 
"The Tribe doesn't comment on its negotiations with the state, except to confirm their existence," said their longtime spokesman, Gary Bitner.
Also complicating matters is the constitutional amendment on gambling that voters passed in November. The "Voter Control of Gambling" amendment "ensure(s) that Florida voters shall have the exclusive right to decide whether to authorize casino gambling," its ballot summary says.
The Seminoles wouldn't mind adding roulette and craps to their table offerings. But Galvano and John Sowinski, president of Voters in Charge, the political committee behind the amendment, continue to differ on whether voters would need to approve the Tribe getting new games and offering sports betting.
Galvano says probably not; Sowinski says definitely yes.
"Only Florida voters, by constitutional initiative, have the authority to authorize any form of casino gambling, including sports betting," Sowinski has said.
"The settlement that was entered into between the former Governor and the Tribe was a temporary settlement that essentially diminished, to a large extent, our ability to negotiate," Galvano said Thursday.
"By the time we left Session last year, the tribe said, 'we're not paying, we're out, we have no further obligation to pay.' Then there was some discussion of maybe a Special Session (on gambling issues) and they're like, 'OK, we're going to pay.'
"They believe that they are paying with no legal obligation to do so, but they also are very interested in having a (new) compact. They have big investments in these massive facilities and yet they don't have craps or roulette. They still have trouble with the designated player games and they themselves are very interested in sports (betting).
"So, all I'm saying is, we're not going to count dollars that we've been told are not believed to be owed," Galvano said. "We're not going to put ourselves in a more difficult negotiation posture, but we're going to keep talking with them."