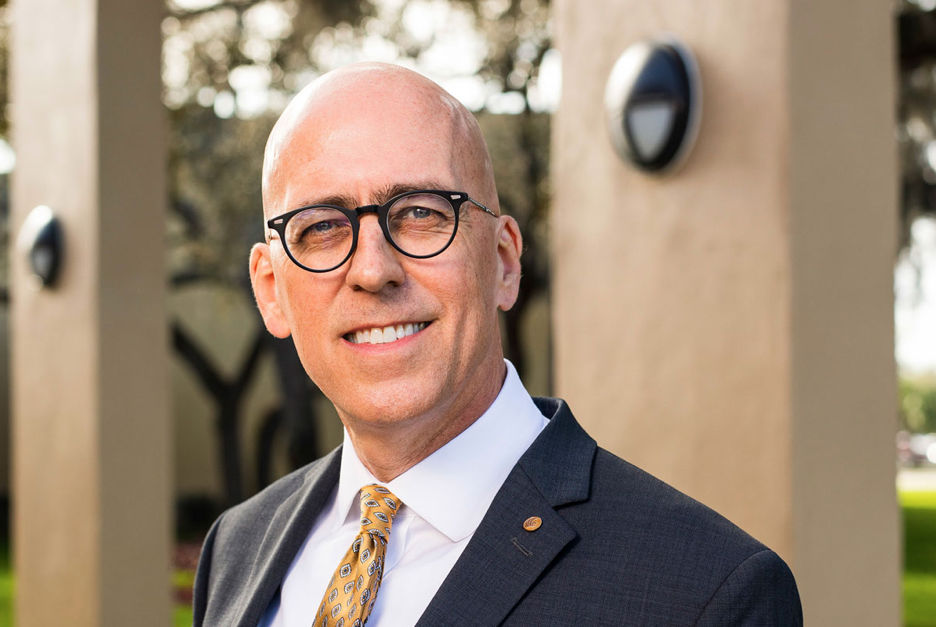 'He will be a stable chief,' said state Sen. Linda Stewart.
If the University of Central Florida needs time and the right leadership to restore confidence in Tallahassee, Interim President Thad Seymour Jr. has sent the right messages.
On Thursday the UCF Board of Trustees voted to extend Seymour's interim status from short-term to long-term, a move that will need to be ratified by the Florida Board of Governors next week. The move would give the university more than a year to set things right in-house and restore trust and confidence in Tallahassee, where the university's misspending scandal had made the Orlando school the poster child for a financially out-of-control institution.
Seymour, named interim president in late February, has moved quickly and quietly to shore up relationships, making rounds with lawmakers and appearing before the two Florida House committees where outrage toward UCF's misspending scandal had been the loudest, the House Higher Education Appropriations Subcommittee and the House Public Integrity and Ethics Committee.
"I can't speak for Chairman [Tom] Leek, but the committee members had a strong sense that he's the right guy for the job, at the right time, to right the ship, to turn around the financial culture that had existed eat UCF," said Republican state Rep. David Smith of Winter Springs, a member of the House Public Integrity and Ethics Committee.
Smith's House District 30 in Seminole County abuts UCF's campus, just across the county line in Orange County.
"I think we attribute that mostly to his business experience, education, and perhaps the most important, his trustworthiness," Smith said.
"I think Thad is an excellent choice for interim president," said state Sen. Linda Stewart of Orlando, whose Senate District 13 includes the UCF campus. "He has been with the university. He is aware of the issues they have faced, and is working to make changes necessary… he will be a stable chief."
"He seems to be a very calming influence; he has a very calming personality," said Republican state Sen. David Simmons of Altamonte Springs.
Seymour has a doctorate in American history from the University of Wisconsin, a masters of business administration from Northwestern University, and a bachelor's degree in history from Dartmouth College. He's also the son of former Rollins College President Thad Seymour Sr., who led the nearby Winter Park private university for 12 years.
However, UCF's Seymour's background is mostly in business, and that background has created extensive contacts in the Central Florida economy, which is why he was first hired at the university in 2015 as senior advisor to the provost for strategic planning; then became vice provost for UCF's downtown Orlando campus that is set to open in the fall; and finally vice president for partnerships and chief innovation officer.
When President Dale Whittaker resigned in February, the board tapped Seymour as short-term interim president, sidestepping higher education tradition that more commonly would have given that role to the Provost Elizabeth Dooley. Publicly, there were no complaints.
Seymour came to UCF from Tavistock Development Co., where he was senior vice president, overseeing that company's development of the Lake Nona community in Orlando, and the beginnings of its developments in east Orange and Osceola counties.  Prior to that he had been a vice president of Curascript Inc., a $4 billion specialty pharmacy and distribution subsidiary of Express Scripts, Inc.; president of the CFSCE Business Services consulting firm; and as an executive or principal with several other companies dating to the mid-1980s.
His only academic experience was as history teacher and a history lecturer in the 1970s and 1980s.
The UCF board decided to delay the search for a new president until next fall, giving Seymour a chance to stabilize UCF before a next president is attracted. Simmons said that makes sense. Seymour is tasked with overseeing a number of financial and administrative reforms at UCF that are being sought after revelations that the previous administration had misappropriated $85 million of state operations money for building construction, including the $38 million new Trevor Colbourn Hall.
"The rationale is clear. The university needs some time for stability and settling down after the events of the last six months," Simmons said.
On the other hand, there remains a next permanent president to hire. Republican state Rep. Randy Fine of Brevard County, chair of the House Higher Education Appropriations Committee, said his hope is that UCF will seek a fresh start with the next president, someone with a fresh set of views. That would rule out Seymour, though Fine said he does not yet know him and did not mean to imply any personal criticism of him.
"The next president needs to come from outside the university," Fine said. "You shouldn't have a scandal of this magnitude and then promote from within."