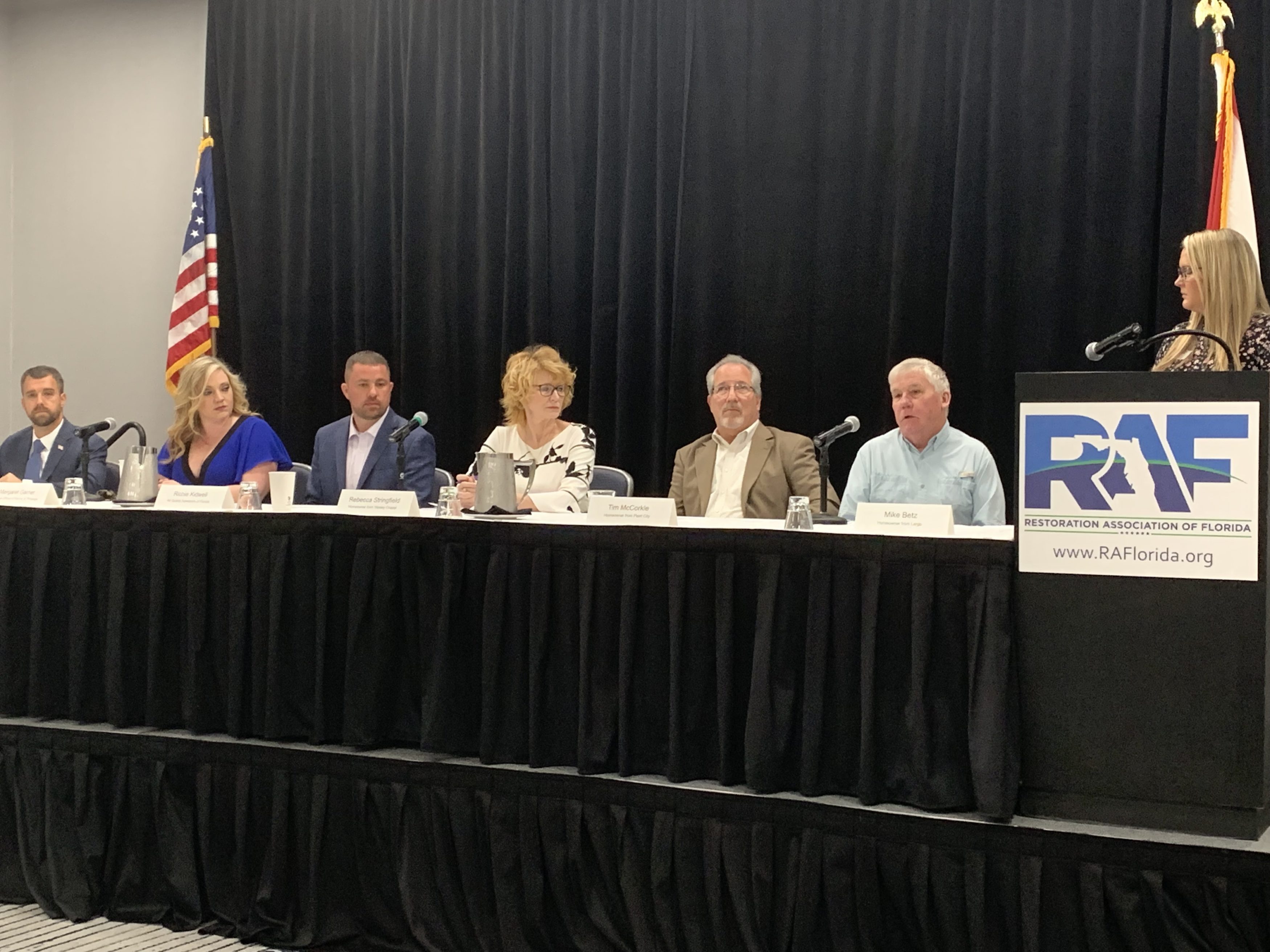 "The damage to my home would have been substantially less."
The Restoration Association of Florida (RAF) is responding to two bills that would affect assignment of benefits processes for when property owners have to file a claim with their homeowner's insurance agencies.
RAF opposes two unrelated bills in the House and Senate (SB 122 and HB 7065) they say fail to address the needs of homeowners and contractors adequately.
The group hosted a panel of homeowners, contractors and attorneys Friday at Crowne Plaza Tampa Westshore. The group expressed intense frustration with insurance companies who deny or underpay claims or cause massive delays.
Both bills, which are moving through the Florida Legislature this session, contain assignment of benefits changes that require property owners to go through insurance companies to determine who can make repairs and how much they can spend.
RAF is fighting for AOB reform to ensure homeowners can get quality work done in a timely manner when filing a claim while contractors are allowed to perform the work and actually get paid.
Mike Betz owns a home in Largo. A roof leak caused his home to flood one night while he and his wife were asleep. His insurance companies sent out their "preferred vendor" to fix the issue. They repaired the roof and used heavy dryers and dehumidifiers to dry out the house.
Then it happened again.
The insurance company sent its vendor out a second time to repair and dry the house out.
Then it happened again.
Betz said he's been working with attorneys for 15 months trying to resolve with his insurance company to get his home fixed. Those fixes, he said, have not started and his home remains uninhabitable.
Betz's problem highlights one of RAF's main concerns. Insurance agencies require homeowners first to contact them so they can send a contractor of their choosing, which often don't perform quality work, the group said.
Worse, if an emergency occurs overnight or during off-hours and a homeowner calls a contractor on their own, that contractor might face problems filing claims with the insurance to get paid.
Those "preferred vendor" evaluations often lead to low cost estimates.
"The original offer from my insurance company for damage to more than half of my roof and interior of my home was approximately $9,000," said Tim McCorkle, a homeowner in Plant City. "After six months of delay tactics and having to hire a public adjuster, I was able to settle with my insurance company for $54,000.
"The damage to my home would have been substantially less had the insurance company fixed my roof in a reasonable amount of time. Instead, I incurred water damage and mold unnecessarily as a result of excessive rain from two hurricanes passing through the state."
Underpaid claims are resulting in more AOB lawsuits, said Richie Kidwell, president of the RAF Board and a contractor.
But lawmakers pushing existing reform efforts argue too many frivolous lawsuits are to blame.
"We are hopeful these real-life examples will resonate with Florida's legislative leaders, so they clearly understand that property insurance carriers are to blame for much of the increased litigation. Insurance companies' attempt to blame AOB on restoration contractors is merely an attempt to hide the truth," Kidwell said.
Attorney Margaret Garner said the influx in additional lawsuits is also stemming from frustrated homeowners who, after going around and around with insurance companies, feel like they have no other choice but to seek help from a legal professional.
"We hear from so many people whose insurance carriers are paying as little as 30 to 40 percent of what it will actually cost to make the repairs and then seemingly ignoring the homeowners' requests for additional funds so they can get what they need to put their homes and lives back together," Garner said. "It leaves people with few tenable options, as many do not have the resources to pay for the costs of significant structural repairs out of pocket. That's why they purchased insurance for their property in the first place."
Members of the Restoration Association of Florida continue to meet with Florida legislators in Tallahassee to ensure homeowner voices are heard and that the assignment of benefits remains a viable option to property owners in need.
The Senate bill is currently in the Judiciary Committee and has one more committee stop after that before heading to the floor for a vote. The House bill has one more committee stop.