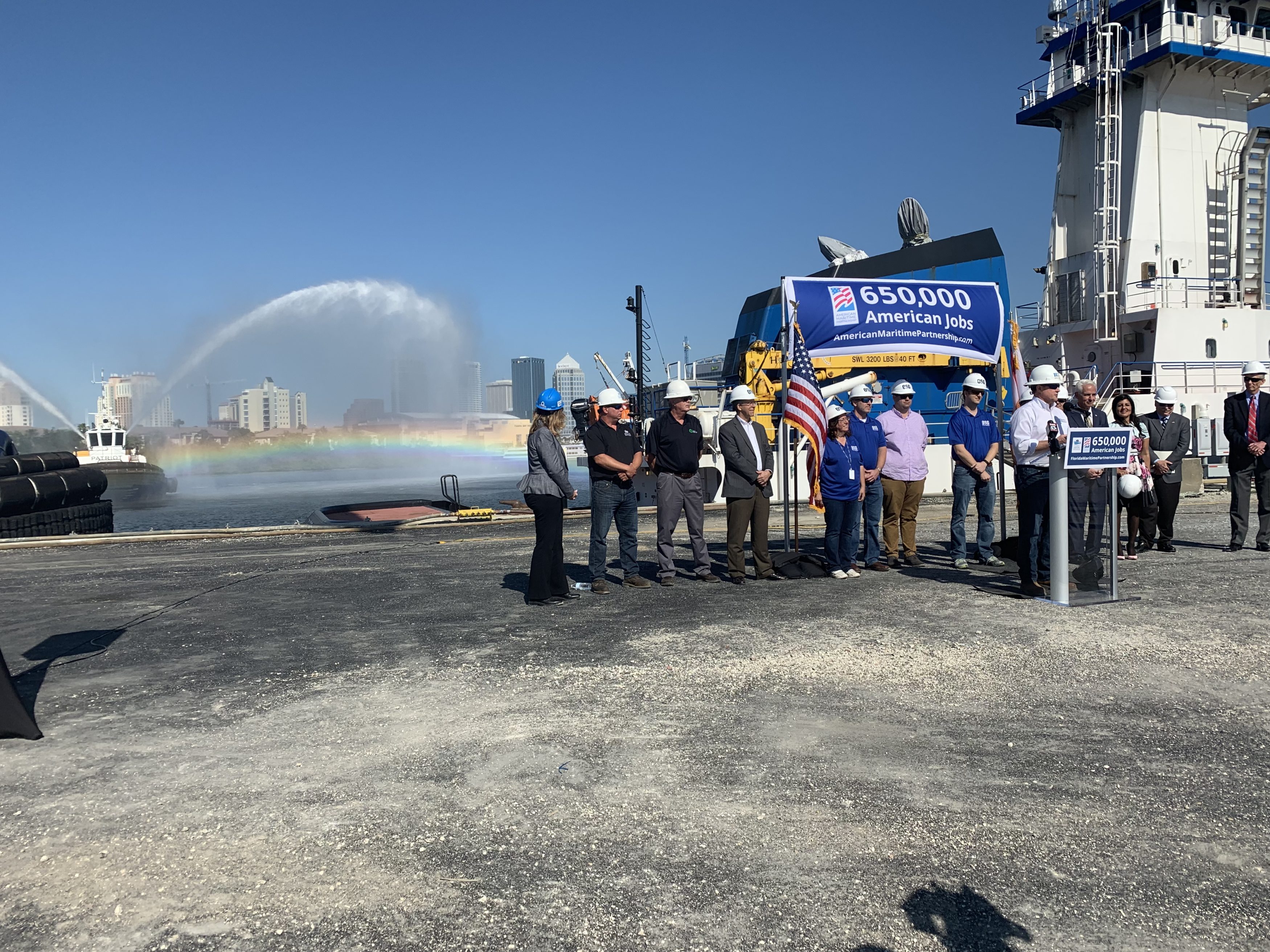 The U.S. maritime industry supports about 650,000 American Jobs.
St. Petersburg area Congressman Charlie Crist flanked by local and national maritime business leaders officially launched the Florida Maritime Partnership near Port Tampa Bay Friday.
The new partnership is a new statewide chapter of the American Maritime Partnership and serves as an advocacy group for businesses within the industry across the state. The groups seek to support not only the industry, but also the long-standing Jones Act that protects it.
The Jones Act requires all waterborne transportation of merchandise between U.S. ports must be done in vessels built and owned in the United States. It also requires American crews.
The new statewide partnership consists of maritime businesses, executives and workers who offer financial support to create an advocacy group to ensure continued awareness of the importance of the Jones Act.
"Because of the fact that the state of Florida does not have a refinery in the state, nor does it have pipelines running from refineries in other states, we are solely dependent on waterborne transportation for our energy needs and as a result of that we're highly dependent on Jones Act floating assets," said Eric Smith, chief commercial marine officer for Hendry Marine Industries.
Under the Jones Act, the U.S. maritime industry supports about 650,000 American Jobs and, according to a recent report from PricewaterhouseCoopers, Florida ranks No. 2 in the nation for the number of domestic maritime jobs, employing nearly 66,000 workers. The same report found Florida's industry generates nearly $4 billion in worker income.
"Port Tampa Bay is Florida's largest port and West Central Florida's largest economic engine, and the domestic maritime industry contributes greatly to the economic strength of the port," said Port Tampa Bay President and CEO Paul Anderson.
Smith said without the Jones Act, many of those jobs could be lost as foreign vessels and workers potentially entered the market and replaced jobs. But the century old law is constantly at risk, Smith added.
"Individuals that believe free trade should govern everything think it impedes free trade," he said.
Not so, according to Smith. The law doesn't impede international trade and, he said, doesn't cost the consumer anything.
"The importance of the maritime industry to both Florida and the United States cannot be understated," Crist said. "A robust maritime industry means a strong economy, good jobs and enhanced national security."
Nationwide, the Jones Act supports $41 billion in labor income for American workers and accounts for nearly $155 billion in annual economic output each year.