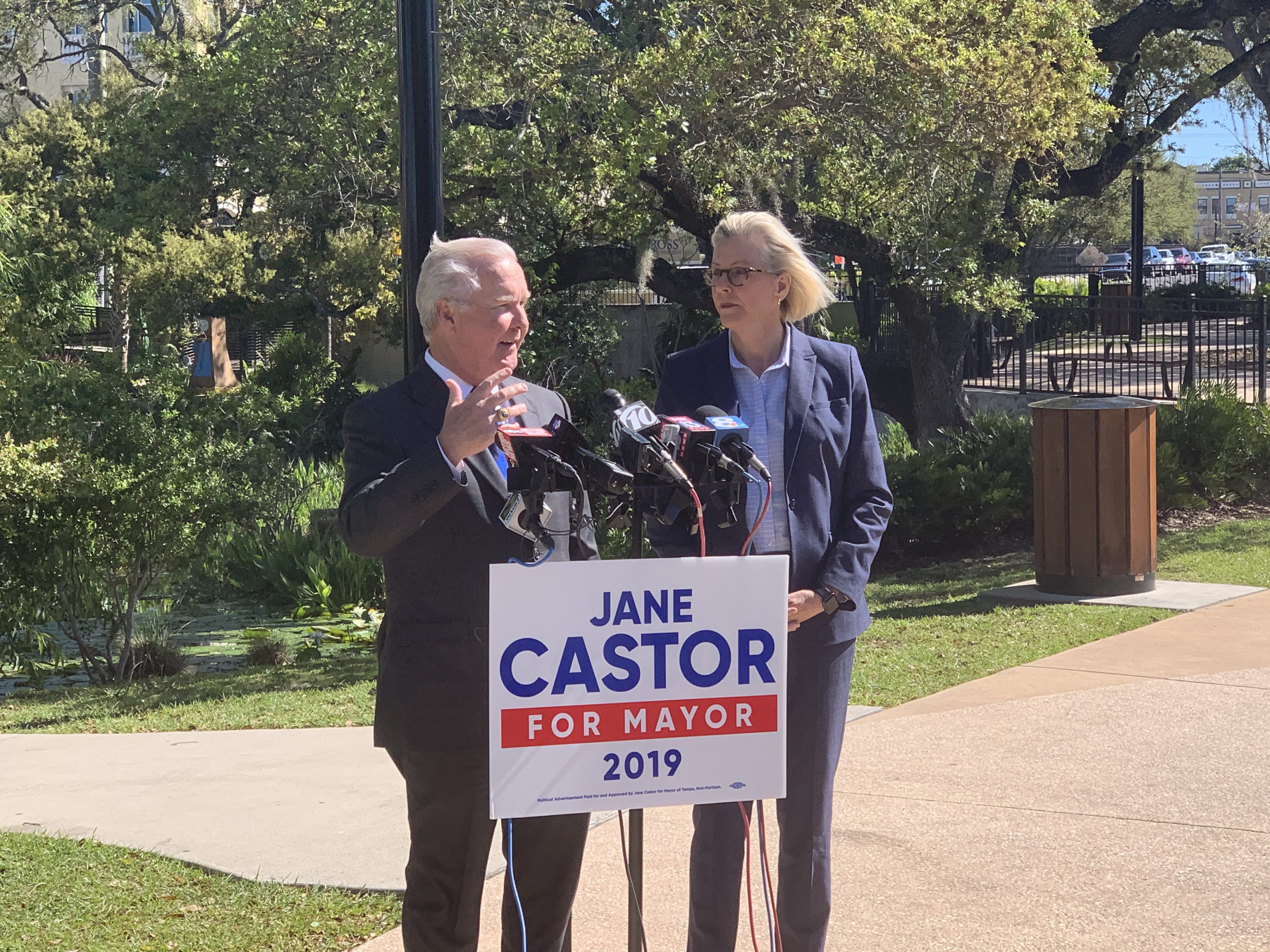 A wise man once said, though, that it ain't over until it's over. 
If that's the sound of crickets you hear around the runoff election to be Tampa's next Mayor, Jane Castor may be a big reason why that is so. Her campaign has been textbook so far on how to be the runaway leader without being overbearing.
Castor has frustrated rich guy opponent David Straz by not reacting too much to his taunts, jabs, and innuendo. Coming off her dominant performance in the general election, her victory in the April 23 runoff seems to be a foregone conclusion.
Therein lies maybe the only way she can lose, though. If supporters forget to vote — and the turnout in runoffs isn't usually good — Tampa could be in for an April surprise.
But Castor seems to have that base covered, too. The campaign will be stressing voter turnout leading to the election.
She has wide support from all corners of the city, including the recent endorsement by seven prominent voices in Tampa's African-American community.
They praised Castor her knowledge of neighborhood needs throughout the city.
"Jane Castor has been in our community for over 30 years, working with our neighborhoods and citizens to make our city safer for everyone," former state Sen. Arthenia Joyner said.
"She is the only candidate in this race who has a plan for better jobs, more affordable housing, improved public transportation, and more economic opportunity for our most underserved neighborhoods. But more importantly, she has the skills and experience to get things done."
That helps Castor blunt one of Straz's key points of attack, the infamous "biking while black" enforcement tactic while she was Police Chief.
The Tampa Bay Times story in 2015 led to a rebuke by the U.S. Department of Justice. After initially defending the policy, Castor admitted it was a mistake.
It's the kind of issue that can gain traction in a political campaign if not handled right, especially when an opponent like Straz is willing to spend whatever it takes to win.
Indeed, the Straz campaign sent out a campaign mailer recently attacking Castor on that subject.
It's too late though.
Castor's has political capital that doesn't come from a checkbook. She built that foundation on long relationships with leaders and residents in all parts of town.
She captured a huge endorsement Monday from the West Central Florida AFL-CIO. The Tampa fire union has endorsed her. Current Mayor Bob Buckhorn has endorsed her.
Mayoral candidates Harry Cohen and Dick Greco Jr. endorsed her after failing to qualify for the runoff. Current City Council members Luis Viera and Charlie Miranda are backing her.
It has left Straz to flail away on points that don't leave a mark. Last week he released a TV ad focused on money. He vowed not to take the $160,742 salary that comes with being Mayor.
Castor receives a pension estimated at $113,000 from her 31 years on Tampa's police force. Straz said she would be double-dipping by taking a Mayor's paycheck.
The Castor campaign shot back with a statement pointing to Straz's wealth and said if she "drove around in a Bentley, she certainly would not take the salary either."
After seven candidates sparred in a spirited general election, the runoff so far hasn't generated much buzz. Maybe Castor's overwhelming win in March contributed to the sense of inevitability.
She received 48 percent of the vote then, falling just two points shy of an outright win. Early polls have shown her with a dominant lead against Straz. No wonder there is no buzz.
A wise man once said, though, that it ain't over until it's over.
With less than a month to go before the runoff, Castor needs to repeat that to herself every day, if only to drown out the crickets.