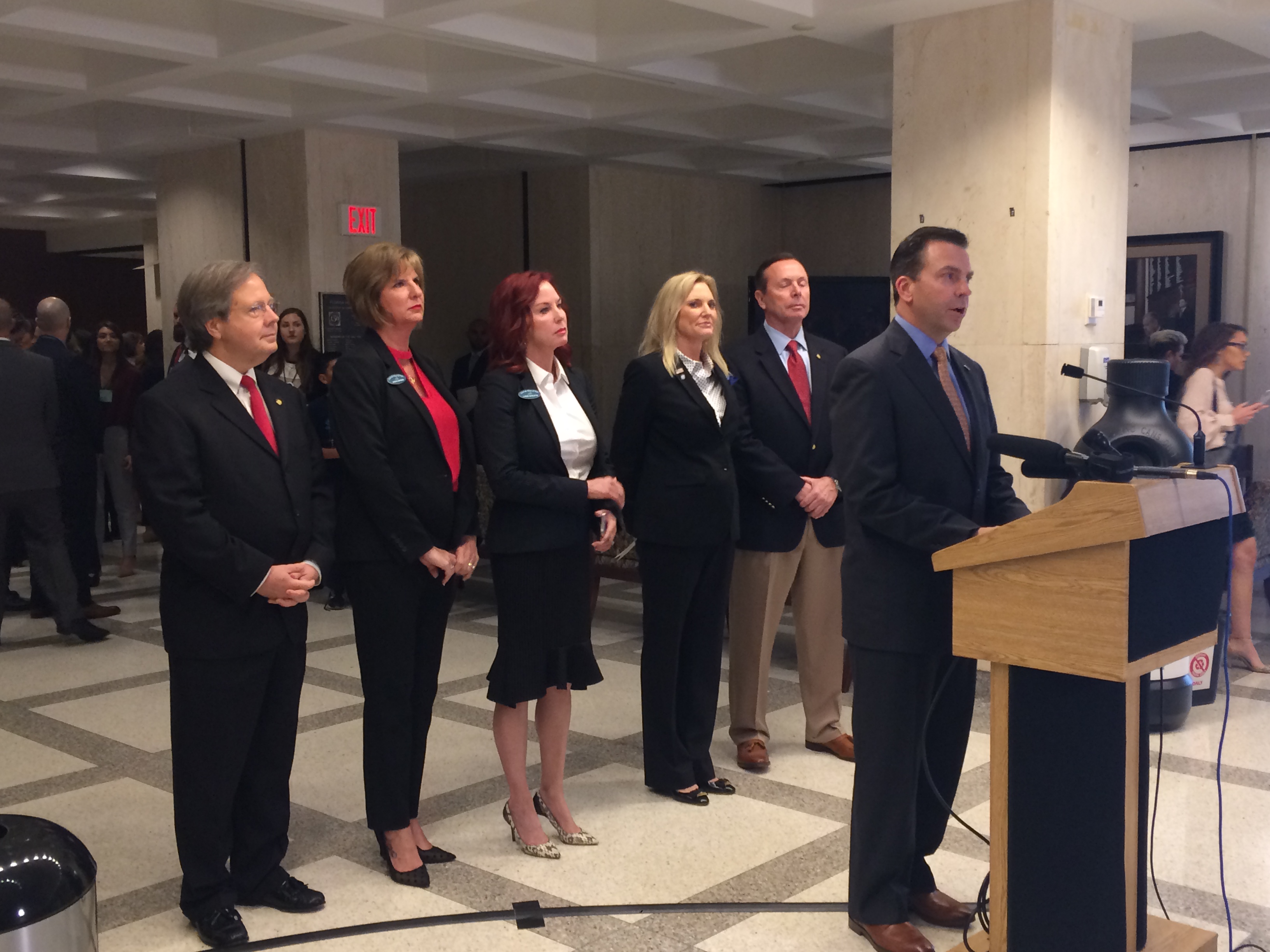 The bill would also allow impromptu searches of strip clubs for underage workers.
"Today the Legislature took another step to limit the demand for sex trafficking victims."
Those were the words of Rep. Toby Overdorf at a news conference in the Capitol Tuesday morning.
Overdorf, a Stuart Republican, was speaking on his bill (HB 219) to ramp up punishment against those charged with soliciting prostitution involving victims of human trafficking.
The legislation was also approved Tuesday morning by the House Criminal Justice Subcommittee.
Under the proposal, solicitation would carry a mandatory 10-day incarceration. Overdorf's bill would tack on an additional 30 days if "the person solicited, induced, enticed, or procured is a victim of human trafficking."
In addition, an amendment to the legislation expands the legal definition of "adult theater" to include strip clubs. Specifically, the definition would cover "any business that features a person who engages in specific sexual activities for observation by a patron, and which restricts or purports to restrict admission to only adults."
Overdorf argued the amendment was necessary to allow law enforcement to enter strip clubs in order to check documentation showing the workers were of legal age. Law enforcement has that authority with regard to adult theaters. But strip clubs do not currently fall under that umbrella.
Failing to maintain proper identification for workers at those establishments would be a first-degree misdemeanor.
"My bill has the opportunity to curb the demand for sex trafficked victims, and will hopefully provide a small part in limiting the future spread of what we now know as 'modern-day slavery,'" Overdorf said.
Overdorf's measure is separate from a pair of companion bills put forth by Republican Rep. Heather Fitzenhagen and Democratic Sen. Lauren Book. Those measures aim to cut down on the practice of human trafficking by training hotel workers to spot victims.
But provisions in their legislation to set up a registry for "johns" who solicit sex appears to be on the outs.  An amended version of Fitzenhagen's measure was also approved Tuesday morning by the House Criminal Justice Subcommittee. That amendment stripped the registry from the bill.
The same is expected to happen with Book's version, which has already has been approved by the Senate Criminal Justice Committee and the Senate Community Affairs Committee.
With the "johns" database being removed, Overdorf's bill is an alternate way to lawmakers to deter those who solicit sex work. Several experts testified at an earlier Senate hearing that such deterrence is necessary to reduce demand for sex work and, by extension, human trafficking.
"If we can lower the demand for this, we'll actually have a real chance of fighting human trafficking and sex trafficking throughout our state," Overdorf said.
Several sex workers advocates have disagreed with that assertion, however. They argue that going after buyers only dissuade those who care about negative consequences, leaving only the more reckless or violent clients.
Overdorf's legislation would take effect on Oct. 1, if successful. It will be moving on next to the Justice Appropriations Subcommittee and the Judiciary Committee.
On the Senate side, a companion bill (SB 370) has been introduced by Sen. Gayle Harrell.