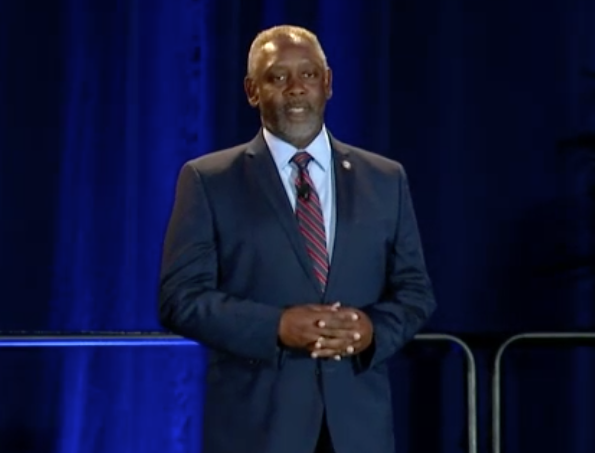 'We're in a pretty good spot,' economist Sean Snaith said.
With fast-evolving 21st century business trends, Orange County Mayor Jerry Demings told a gathering of Central Florida economic leaders that he wants his county to be the "test lab for innovation and emerging technology."
Demings, in his economic summit speech Friday, continued and expanded upon the themes of his 2018 election and inauguration speech by expressing his vision of Central Florida becoming fertile ground for technological innovators and entrepreneurs, a sector that has some seedlings in the Orlando region, but still not many giants.
"We are known as the number one tourism-destination in the world and my goal is for Orange County to be recognized as a most desirable place to do business. My vision is for our region to become the experimental prototype community of tomorrow, envisioned by Walt Disney decades ago," Demings said at the Orange County Regional Economic Summit Friday, referring to Disney's original vision for "EPCOT," not as a theme part, but as a futuristic city dedicated to technology.
"We want to be the test lab for innovation and emerging technology," Demings said.
His statements come at a time when it's generally good to be in the Orange County economy. His address was preceded by the annual economic forecast given by University of Central Florida economist Sean Snaith, who cited the Orlando market's leadership in state job growth, and said the region is now seeing increasing salary and wage growth.
Snaith, director of the UCF's Institute for Economic Competitiveness, and others at the summit pointed to some of the concerns arising, notably an affordable housing shortage that seems to be growing as prices continue to rise swiftly. But Snaith painted a generally sunny picture, at least for 2019 and '20.
"Orlando continues to outpace Florida. Florida continues to outpace the national economy. We're in a pretty good spot," Snaith said.
Demings stood in that spot Friday, touting expansions at two of the region's largest technology manufacturing facilities, Lockheed Martin and Mitsubishi Hitachi Power Systems; the modeling, simulation and training centers around the University of Central Florida; autonomous vehicle pilot projects, the rising Lake Nona Medical City; the market's setting records for tourism; and Orlando's getting cited in various national rankings of top cities.
Demings also suggested the region should be exploiting the tourism and conventions business more to promote the city. He noted recent international conventions of health care technology firms and of digital media organizations, and cited conversations he'd had recently with others who had come to town recently for various conferences, including the editor of Fortune magazine, Clifton Leaf, and Alice Walton, heiress to the Walmart, Inc. fortune. He noted that last year the Orange county Convention Center hosted 184 events, with 1.4 million attendees.
"We have unlimited opportunities to sell our community as a business destination," Demings said.