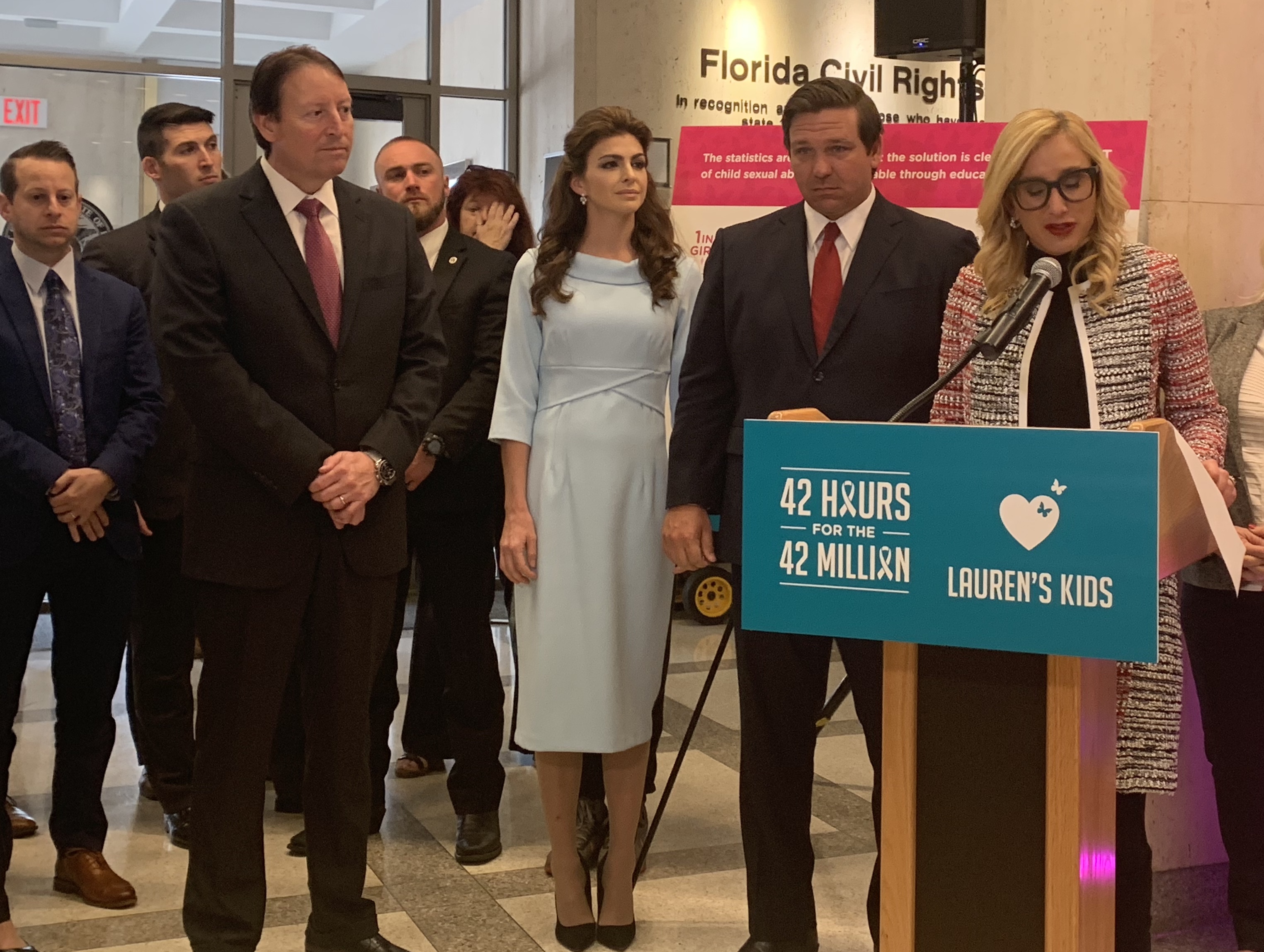 The 42-hour stroll raises awareness for the 42 million survivors.
Advocates and elected officials are seeking to curb child sexual abuse one step at a time.
State Sen. Lauren Book on Tuesday kicked off a 42-hour treadmill walkathon to honor the estimated 42 million child sexual abuse survivors in the country.
Joining Book, a Plantation Democrat, were Gov. Ron DeSantis and First Lady Casey DeSantis.
The first couple offered support for Book's advocacy. Lauren's Kids, an organization founded and operated by Book, spearheaded the effort. Book herself is a survivor of childhood sexual abuse.
DeSantis said Florida would prosecute child abusers to "the fullest extent of the law."
The Republican Governor also commended Book's organization. The nonprofit focuses on increasing awareness for and educating people about child sexual abuse.
"Many of these stories of strength, hope, survival and fear show us that terrible times can be turned into action and advocacy to benefit other people," DeSantis said.
Book suggested that her organization's efforts will lead more people to engage in conversations about the dangers of abuse and encourage victims who are silent to speak out.
"The oldest survivor who I met did not disclose her abuse until her 98th birthday," Book added.
Awareness could be key to stopping child sexual abuse.
Jennifer Dritt, executive director of the Florida Council Against Sexual Violence, said people need to be educated about the issue and open to discussing it.
"People will only tell you — they'll only tell a therapist, tell anybody — what they know that person is willing to hear," Dritt said. "If you're not willing to hear it, they won't tell you."
Among the walkers signed up: Agriculture Commissioner Nikki Fried, Florida Department of Children and Families Secretary Chad Poppell, VISIT FLORIDA President and CEO Dana Young, and state Rep. Patricia Williams.
Senate President Bill Galvano also will take part in a treadmill stint sometime before the event ends Thursday.
"We could have no better advocate in the Florida Senate on these issues than [Book]," Galvano said.