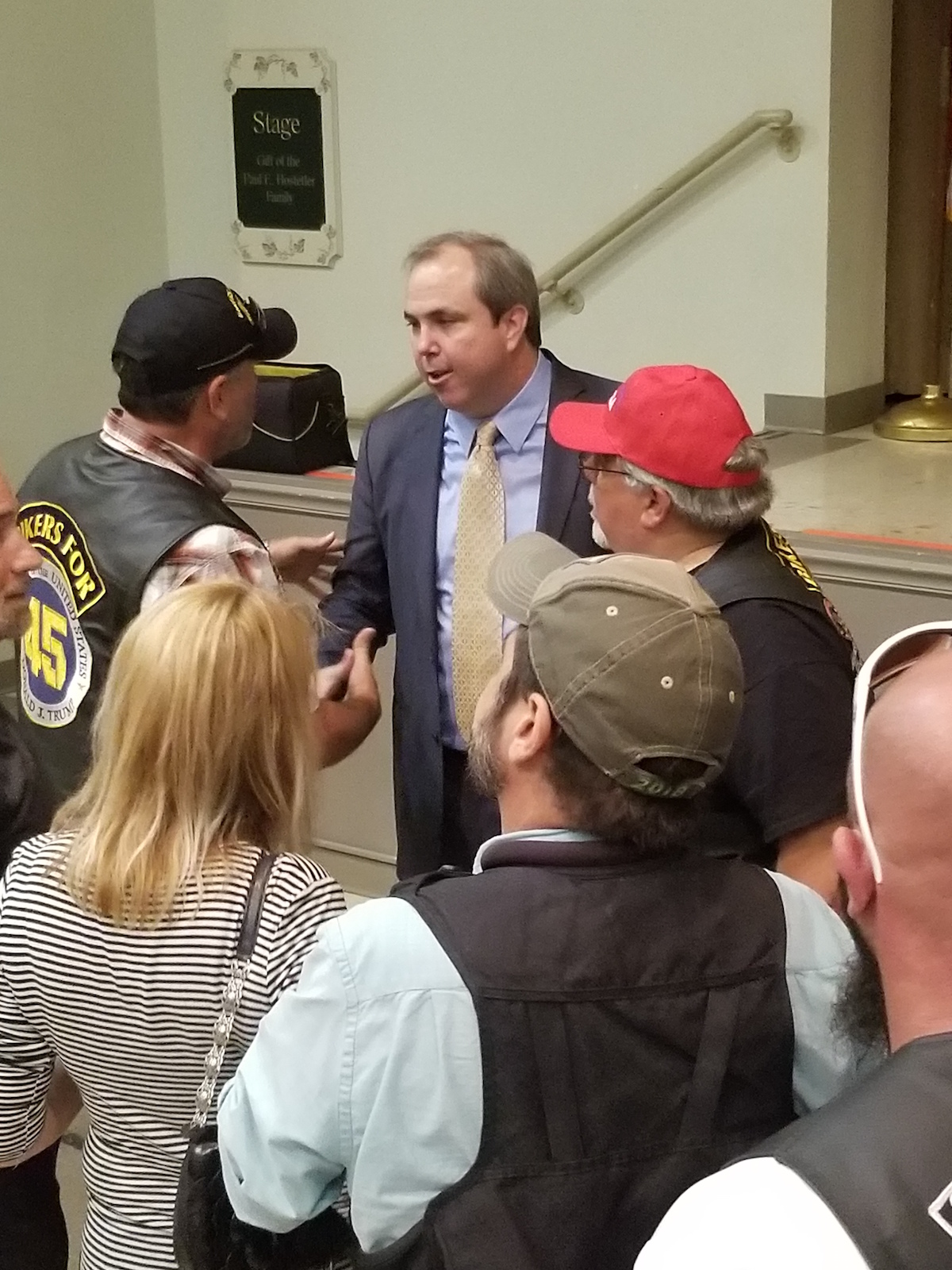 A ban on so-called "sanctuary cities" remains state Sen. Joe Gruters' top priority this session. E-Verify, meanwhile, no longer makes the top five.
But the Sarasota Republican said that's just a matter of what bill moved this year. He told a crowd of constituents in Venice he still wants both pieces of legislation.
"It's very important we get both of them done because that will take care of the immigration problem," he told Florida Politics. "But right now, the focus is on Sanctuary Cities. E-Verify is right around the corner."
Gruters held a town hall Saturday morning at the Venice Community Center. Billed as a meeting on immigration and red tide, the senator touched on everything from online sales taxes to guns in school.
As promised, his legislation (SB 168) requires law enforcement to hold individuals in custody with immigration retainers inspired heated conversation.
"There are two kinds of immigration, legal and illegal." Gruters told constituents. "We want people to do it the right way, not the wrong way."
He stressed at the event his bill doesn't set immigration policy, which remains the jurisdiction of the federal government.
The bill in Tallahassee has already exposed partisan divides. Gruters bill passed two committees in the Senate and awaits placement on a Rules agenda. A House version (HB 527) has also advanced and heads now to the Judiciary Committee.
The majority of attendees at Gruters' town hall Saturday applauded as he discussed the legislation. But the bill concerned others.
One man waved a poster that read in all caps: "End The Trump And Gruters Fear And Hate Campaign."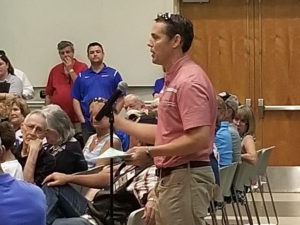 Former Sarasota mayor Kelly Kirschner, who attended Catholic school with Gruters, spoke out against his former schoolmate's priorities.
Kirschner noted the coastal district's economy relies on three industries — development, agriculture and hospitality — that traditionally employ undocumented workers.
"Should we go after that first?" Kirschner asked.
"Believe me, I am not stopping," Gruters said. "I do want to hold everybody accountable."
Kirschner suggested after speaking that if Republican lawmakers were serious about illegal immigration, they would first tackle employment problems.
"If this economy is being built on exploitative labor practices, why not have stiffer penalties for agriculture, developers and restaurateurs?" he said.
"They just want it to seem like they are doing something."
Gruters said there's a lot of reform he would like to see at the federal level when it comes to immigration. But citizens have to petition Congress for much of that.
And he dismissed the notion anything had been done to logroll the issue of E-verify in favor of a sanctuary cities ban.
An E-Verify bill (SB 164) filed by state Sen. Aaron Bean, a Jacksonville Republican, would allow state agencies to suspend business licenses for failing to verify employees could legally work in the country. Gruters co-introduced the legislation.
Outside of immigration, Gruters stressed he personally remains an opponent of arming teachers. But he is leaning toward supporting a bill letting school districts make that decision, noting some rural districts can't afford a security force.
He strongly supports the undergrounding of more utilities in Florida to better harden the state from hurricane damage.
And he applauded Gov. Ron DeSantis for a "laser-like focus" on environment issues. Gruters listed a red tide initiative at Mote Marine as a top priority of this session.
Otherwise, he continues to support an "e-fairness" bill for Florida to collect online sales taxes, and in exchange get rid of a business rent tax. As state GOP chair, he hopes his stance gives members cover such a move would not be a tax increase.