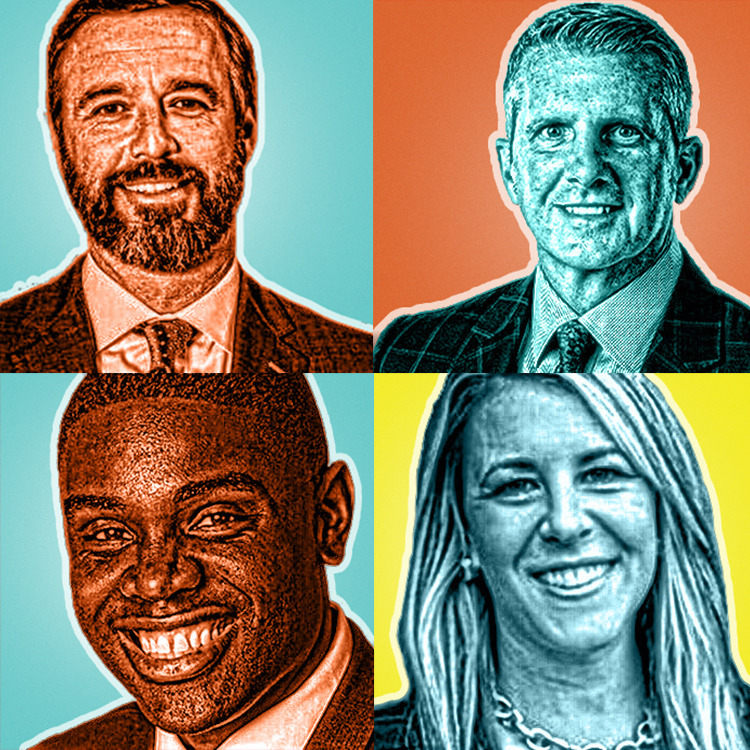 Round Four of TallyMadness, sponsored by Table 23, ends Monday at 11:59 p.m.
And then there were four.
Thousands voted for their favorite TallyMadness stars over the weekend, sending Rhett O'Doski, Tracy Mayernick, Darrick McGhee and Steve Shiver to the semifinals.
(6) O'Doski earned his spot by defeating (8) Hayden Dempsey of Greenberg Traurig. His road so far: a Round One bout against (11) Chris Schoonover of Capital City Consulting followed by a head-to-head with (3) Ron LaFace of Capital City Consulting in the second.
Being the "CCC crusher" is no easy feat, but his toughest match by far was the Sweet 16 back-and-forth against (7) Brewster Bevis — it took a last-second burst for the former champ to come out on top.
After the first couple rounds of TallyMadness, it seemed like 2019 was going to be the "Year of the Woman." But only (3) Mayernick of The Mayernick Group survived the third round, when of the Cinderella stories came to an end.
She toppled (14) Yolanda Cash Jackson of Becker & Poliakoff in the first; (6) Teye Reeves of Smith Bryan & Myers in the round of 32; and (7) Gus Corbella of Greenberg Traurig in the third. She earned her Final Four berth over (4) Jim Daughton of Metz Husband & Daughton.
McGhee's run has been impressive — the 10-seed out of Johnson & Blanton is the lowest-ranked contender in the semi-finals. The underdog beat (7) David Browning of Southern Strategy Group in the first, but the difficulty of his challengers ramped up quick.
He faced (3) Mark Delegal of Holland & Knight, (2) Chris Dudley of Southern Strategy Group and (1) Matt Bryan of Smith Bryan & Myers and came out on top in back-to-back-to-back matches to keep his championship dreams alive.
(9) Shiver of The Advocacy Group is one rung up, but his run is perhaps the most exciting of the tourney. His first-round match against (8) Andy Palmer of Metz Husband & Daughton was a fun romp, but his second-round scrap against (1) Nick Iarossi of Capital City Consulting was the closest of the entire tournament thus far — that game was decided by just 7 votes.
His round-three bout against (13) Marc Reichelderfer of Landmarc Strategies was nearly as close. Reichelderfer was a fan favorite, vastly outperforming his seeding in the first two rounds, and Shiver's victory wasn't certain until the final hours of voting.
His Elite Eight game against (14) Scott Dick of SKD Consulting Group wasn't a gimme by any stretch, but compared to his other matches it was a welcome reprieve.
Making it out of their "regional brackets" is an accomplishment in and of itself, but there's no time for O'Doski, Mayernick, McGhee or Shiver to rest on their laurels.
Round four of TallyMadness, sponsored by Table 23,  ends tonight at 11:59 p.m.