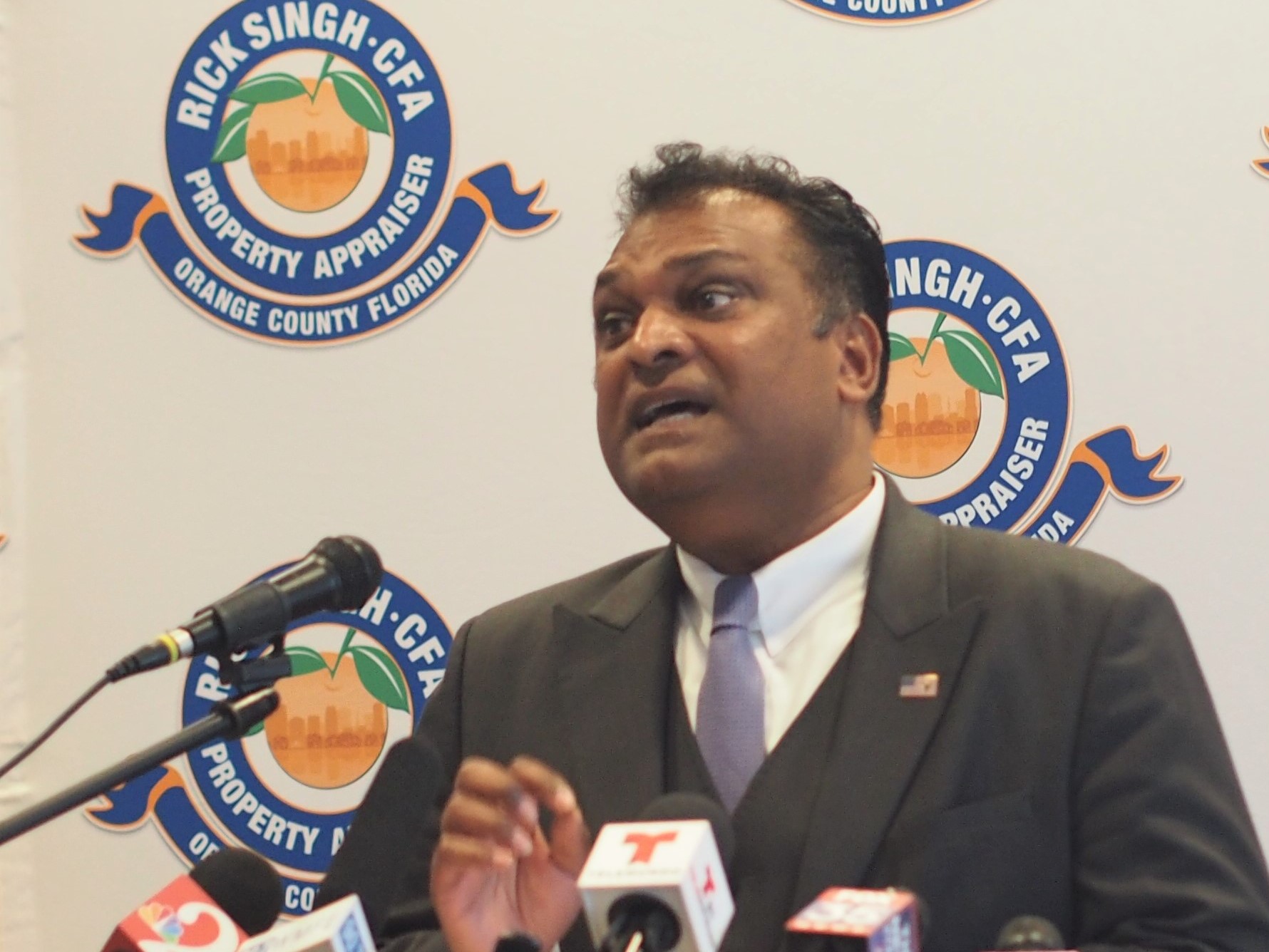 Singh's probes of 'fraudlent' exemptions, classifications, add $1 billion to rolls
Orange County Property Appraiser Rick Singh declared his office's probes into homestead exemptions, agricultural property claims, and other compliance issues have put an additional $1 billion into the county's tax roll.
"This is indeed a big deal," Singh said at a news conference Monday.
Singh, who took office in 2013, credited three efforts by his office for reaching the milestone in just over five years: tightening reviews of tangible personal property, agriculture classifications, and homestead exemptions. He
Singh has been a controversial figure in the office, to which he was first elected in 2012 and re-elected in 2016. Numerous business groups and major businesses in Orange County, including the theme parks, have charged his office with significantly over-valuing their properties, and some have sued.
He also has been the target of two sexual harassment suits filed by former employees, including one, since settled, that also alleged he manipulated finances, reports and audits to cover up unethical and illegal activities.
On Monday he pointed out that his office has a 99.5 percent success rate in challenges brought before the Orange County Value Adjustment Board and has won all but one of the lawsuits. He also maintained (as he has in the past), that he has not harassed anyone and is vigorously defending those claims on behalf of himself and the integrity of his office
"This office has reached a milestone, a historical milestone, I might add," Singh said. "On behalf of our citizens of Orange County and benefited all the taxpayers. I'm tremendously proud to announce that since 2013 we've returned a collective $1 billion to the tax value of Orange County and the tax base."
He said that he conservatively estimates that adds $20 million a year in tax revenue to the county and various municipalities and taxing districts.
The audits and other probes he said resulted in discovering both fraudulent claims and claims made through ignorance. Singh said his office is not seeking punishments but simply to eliminate improper claims and properly assess the properties.
The increased property values have come about from three efforts. Audits of homestead exemptions and other exemptions have resulted in $578 million added to the tax rolls. Audits of claims of agricultural land classifications, a strategy sometimes used by developers while land awaits development, resulted in $317 million added.  Tangible personal property audits added another $174 million, he said.
"If a person or organization is not paying their fair share, the burden can potentially shift to ta payers who are paying their fair share," Singh said "We all share the responsibility of funding infrastructure, funding schools, funding parks, and even funding affordable housing"