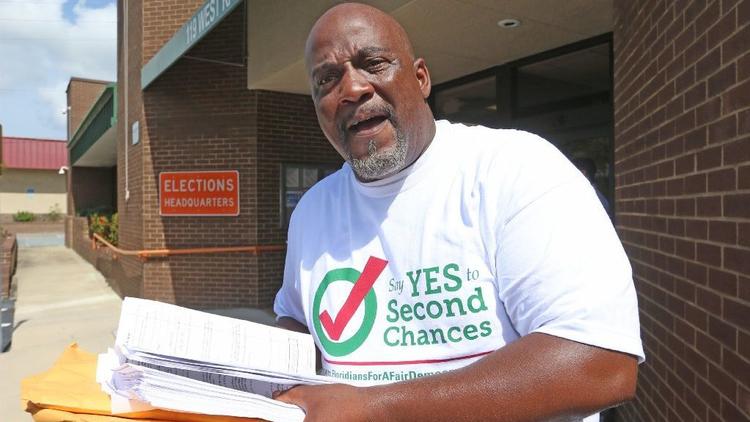 "All we wanted to do was be part of this democracy again."
Given little time for discussion, debate or questions, the bill that ties restored voting rights for ex-cons to their payments — in full — of all fines, fees, and restitution won split approval along party lines Monday from the Senate Judiciary Committee.
The panel's chair, Sen. David Simmons of Longwood, tried to rush through 13 other bills on the committee's agenda to make more time.
But some, such as Sen. Joe Gruters' anti-Semitism measure (SB 1272), and Sen. Tom Lee's property rights legislation (SB 1720) ground out the clock as they, too, proved controversial on their way to approval by split votes.
That left less than 20 minutes Monday for amendments, public discussion, and debate on SB 7086, the Senate's attempt to flesh out rules for voting rights for felons.
The amendments took up most of that, even though the room was packed with people wishing to weigh in. The only public discussion on the bill was provided by Desmond Meade, the primary energy, face, and voice for the successful, steady, five-year drive to win back voting rights for Florida's 1.4 million felons once they have completed their sentences.
Meade and other supporters of Amendment 4, approved by 64.5 percent of Florida voters in November, have charged that legislation is not even necessary, and that SB 7086 and its counterpart in the House (HB 7089), are Republican-partisan bills.
They're aimed at placing new roadblocks in front of felons by demanding they pay what can be financially overwhelming restitution and fines, even if the would-be voters have served their full incarcerations, probations, and other court-ordered sentences. Some have characterized the bills as a de facto poll tax.
But those fees, fines, and restitution, when ordered by the criminal court judges, are all part of the court's official sentences, just as much as prison time, argued the sponsor of SB 7086, Republican state Sen. Jeff Brandes and other supporters of the bill.
Simmons pushed through an amendment that offers two concessions to the backers of Amendment 4 who had argued that the bill seeks to limit, not support, the campaign to allow felons to vote.
First, Simmons' amendment eliminates court costs and other costs as required parts of a sentence. Second, it eliminates "attempted murder" from the definition of murder within the bill.
Meade, executive director of the Florida Rights Restoration Coalition, and chair of the Floridians for a Fair Democracy, which sponsored Amendment 4, welcomed those two changes.
He then offered an impassioned plea that charged the Senate, and the full Legislature, with trying to insert itself into a process that the people had already decided when they approved Amendment 4.
That allowed voting rights to be restored to felons, except those convicted of murder or felony sex crimes.
With that November approval, thousands of such "returning citizens," as Meade and others proudly call themselves, began registering to vote in January.
"We fundamentally oppose this bill but we are hopeful for what we're seeing now, what we just heard from the amendment," Meade said.
Meade accused the Legislature of ignoring calls for restoration of felon voting rights for 20 years. Now that they won their cause in the ballot box, Meade argued, the Legislature now is trying to limit that victory.
"They walked away from the field. They walked away from people like me, who served our time. And all we wanted to do was be part of this democracy again," Meade told the panel.
"All we wanted to do was to move on with our lives. But the Florida Legislature ignored our cries, ignored the cries of our families for years and years and years … and eventually 'we the people' decided we wanted to stand on our own.
"We wanted to do something that the Florida Legislature refused to do. And we picked that ball up. We the people did. People from all walks of life, from all political persuasions, from all racial backgrounds, came together as one, and we carried that ball across the finish line, November 2018.
"And now that we've carried that ball, the Legislature wants to insert itself," Meade added.
Brandes argued that the backers of Amendment 4 had themselves told the Florida Supreme Court and had told voters through their websites, that restitution, fines, and fees needed to be paid before a felon could get back voting rights.
House sponsors have made the same argument in pushing the similar HB 7089. Brandes and other lawmakers questioned whether the bill is self-implementing, arguing that the definitions of murder, sex crimes and completion of sentence were left to lawmakers to spell out.
"That is what we have used as instructive material to provide us the predicate for this implementing bill," Brandes said. "This implementing bill defines completion of terms of sentence to require restitution be paid in full, even if converted to a civil lien; deem obligations to pay fines or fees once they've converted to a civil lien."
He and the other Republicans on the Judiciary Committee stuck to it Monday.
But a key pivot point involves cases in which courts have converted court-ordered fines, fees, and restitution into civil liens. Opponents of the bill contend that if those fines are converted to civil matters, that effectively ends criminal court jurisdiction in the sentencing, and therefore satisfies the criminal court's sentence.
The Republicans, however, acknowledged no such distinction: "Restitution, fees and fines, as part of a sentence, are not completed as a civil lien," Simmons said.