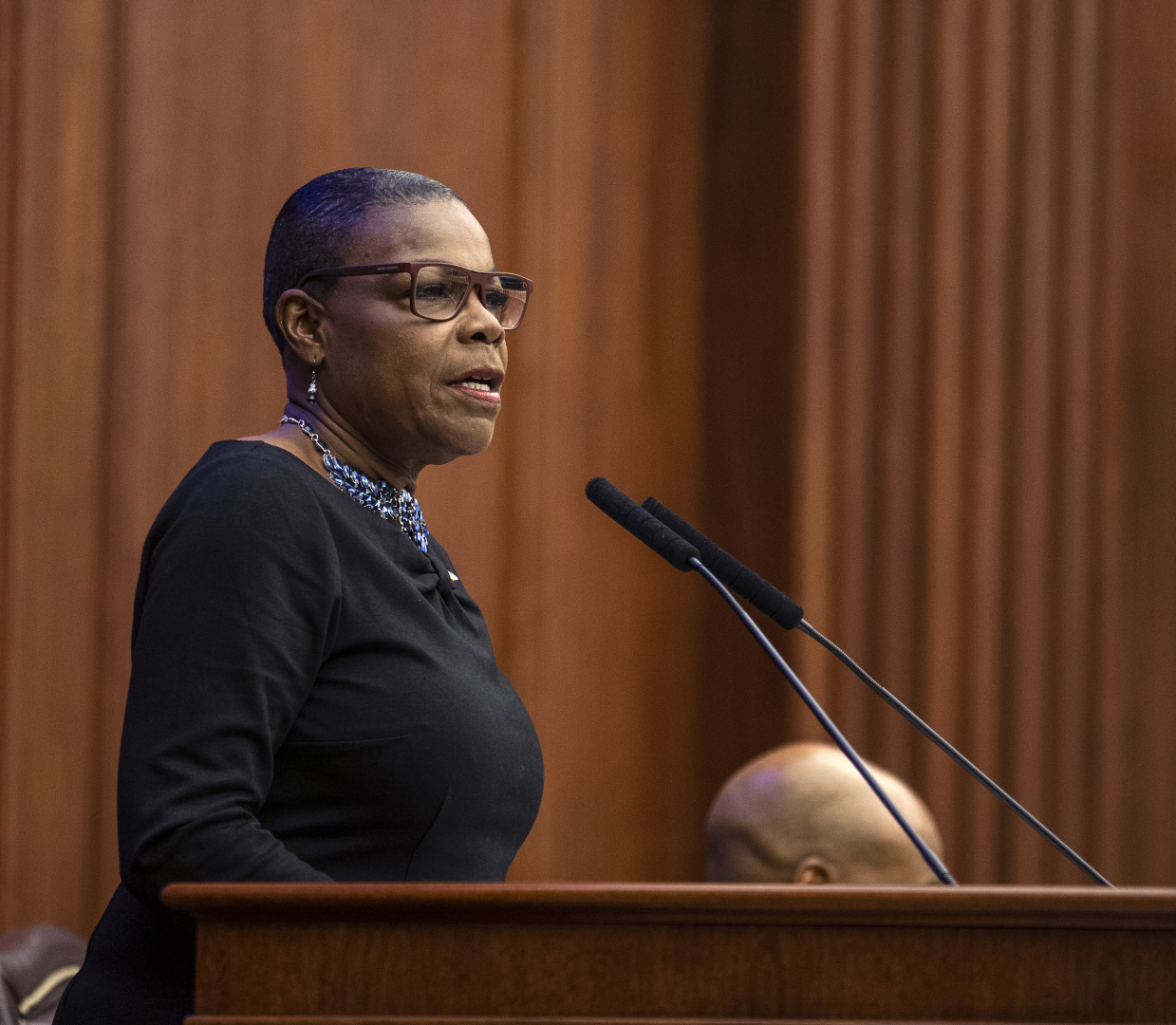 'Wrong battle': Gibson defends her controversial vote.
Sen. Audrey Gibson, the leader of the Senate Democrats, on Tuesday defended her vote against legislation that would combat campus anti-Semitism.
However, the sponsor of the House companion bill (HB 741) placed Gibson in the tradition of "Congresswomen Ihlan Omar and Rashida Tlaib," and demanded the "Senate Democrat Caucus to hold Leader Gibson accountable for these statements."
"Fighting anti-Semitism is something that used to bring all Floridians together," said Rep. Randy Fine.  "But it is comments like these by the Democrat Leader of the Senate that creates divisiveness – not legislation that will reduce it,"
"It is sad that in the world propagated by Washington Democrats like Congresswomen Ihlan Omar and Rashida Tlaib and Tallahassee Democrats like Audrey Gibson, fighting anti-Semitism is 'divisive.'   In this time of rising anti-Semitism around both the country and globe, it is unconscionable that the most powerful Democrat in the Florida Senate would vote against banning discrimination based on anti-Semitism," Fine added.
"I would strongly encourage the Senate Democrat Caucus to hold Leader Gibson accountable for these statements.   It was my hope that Florida would take a united stand against the anti-Semitism coming out of the Washington; while that hope is now dashed," Fine added, "I am still optimistic that our Republican Legislature and Governor DeSantis will repudiate the Omar/Tlaib/Gibson position and make that statement loud and clear."
Prior to Fine's statement, Gibson said the bill, which she was alone in voting against in the Senate Judiciary Committee, was fighting the "wrong battle."
"As it currently stands, this legislation fights the wrong battle, and targets the wrong enemy. It restrains school children from making anti-Semitic statements, but removes culpability for those who actually carry out anti-Semitic hate crime attacks," Gibson said.
"SB1272 may be well-intentioned, but it fails to protect the very constituencies that have been the subject of hate crimes in Florida, and in this country. My goal yesterday and going forward continues to be ensuring that all religions are protected. That's why I raised the questions I did during the Senate Judiciary Committee meeting on Monday. But the bill currently falls short in guaranteeing that equal protection," Gibson added.
Others, including the Council for American Islamic Relations, have expressed concerns about what they see as equal protection issues in the bill.
Gibson may yet change her position, her statement added.
"The legislation has additional committee stops before it's presented to the full Senate for a vote. I hope that the guarantees that are needed – as the bill sponsor alluded to – will be provided before it comes before me again in the Rules Committee. I look forward to a meeting on this bill with stakeholders this afternoon," Gibson added.
Indeed, the bill has two more committee stops before it's ready for the floor.
Gibson's apparent walkback of her position comes after her no-vote led off POLITICO Florida Playbook on Tuesday.
"I will tell you this kind of thing is what creates divisiveness in this country," said Gibson. "It's an intentional piece of legislation to divide."
Gibson also questioned the motives of bill sponsor, Sen. Joe Gruters, in committee.
We asked Gibson how the members of her caucus saw her vote, and if she worried about a leadership challenge. She has yet to respond.
Gibson is not the first Jacksonville Democrat to experience pushback for controversial comments about people of the Jewish faith.
Rep. Kim Daniels is still being held accountable for comments she made from the pulpit before she became a legislator.
"You can talk about the Holocaust," Daniels said, "but the Jews own everything."
However, Daniels is a member of the House Education committee now. And that committee  moved Fine's bill without a no vote.
Fine's bill is now on the House Special Order calendar.