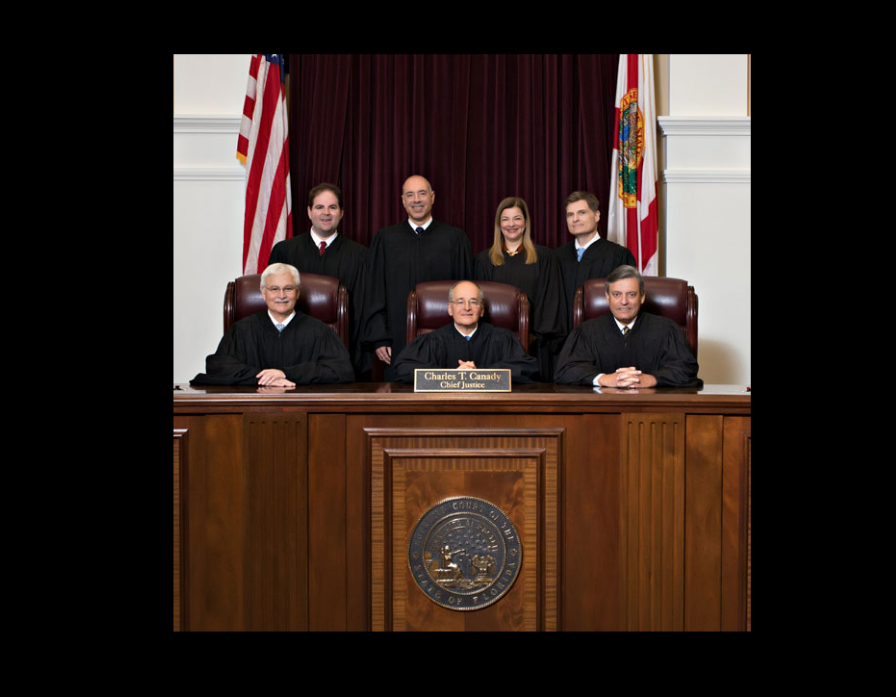 Justices could have "official headquarters" elsewhere in the state.
If Lt. Gov. Jeanette Nuñez can have an "official headquarters" outside of Tallahassee, so can a Supreme Court justice, under a measure filed this week.
Sen. Rob Bradley, a Fleming Island Republican, filed language to allow a "Supreme Court justice who permanently resides outside Leon County" to have an "official headquarters" elsewhere "as the justice's private chambers."
For example, all three of the new justices appointed by Gov. Ron DeSantis come from outside the capital: Barbara Lagoa, Robert Luck and Carlos Muñiz hail from South Florida.
The idea — which isn't entirely new — comes as an amendment on a bill (HB 5011) passed unanimously by the House to create one new county court judge each for Flagler County and Citrus County. That was sponsored by GOP Rep. Paul Renner of Palm Coast.
The House bill was referred to the Senate Appropriations Committee, which Bradley chairs. It's now on the agenda for the committee's Thursday meeting.
Bradley's amendment also allows out-of-town justices a "subsistence rate" for "each day or partial day that the justice is at the Supreme Court Building (in Tallahassee) for the conduct of the business of the court."
It also provides for "reimbursement for … travel between the justice's official headquarters and the Supreme Court Building … to the extent that appropriated funds are available."
But the "Supreme Court may not use state funds to lease space in a district court of appeal courthouse, county courthouse, or other facility to allow a justice to establish an official headquarters."
It tracks similar language in the House's proposed budget implementing bill, allowing for Nuñez to designate an "official headquarters" in Miami-Dade County that "may only serve as (her) personal office."
The section also says the "Lieutenant Governor may not use state funds to lease space in any facility for his or her official headquarters" but does make her "eligible for reimbursement for transportation expenses … (to) the Capitol to conduct state business."
The 'remote office' issue has a decade-long history, said veteran Florida Supreme Court spokesman Craig Waters.
When Justices Raoul Cantero and Kenneth Bell, both appointees of Gov. Jeb Bush, stepped down from the court in 2008, "both said they resigned in part because it was too difficult to raise their children in their hometowns (Miami in the case of Cantero, and Pensacola for Bell) while commuting to Tallahassee," Waters said.
Bell even asked lawmakers to let him keep two offices, one in Pensacola and one at the Supreme Court Building.
"For a variety of reasons, it never happened," Waters said. "I talked to Justice Bell recently, and he continued to express frustration over the negative impact it had had on him and his family.
"The expectation at that time, enforced in a variety of ways including through state reimbursement policies, was that justices should reside permanently in Tallahassee after appointment – even though the Florida Constitution itself explicitly requires regional representation on the Court," he added.
Recently, legislators "decided to let justices keep regional offices in addition to their Supreme Court offices," Waters explained, doing so in annual budget proviso language. The chief justice would then issue an order officially designating a regional office.
The first such order was in July 2018, Waters said: "Only five justices chose to designate regional offices at that time, because both R. Fred Lewis and Ricky Polston resided exclusively in Tallahassee and had no need for a regional office."
Renner's bill creates the new judgeships even though the Supreme Court didn't certify a need for them this year. On Wednesday, Renner said in an interview that the court had done so in prior years.
Citrus and Flagler now have "only one county court judge" each, he said. County judges largely handle misdemeanors, small claims cases and traffic offenses.
"They're small counties experiencing rapid growth," he added. "And if the one judge in the county gets sick, the whole system grinds to a halt."